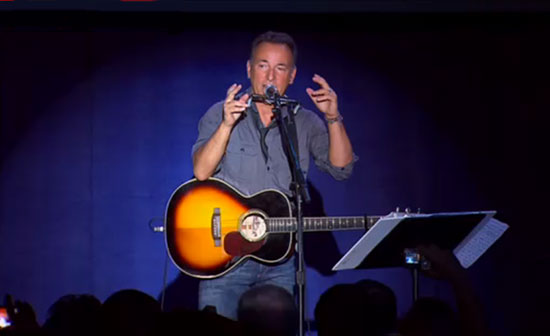 Wow, who do you put on top of the bill, Bubba or the Boss? In Ohio, we know the answer...the Big Dog wasn't top dog:
Our vote — our vote is the one principal way we get to determine that distance in that equation. Voting matters. Elections matter. Think of the events of the last 12 years and try to convince yourself they don't. We get an individual hand in shaping the kind of America we want our kids to grow up in.
I'm a dad, I've got three kids, I'm 63... and I've lived through some galvanizing moments in American history: the Civil Rights struggle, the peace movement, times when you could feel the world shifting under your feet. I remember President Obama's election night was an evening when you could feel the locked doors of the past finally being blown open to new possibilities.
But then comes a hard, daily struggle to make those possiblties real in a world that is brutally resistant to change. We've seen that over the past four years; the forces of our opposition have been tireless.