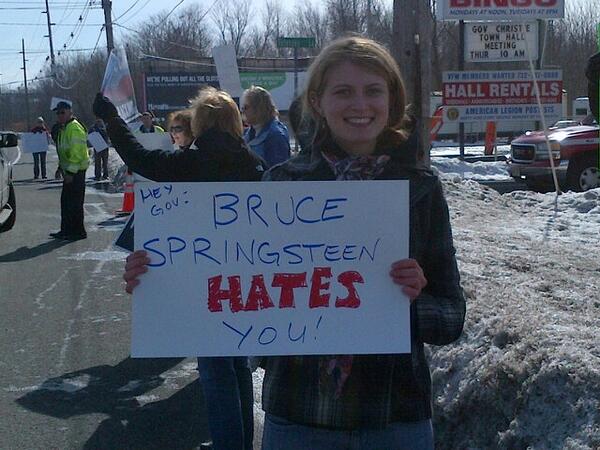 What's the worst possible insult in Chris Christie's New Jersey?
Is it this sign that the governor was greeted with on his way to a town hall meeting in Port Monmouth yesterday?
Or was it the guy inside the room who asked the self-appointed No. 1 fan of the Boss to destroy all his Springsteen CDs?
No, the biggest insult is that Christie's hand-picked chairman of the Port Authority of New York and New Jersey -- David Samson, the money-sucking vampire squid of authority chairmen, a lawyer and lobbyist who seems to have his snout in every Garden State development deal this days -- is still on this job.
Thursday, the Newark Star-Ledger called them both out:
Wednesday's apology by Port Authority Chairman David Samson, for the agency's role in the George Washington Bridge entry lane closures, rings hollow. He hit bottom when he called the weeklong traffic bomb his co-workers dropped on Fort Lee last September an "inconvenience." Mea culpa came five months too late.
Worse still, Samson's half-hearted attempt at remorse ignored his own failures as head of this hopelessly broken agency — a list of ethical lapses, broken promises and business-as-usual, with new examples breaking by the day.
Samson must step down. His resignation would mark a strong first step in an overdue overhaul of the entire Port Authority of New York and New Jersey.
I couldn't agree more. I was stunned to read the news of Samson's apology -- stunned that he didn't say he was sorry either at the time of the gridlock or at least earlier in the winter as the scandal intensified. But then Samson takes his cues from the man who appointed him who managed to prattle on for nearly two hours last month about his own hurt and betrayal without an ounce of remorse for his constituents in Fort Lee who suffered through a week of politician-made gridlock.
It''s still going to take some time to find out what Christie knew and when he knew it, and I don't think that will end well for the governor. But for now it's time for David Samson to be sprung from a cage on Highway 9, or drive all night to buy some shoes, or however they get rid of people in Chris Christie's Garden State. To do anything less is an insult to all of us.