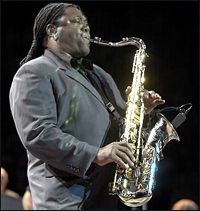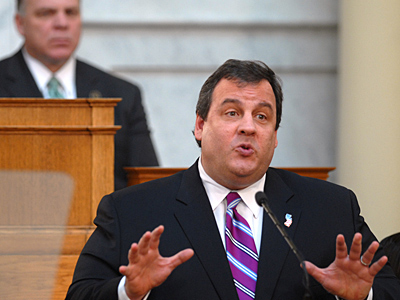 Actually Springsteen fanatic Chris Christie's first solo in Trenton is a downbeat number, a little bit like the end of Thunder Road. Of course, it may be the end of the road for some New Jersey residents:
A mother of two who is getting a divorce, Ferlazzo said she received a check last year for about $4,000 through the earned-income tax credit, a program for low-income workers, along with a property-tax rebate check for $1,000.
Christie has proposed cutting the state's earned-income tax credit from 25 percent of the federal benefit to 20 percent and essentially slashing property-tax rebates by 75 percent for the fiscal year that begins July 1. If the budget is adopted, Ferlazzo estimated, she could lose from $1,000 to $2,000 through cuts to both programs.
For Ferlazzo, who has two sons, 9 and 22, that translates into necessities such as paying credit-card bills and repairing cars when they break.
Proposed cuts to child-care and after-school programs also worry Ferlazzo, because her 9-year-old relies on a free program where children can work on homework in a supervised environment until 5 p.m. each weekday.
So when thousands of regular middle-class citizens like Ferlazzo stop all their discretionary spending -- deepening the recession and leading to more private-sector layoffs, which will be on top of the thousands of public-sector employees losing their jobs -- are Republicans doing to be screaming "Where are the jobs?!" at Christie like they do now at Obama? You should note that the steepness of the cuts on the middle-class are partly a factor of Christie's promise to not renewl a tax on above-$400,000 earners -- who probably don't need an afternoon day-care program to get to work every day. To me, what the new governor is doing here is the most repugnant kind of class warfare: Crushing the have-littles to benefit the have-a-lots.
As a fellow citizen, it pains me to read stories like Ferlazzo's. Analyzing the situation politically, you have to wonder if the GOP backlash against Obama, the Democrats and "big government" peaked too soon, because now folks like Scott Brown and Chris Christie have to govern and make the kind of difficult decisions that others -- trying to clean up the mess that was left by the lack of leadership in places like Trenton and Washington from the 2000s -- have been dealing with. Now, some Republicans actually have to offer a product along with their brand -- and I don't think November 2010 voters will be racing out to buy it.