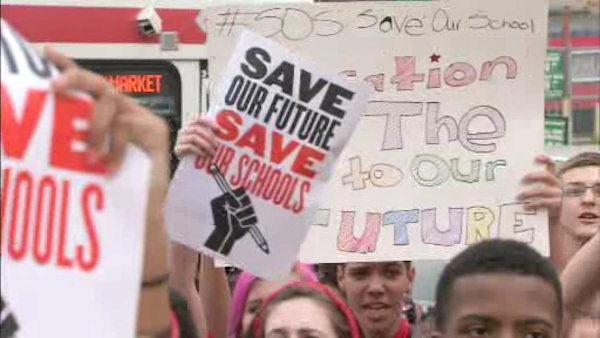 People are starting to notice that it's apocalypse now for the Philadelphia School District...people like the New York Times:
PHILADELPHIA — When a second grader came to the Andrew Jackson School too agitated to eat breakfast on Friday, an aide alerted the school counselor, who engaged him in an art project in her office. When he was still overwrought at 11, a secretary called the boy's family, and soon a monitor at the front door buzzed in an older brother to take him home.
Under a draconian budget passed by the Philadelphia School District last month, none of these supporting players — aide, counselor, secretary, security monitor — will remain at the school by September, nor will there be money for books, paper, a nurse or the school's locally celebrated rock band.
"I am worried sick," said Lisa Ciaranca Kaplan, the principal, whose homey school in South Philadelphia serves 410 students, speaking 14 languages, all of whom qualify for free meals. "How do I relieve teachers for lunch if I have no one in the lunchroom? I'll be the only person in this building who's not in a class."
Some people are making a last stand:
PHILADELPHIA - Two parents and two school employees began a hunger strike Monday that they said will last until the cash-strapped Philadelphia district gets enough city and state funding to hire back about 1,200 lunchtime aides.
The support staffers are critical for maintaining orderly buildings and ensuring students' safety, said parent Earlene Bly, who will drink only water during the "Fast for Safe Schools."
"If they're not in a safe environment, they will not be able to learn," Bly said.
God bless them -- it's a cause worth fighting for. Hopefully it's not a lost cause.