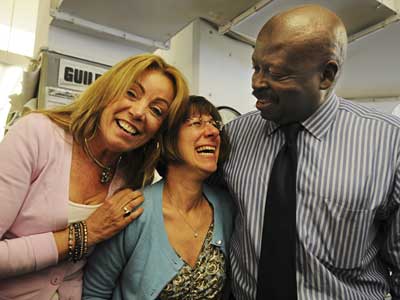 Poynter.org does a good job of telling the old-school newsroom wars between the Daily News and the Inquirer that were taking place below the surface of the "Tainted Justice" series that brought DN superstars Barbara Laker (top left) and Wendy Ruderman the 2010 Pulitzer Prize for investigative reporting:
At one point, Ruderman said, someone in her newsroom intercepted an e-mail from an Inquirer editor -- not Marimow -- who wrote that it was up to the Inquirer to "mercilessly pound them" and upstage the dramatic Daily News coverage. Ruderman thinks of Marimow and the other Inquirer editors as "very classy people." So she and Laker loved the somewhat crude competitive language. "That really ramped up how hard Barbara and I worked," she added. "Those two words -- mercilessly pound -- were really in our minds."
The article correctly notes that tensions between the two newsrooms (while still existent) are much less bitter than they used to be -- largely because our economic fates have all been tossed into the same boat -- and it also credits the Inquirer's editor Bill Marimow (who engineered Ruderman's move from the Inquirer to the Daily News in 2007) for his classy reaction to the DN prize.
One issue I would take with the analysis by Poynter's Roy J. Harris Jr. when he writes:
The classic movie-industry question -- How much added value does a film get from an Oscar? -- rarely gets asked about newspapers and Pulitzer Prizes. There, the answer is clearer: not much, if anything.
If your narrow focus is on the bankruptcy auction taking place this week that will (inshallah) determine the future owners of the two papers and Philly.com, then yes, the Pulitzer doesn't amount to a hill of beans in this crazy mixed-up world. But the auction isn't the end, it is merely, as Churchill said, merely the end of the beginning. The owners going forward will need to decide what role the Daily News is going to play in the future of journalism here, and new owners might be tempted to make drastic changes in format or even personnel. The Pulitzer makes that a lot less likely -- and all of Philadelphia should be grateful.
There's also a good op-ed about the Pulitzer that ran in the Daily News today.