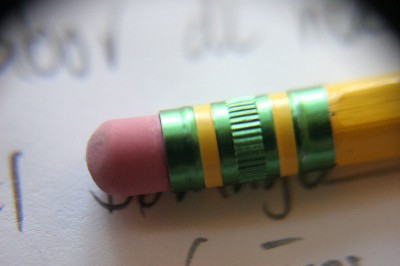 So what happened in Atlanta's public schools was this: The superintendent told the prinicipals (allegedly, allegedly) that they'd be fired if they didn't bring up test scores. So they all worked overtime to make the kids smarter and better prepared for the working world, overcoming indifferent parents and numbing poverty and cruel budget cuts and.....just kidding.
The long-simmering cheating scandal in Atlanta public schools exploded Friday when a Fulton County Grand Jury indicted former Atlantic Public Schools Superintendent Beverly Hall and 34 other education professionals in the school district. According to a statement from the office of the Fulton County District Attorney, the indicted parties allegedly "conspired to either cheat, conceal cheating or retaliate against whistleblowers" in order to boost the school district's scores on Georgia's Criterion-Referenced Competency Tests (CRCT).
Prosecutors say that the educators cheated on the CRCT in order to reap "the benefit of financial rewards associated with high test scores." Under No Child Left Behind (NCLB), school districts which turn in low standardized test scores could be seriously penalized and even lose federal aid. Critics of NCLB and other recent school reform measures argue that the Atlanta cheating scandal is not an isolated incident of criminal activity.
"We don't condone cheating, but when you have high-stakes testing, which are one-shot deals that don't tell you whether a child is going to fail or succeed, the whole setup in terms of No Child Left Behind was unfair to children, unfair to educators," Verdaillia Turner, president of the Georgia Federation of Teachers said to MSNBC Monday.
Since NCLB, signed in 2001, first mandated high-stakes testing in every state and tied it to federal funding, a wave of cheating scandals has swept the nation. In 2011, USA Today investigated standardized test scores in six states and Washington, D.C., and found "1,610 examples of anomalies in which public school classes—a school's entire fifth grade, for example—boasted what analysts regard as statistically rare, perhaps suspect, gains on state tests."
Did these things happen in Philadelphia and elsewhere in our corner of the world? Of course they did -- the only question is how much. During the disasterous reign of the late Arlene Ackerman as Philadelphia schools chief, the only "positive" thing that kept her on the job as long as she lasted was a rise in test scores. Uh huh. Last year, after an investigation into testing irregularities, Philadelphia increased security -- and standardized test scores plummented.
Which begs two more questions.
First, why has no one in Philadelphia been caught...and punished?
Second, and more importantly, how long is the corrupt and poorly thought out testing regime going to wreak havoc with the education of our children? In other cities, some teachers have had enough:
Seattle Public Schools will not punish educators who staged a boycott of a widely used standardized test in January and has loosened testing requirements, in a victory for a local revolt that stoked the national protest movement over assessments in U.S. public schools.
Teachers, educators, and students at several Seattle schools decided to boycott the Measures of Academic Progress (MAP) test starting in January, saying it was not aligned with Washington state's curriculum and produces "meaningless results" upon which teachers' performances are evaluated.
The school system, which serves more than 45,000 students, had initially threatened protesting teachers with punishment, including a possible 10-day unpaid suspension, according to a memo obtained by Reuters.
Now, could that happen here? It's not a bad idea.