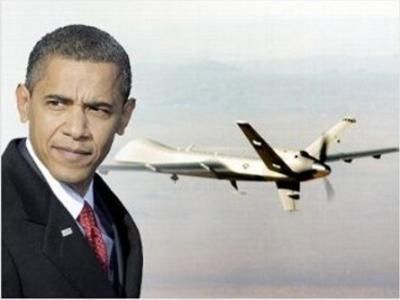 In an interview with a local Ohio TV station, President Obama refused to discuss any of his administration's targeted killing drone programs, citing national security reasons.
Asked by FOX19 reporter Ben Swann about targeting killings without trials — including the death of two American citizens — Obama refused to confirm or deny the program.
"First of all, you're basing this on reports in the news that have never been confirmed by me. And I don't talk about our national security decisions in that way," Obama said about the reporter's question.
"Our goal has been to focus on al-Qaeda, to focus narrowly on those who pose an eminent threat to the United States of America," Obama said.
This is complete baloney from the president, OK? As the article correctly notes, Obama's aides -- and on at least one occasion Obama himself -- have been happy to let it be known about the drone process, when it's suited their shallow political purpose.
This is why I tend to find modern political conventions disgusting, even when Michelle Obama gives a great speech, for what it was. The real moral issues are hidden by stagecraft in a designer dress.
One footnote: Presidential candidates have a tradition of doing these local TV interviews because they expect softball questions. Kudos to Ben Swann for throwing the high, hard one.