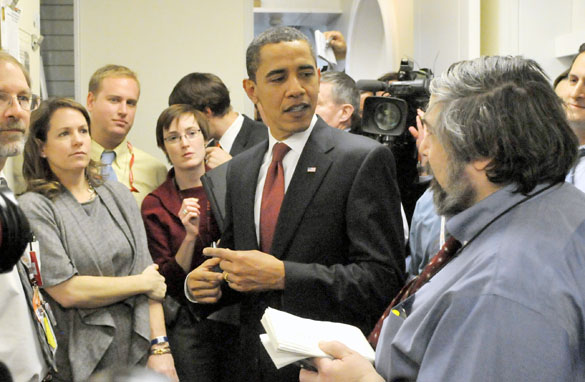 One of the most annoying comments I've gotten lately came on the newspaper version of my Glenn Beck story -- a reader thought I had some kind of bias because he was convinced that I'd arbitrarily decided the crowd in Orlando was mostly white and over 50 and heavily comprised of retirees, unemployed people and miliary veterans just by looking out at the crowd from my seat, or something. First of all, you could tell that the crowd was mostly white that way. But second of all, my knowledge about the characteristics of the attendees came from talking to people non-stop, starting two hours before the event and through every break. Indeed, the best part of working on my upcoming book has been interviewing so many everyday people -- the story of the politics of America is really as much their story as it is the big muckety-mucks.
So if I ever get involved in this kind of journalism, please shoot me:
The White House has practically been overrun by journalists pumping top officials for behind-the-scenes details for a growing roster of behind-the-scenes books.
The blitz has created complications for presidential aides, who have a country to run, and frustrations for the authors, who are clamoring for face time with their sources. One White House official calls the mounting demands "a pain" in the posterior, saying: "We try to engage when we can. No one is getting as much time as they want."
With the publishing world nourishing a deep appetite for all things Obama, those working on such books include Newsweek's Jonathan Alter, NBC's Chuck Todd, MSNBC's Richard Wolffe, The Washington Post's Bob Woodward and David Maraniss, the New York Times' Jodi Kantor and two New Yorker writers -- editor David Remnick and Washington correspondent Ryan Lizza. Time's Mark Halperin and New York magazine's John Heilemann, whose campaign chronicle "Game Change" became a huge bestseller, have just signed a deal with Penguin Press to chronicle the 2012 contest -- for an advance reported to be about $5 million.
Doesn't sound like anyone -- including, ironically, Bob Woodward himself -- is spending time in the parking garage trying to get any dirt on the White House, not when they're too busy sucking up like this. There is a dearth of great investigative reporting right now, but plenty of time for political gossip reporting in search of the kind of jackpot that Mark "Matt Drudge Rules Our World" Halperin is getting.
Leave it to Glenn Greenwald to rip the White House press corps a new one:
Is it even remotely conceivable that this stable of access-desperate reporters would write negatively about the White House or the President, or conversely, refuse to do their bidding? Look at what Ryan Lizza writes to get the answer. They're all vying for the lucrative position of unofficial royal court spokesman (which Bob Woodward occupied in the prior administration). How can one possibly purport to be a "watchdog" over the very political officials on whom one's livelihood and hope for riches depend? This conflict between (a) a need for access and (b) adversarial journalism is already acute enough -- perhaps even unavoidable -- for those who report on a day-to-day basis on the White House and other officials. But to then purposely compound that conflict by putting yourself in such a dependent and needy position vis-a-vis White House aides (with these "behind-the-scenes" books) proves how inappropriate the word "journalist" is for them. They're motivated by many things; journalism plainly isn't one of them.
On that pleasant note, enjoy the holiest weekend of the year: The opening of baseball season!