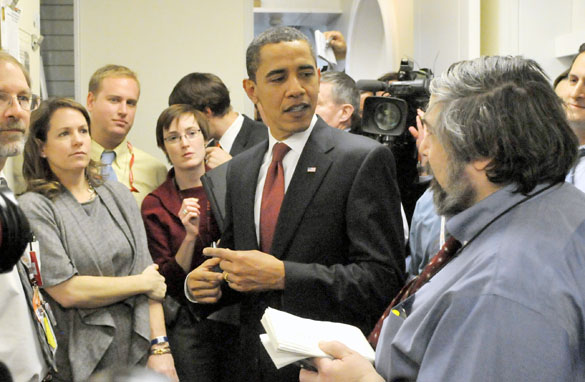 One of the most annoying comments I've gotten lately came on the newspaper version of my Glenn Beck story -- a reader thought I had some kind of bias because he was convinced that I'd arbitrarily decided the crowd in Orlando was mostly white and over 50 and heavily comprised of retirees, unemployed people and miliary veterans just by looking out at the crowd from my seat, or something. First of all, you could tell that the crowd was mostly white that way. But second of all, my knowledge about the characteristics of the attendees came from talking to people non-stop, starting two hours before the event and through every break. Indeed, the best part of working on my upcoming book has been interviewing so many everyday people -- the story of the politics of America is really as much their story as it is the big muckety-mucks.
So if I ever get involved in this kind of journalism, please shoot me:
The White House has practically been overrun by journalists pumping top officials for behind-the-scenes details for a growing roster of behind-the-scenes books.