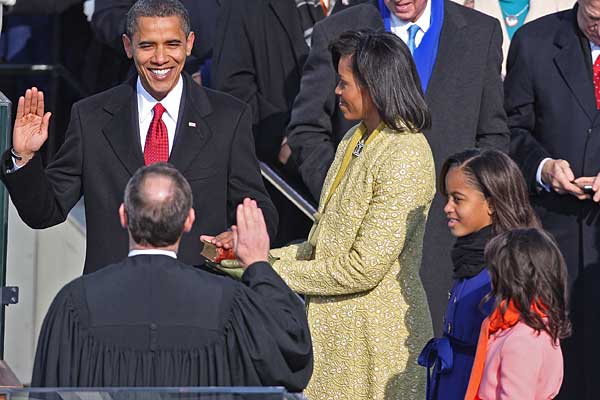 1:00: Well, it was worth the wait. The inauguration of Barack Obama as 44th president of the United States had something for everyone. That includes his critics, who will surely seize on his flubbing of the oath (twice!) as some kind of grand metaphor about what they see as a blend of cockiness merged with unreadiness. (And yes, he should have practiced that part of day). But as Sigmund Freud once said, sometimes a flubbed oath is just a flubbed oath.
UPDATE: Actually, it was Chief Justice John Roberts who did the main flubbing.
Beyond that, the day was a remarkable mural of American diversity -- bracketed by reminders of the civil rights struggle that set the stage for the arrival of Obama, the soulful belting of Aretha Franklin and the hard-knock wisdom of Joseph Lowrey. They also framed a nation that include the likes of a Yo Yo Ma, an Elizabeth Alexander, and (sigh) a Rick Warren.