Archive: September, 2009
For the third straight year, the Phillies are the National League East champions! As Winston Churchill said, this is only the end of the beginning. October starts in 67 minutes.
The Eagles' management are people who like to have the best of both worlds. Taxpayers like you and me doled out at least $181 million to pay for Lincoln Financial Field -- that would be at least $85 million from the state of Pennsylvania and $96.2 million from the city of Philadelphia but the Birds get to run the joint like it was their own private country club.
Taker the issue of free speech. Considering that taxpayers footed roughly one-third of the bill for the Linc, you'd think that we'd get at least get to speak our minds down there 33.3 percent of the time. But the Eagles policy continues to be just like that soup guy, "no speech for you!" The latest outrage?
This is the most bizarre true story I've seen in some time, but I'm thinking it's just a scam. I hope it is, actually.
A couple of months ago I mentioned that New Jersey -- the world's leading innovator of bizarre political scandals -- deserved better than either Jon Corzine or Chris Christie. Upon further review, this new information may tip the scale in this battle of (not political) heavyweights:
There are many ways to determine people's New Jersey-ness: where they grew up, perhaps, or how they talk. But on the most culturally resonant measure, Springsteen fandom, Mr. Christie, the Republican candidate for governor, is way off the charts.
He has attended 120 Springsteen concerts, in places as far away as Paris and London, and once ducked out of a Trenton fund-raiser — "Gotta go, another event!" he said — and raced to Philadelphia, arriving at the Spectrum just as the band was cranking up "Badlands."
There's something about the arrest of Roman Polanski that -- even though it's about the 2,749th most important thing going on in the world right now -- makes it the most blog-and-talk-radio-worthy story in years, because it touches how we feel about crime and punishment, art and redemption, and of course how we feel about Hollywood...and France.
The initial word was that "the French" were up in arms over Polanski's arrest, and so of course people started thinking there they go again -- those weak-kneed, Godless, hedonistic (insert nasty adjective), um, French people. Except there's one problem: The stereotypes aren't true. The French are just like Americans. They have braindead public officials and celebrities, but the average person has a similar sense of justice to the majority of U.S. people -- and this has cut across the usual ideological divide -- who think that raping a 13-year-old girl is a just horrible crime, period: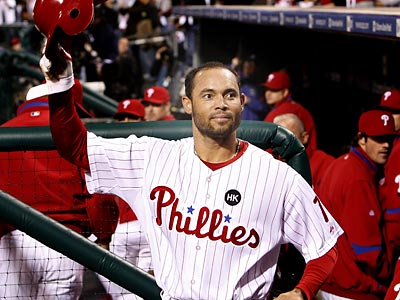 There will be Phillies' baseball after Sunday after all :-). They clinched a tie for the National League East title minutes ago with a solid 7-4 win over Houston, thanks to a grand slam by Pedro "Feliz Navidad!" Feliz, and aided by something most unexpected, a loss by the Atlanta Braves. So I think Chico Ruiz has effectively been picked off third base here. Now the big question is whether the arm of Ryan Madson, who got a rare six-out save tonight after a four-out save on Sunday, will fall off between now and the World Series, because if this '09 version is going to hoist the crown, it will be on Madson's back.
There's no better recipe for a good thriller than to take something you know is just not going to happen and then write about what would happen if it happened. That probably accounts for the enormous popularity in the early 1960s of a book and then a movie called "Seven Days in May," about a military coup plotted against the government of the United States. Although "Seven Days in May" was indeed inspired by some real right-wing military figures of the days -- including some generals who wanted to nuke Cuba during the 1962 missile crisis -- the fact is we've never seen anything close to tanks circling the White House, and we probably won't in our lifetimes. Why would we? The military-industrial complex is already quite skilled at getting what it wants without firing a shot.
Still, a conservative fellow can always dream, like this columnist at the Richard Mellon Scaife-founded Newsmax, who tonight is arguing that a military coup is the only solution to what he called "the Obama problem" (that problem. presumably, being that a majority of Americans voted for Obama).