Archive: August, 2010
Nearly two years before the cold-blooded killing of three Pittsburgh police officers that sent shockwaves across the nation, the accused cop-killer Richard Poplawski recorded an Internet radio show in which he listed people that he wanted to kill -- including "in a random measure a couple of members of the Pittsburgh police."
Poplawski -- along with his best-friend Eddie Perkovic -- recorded the bizarre rant in May 2007 for a crude-obscenity-laden Internet radio broadcast called "The Eddie and P.O. Show". A huge fan of radio shock jocks from "The Opie and Anthony Show" to later more political hosts like Glenn Beck, Poplawski launched his own radio tirade with praise for the Virginia Tech massacre that had taken place that spring -- "Thirty-three people dead, I'm fairly impressed by that" -- before this:
My reporting on the dangerous extremsism of Georgia Rep. Paul Broun, as excerpted today on Salon.com. Here's an excerpt of the excerpt:
The way to do that, according to Broun, is to enact policies that would make George W. Bush's tax cuts for the rich look like chump change. "It is not the government's place to redistribute wealth," he told the men in their tuxedos and women in evening gowns, [an Atlanta gala of the John Birch Society]. "I believe that death taxes should be zero, I believe that corporate taxes should be zero, that dividend taxes should be zero, and that all taxes should be very low."
Broun's economic theory -- which would destroy government as, for better or worse, we have come to know it in 21st-century America -- is kind of like the National Review on steroids, a brand of anti-tax talk that had lost its ability to shock in an era of Reagan revisionism. But it is nothing compared to Broun's embrace of conspiracy mumbo jumbo -- implying that even a former Republican president, George H. W. Bush, was part of a plot to destroy America from within. Broun started with an indictment of man-made climate change theory, adding:
Glenn Beck's original "I Have a Scheme" idea for his Washington rally that he announced in late 2009 was clearly one that was highly focused on a goal of....making boatloads of money for Glenn Beck. The concept, Beck told a large crowd in the Fox-happy retirement community of The Villages, Fla., was that he would consult a bunch of experts and develop a "100-year plan for America." Then, after luring a huge audience in person and on TV to watch him at the Lincoln Memorial on what he claims he then didn't know was the 47th anniversary of Martin Luther King Jr.'s "I Have a Dream" speech, he would roll out new product, a book called "The Plan" that would surely be the Beckian best-seller to end all Beckian best-sellers.
That didn't happen. Weeks later, the king of all right-wing media pulled a complete 180 (hardly the first time). The rally would still be on the same day and the same place, but everything else would be completely different. The event would be completely non-political, not about policy prescriptions but "Restoring Honor," with a goal of raising money not for a Beck book but for a four-star charity called the Special Operations Warrior Fund. And to some extent, that's what unfolded Saturday. Beck used his bully pulpit to urge America to turn inward, toward God as a source of answers, and although most of his aggressive fundraising went toward the massive cost of the National Mall event, Beck claims that SOWF will also reap a large donation.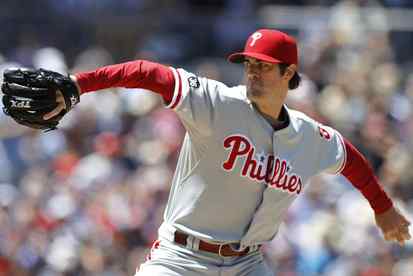 Feeling nostalgic today -- remembering the good old days when I used to blog a lot about the Phillies. Believe it or not, there was a period in '05 and '06 and even early into the playoff years when I was the only person in the Philadelphia Newspapers empire blogging the Phillies, and that was something I enjoyed. Maybe there'll be a few more posts than usual between now and October, especially since I'm feeling pretty good about the odds there will be an October.
Here's the deal: If the season ended today, the Phils would be in the playoff as the wild-card team. There's a lot of logical reasons why -- while that is clearly OK, given the team's many injuries and other outbreaks of bad karma in 2010 -- fans want to see them push beyond that and pass the Braves and win the National League East. That would increase their odds of home field advantage at least in the first round and supposedly also give them a more favorable match-up.
There's an interesting article from the New York Times tonight about the changing demographics of Orange County, long-known as the right-wing mecca that gave us Richard Nixon and John Wayne and was a hotbed of the John Birch Society. Here's the money paragraphs:
At the end of 2009, nearly 45 percent of the county's residents spoke a language other than English at home, according to county officials. Whites now make up only 45 percent of the population; this county is teeming with Hispanics, as well as Vietnamese, Korean and Chinese families. Its percentage of foreign-born residents jumped to 30 percent in 2008 from 6 percent in 1970, and visits to some of its corners can feel like a trip to a foreign land.
One thing that occurred to me long after Beckapalooza was over yesterday -- where the heck was Ted Nugent, advertised for weeks as one of the main rally speakers? Boise, it turns out. Perhaps the decision was made not to deploy any loose cannons on the MLK speech anniversary.
He would have livened things up a little, at least.
I better start learning to use a mobile phone, beyond dialing.