Archive: July, 2010
Will Bunch
A vivid memory I have of covering the 2000 presidential election was spending the final weekend going into Super Tuesday between George W. Bush and John McCain cris-crossing New York State. The Bush camp was worried that McCain would do well with moderate Republicans -- who still existed in 2000 -- but it destroyed their Arizona rival by saturating the state with TV ads that attacked McCain -- and again, this would never happen in a GOP primary today -- for being weak on helping the environment!
Who paid for this negative ad blitz? Two Texas billionaires, the Wyly brothers. Four years later, they were high rollers in the Swift Boat Veterans for the Truth.
Will Bunch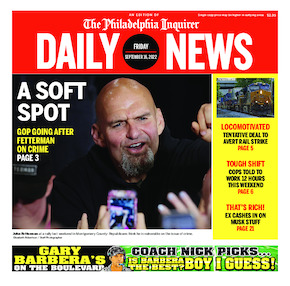 When you've been in the newspaper business for nearly three decades, things that once would have been a huge thrill, like writing a front-page article, aren't quite as exciting as they used to be. However, I do still get jacked up every few years when they take my suggestion for a front-page headline....as they did with "Domonation."
Of course, you could quibble whether a rookie getting two hits in his first game is exactly, um, domonation, but we're a tabloid. We're supposed to be over the top!
Will Bunch
I spent several days in the Phoenix area back in March, reporting for my fairly-soon-to-be published book "The Backlash." One place where I spent some time was on East Thomas Road, which is in the heart of the most-immigrant-laden area of East Phoenix, a nexus of the day laborers -- most of them undocumented -- who work construction and other types of physical labor for cash. The number of these day laborers in front of the Wal-Mart on East Thomas Road had dwindled considerably, in part because of harassment by nativist protestors but also because the housing market in Phoenix had collapsed. East Thomas Road was a hardscrabble place, to be sure, with lots of pawn shops and 79 cents taco drive-thru places, but I didn't feel like I was in some kind of nuclear fallout zone or anything. The local papers had a story about a controversial bill that appeared (at the time) to be stalled in the state legislature -- known officially as SB 1070.
That was only four months ago. This is East Thomas Road today:
Will Bunch
In other words, Americans increasingly see the Internet as an important source of information, despite the fact that they view much of that information as unreliable. Depending on how you feel about Internet users in general, that's either a baffling example of contradictory behavior, or a sign of healthy skepticism about online media.
Will Bunch
What a week -- first we learn that BP's Tony Hayward was "demonised" (as they spell it across the pond) and now the Phillies are "Domonized"!
Will Bunch
The Shirley Sherrod case wasn't a one-off, not by any means. A lot of conservative misinformation -- often generated though wishful thinking or other dubious non-reporting techniques -- starts with blogs, often more obscure than Andrew Breitbart's Big Government, but then churns quickly to the top of the right-wing media and sometimes, like the Sherrod story, even bubbles over to the mainstream. There's been a lot of play over the last two days over a purported "confirmed" list of journalists involved in the controversial (more on that later) email list and discussion known as JournoList. The list has been published on the widely read conservative site Free Republic and linked to by right-wing A-listers like Glenn "Instapundit" Reynolds.
You'll be shocked, shocked to learn that this virally spreading list is about as real as a $3 bill. since he found himself on the right-win "confirmed" list despite having nothing to do with it. I saw his article and -- based on the increasingly unhinged comments I've been getting on the JournoList lately -- thought I should check to see if I had been erroneously placed there as well. Of course, I was. It's 100 percent wrong. I was never on the now-defunct JournoList at any time during its history, nor was I ever asked to be on it. In fact, I was only vaguely aware of the JournoList -- thanks to one article I read about it, a while back.
Will Bunch
Yep, this is the guy I voted for:
"While I'm concerned about the disclosure of sensitive information from the battlefield that could potentially jeopardize individuals or operations, the fact is these documents don't reveal any issues that haven't already informed our public debate on Afghanistan," Mr. Obama said to reporters in the Rose Garden.
Will Bunch
I know that when you say an event is "non-political," the first thing that would pop into your head is...the National Rifle Association!. Other than the fact that the NRA is frequently named as the most influential lobbyist outfit on Capitol Hill and has its hands not just on all things gun-related but also everything else from campaign-finance reform to health care, this icon of the gun lobby doesn't have a political bone in its body, right?
Well, at least we'll see if they can keep it non-politically real, since the NRA is the latest group to come out full force behind the charity-funded-but-Glenn-Beck-organized "Restoring Honor" rally that is slated to be held near the Lincoln Memorial on Aug. 28, the 47th anniversary of Martin Luther King's "I Have a Dream" speech at the foot of the D.C. monument.