Archive: July, 2009
Will Bunch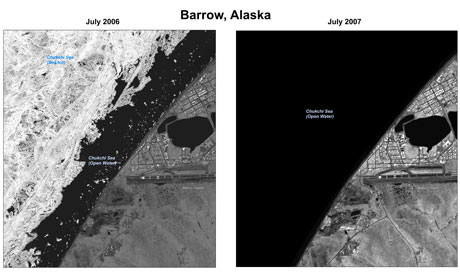 And it has nothing to do with torture:
Graphic images that reveal the devastating impact of global warming in the Arctic have been released by the US military. The photographs, taken by spy satellites over the past decade, confirm that in recent years vast areas in high latitudes have lost their ice cover in summer months.
Will Bunch
No, silly, not Michael Jack Schmidt.
I'm talking about Michael S. Schmidt, a 25-year-old reporter for the New York Times, the one who broke today's remarkably unsurprising, and yet still much discussed, story that the two star sluggers for the 2003 Red Sox, David Ortiz (at top), still a Sox (Sock?), and Manny Ramirez, late of Mannywood, tested positive that year for performance enhancing drugs. At this point, I only think it's a major story when a baseball star of the early 2000s can be shown NOT to have been on steroids or other drugs.
Will Bunch
The idea of American troops invading Canada -- as satired by the late John Candy and his offensive-line mate director Michael Moore in the film "Canadian Bacon" -- was a concept too silly even for good satire. But sending our fighting men and women into the streets of Buffalo, that idea made perfect sense!
The Posse Comitatus Act of 1878 generally prohibits the military from law enforcement activities within the United States. If armed officers are going to knock on Americans' doors, or arrest them in the streets, they should answer to civilian authorities.
Will Bunch
Just a quick note from the Pop Culture Desk. In 1971, the notion of a 14- or 15-year-old boy having sex with an Army wife was celebrated in a very popular Hollywood movie. In 2009, in the real world, the exact same thing is landing the woman in jail for as long as two years. (Partly because unlike "The Summer of '42," the husband was still alive, and found out about it.)
You think maybe our society is a tad conflicted on this front?
Will Bunch
I wanted to say thanks to Philadelphia Magazine for naming me "Best Columnist" in its new annual "Best of Philly" issue, recognizing me over a field that includes Rick Santorum, John Yoo....and a host of actual hard-working, butt-kicking journalists who were much, much more deserving. I plan to keep trying to win every year until they finally send me an invitation to their party for victors -- I guess they like my work more than they like me, not unheard of. :-)
Ironically, the recognition seems to be mainly for my work on John Yoo -- frankly I'd gladly give the award (if it ever arrives) back in return for no longer seeing the work of the Constitution-shredding, torture-enabling lawyer published here at 400 N. Broad. (More on him in a second.) I'm also wondering if this means I should now ask my bosses about, you know, actually becoming a columnist.
Will Bunch
This is fascinating. Americans strongly support President Obama's health care plan. It's just that they strongly oppose "President Obama's health care plan." Check this out:
As Congress works on its legislation and as Obama campaigns to get an overhaul enacted, 42 percent now say that the president's plan is a bad idea, which is a 10-point increase since last month. Thirty-six percent say it's a good idea.
Will Bunch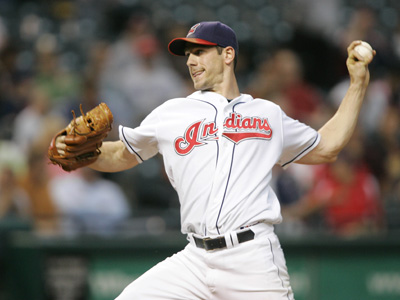 Halladay on Ice!
Phillies Go Cliff Diving!
Will Bunch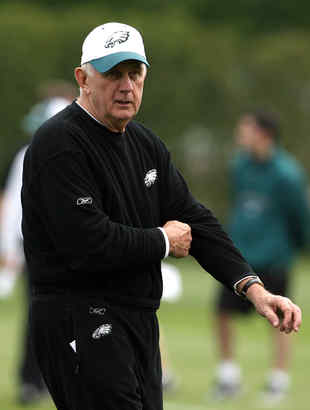 Rich Hoffman remembers the life of a man who made a difference:
Johnson was so many things for this franchise in his decade as defensive coordinator, the rock upon which everything was built, the most important hire Andy Reid ever made. Known for two things that he did incessantly - blitz and tell the truth - Johnson left the kind of mark, both personal and professional, that will not soon be forgotten. In a competitive, sometimes cut-throat business, Reid said, "I've never heard a person say a negative thing about him.''