Archive: June, 2010
Will Bunch
On the one hand, waterboarding is torture.
On the other hand....
Will Bunch
So I was in my car for the agonizing last out of the Phillies' game when I switched to catch the news and "Fresh Air" on WHYY, and they were doingt their traffic report. The announcer said things were slow on I-95, in part because of "the usual Phillies volume." Makes sense because often traffic is horrible right after the end of a Phillies game. Usually, however, not when the game is played at the Great American Ballpark in Cincinnati, Ohio, some 572 miles to the west of here. It was a horrible loss for Roy Halladay and company -- maybe angry Philadelphia fans were jumping in their cars and driving around aimlessly.
Or maybe it's what you always expected -- that traffic reports on the radio are completely made up and they just got caught red-handed (or Reds-handed, as it were).
Will Bunch
Following up on the last post, David Leonhardt of the New York Times is back today with an even-handed (seriously) look at the enormous gamble that's now being taken by most Western nations, with the United States not far behind. Leonhardt says the gamble could work (so could putting all of your chips on black...sometimes) but the risk is enormous:
The world's rich countries are now conducting a dangerous experiment. They are repeating an economic policy out of the 1930s — starting to cut spending and raise taxes before a recovery is assured — and hoping today's situation is different enough to assure a different outcome.
Will Bunch
There was a story in the New York Times today that all Americans should read, about the reverse miracle of the Irish economy. You see, the deficit hawks worked their magic in Ireland before it became the policy of the rest of the European Union -- doing the same things that Tea Party-inspired Republicans will do if they ever take power again in the United States.
Will Bunch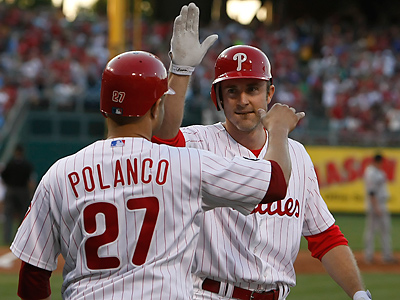 Utley and Polanco and down and out for a while and Brad Lidge just partied like it's 2009, giving up a three-run game-tying blast with two out in the bottom of the 9th. There's a lot of reasons why even good teams don't go to the World Series year after year after year, and we're getting a painful and much unwanted lesson about that here in Philadelphia.
On the other hand, the Phillies did come back to win that game tonight, and who knows? You've probably heard that that that (like the three "that"s?) doesn't kill me makes me stronger, and maybe what the Phillies really needed to get back to the World Series wasn't another relief pitcher but a tidal wave of adversity. Because God knows that's what they're getting,
Will Bunch
I was curious to see if any of the alleged Russian spies rounded up this week were on Facebook -- where else would you go to pry out American society's secrets? -- and of course they are, at least the glammed-out hip-Manhattanite wannabe called "Anna Chapman," if that indeed is her real name.
Here's Chapman's Facebook profile page as much as can be accessed by the public (unfortunately, we weren't friends -- I have to say I would have thought in a weird way it was kind of cool if we were); she also has 180 friends, some of who indeed have Russian-sounding names or even names in the Cyrillic alphabet, something of a giveaway, no? (The top posting on her wall is also in Cyrillic and in Russian, apparently the news of her arrest!) Like any good spy, she also lists Alma de Agave Tequilla as one of her "likes and interests."
Will Bunch
Is moose and squirrel.
Like Elena Kagan, I don't have much to say this morning -- see you this afternoon.