Archive: May, 2009
Will Bunch
For all you Attytood readers who live on the Left Coast, I'll be taking "Tear Down This Myth" out your way, finally, to the place where it all began -- this MONDAY, June 1. That's when I'll be appearing in Pacific Palisades (the Gipper's old neighborhood, where this photo was shot in the mid-1960s) at Village Books at 7:30 p.m. that night. I hope to see you, California Attytood reader (and I use the singular, because there may be only one of you :-) ) there. Here's info about the event.
Talk about perfect timing. My visit comes as California teeters on the verge of the collapse, in good part because of politicians and a good chunk of the public following what I call Reaganism, a warped view of what Reagan really stood for as governor and then as president in the 1980s. My new friend Bennet Kelley, who helped arrange my trip to the L.A. area, explains here:
Will Bunch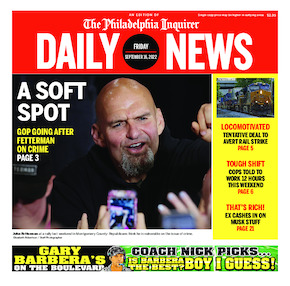 As I briefly noted here last night, I was dragooned into our team coverage here at the Daily News into the story of Bonnie Sweeten, the blondiful suburban mom who reported the dramatic "kidnapping" of herself and her 9-year-old daughter, a fable that was summed up by a great DN headline after it was learned they'd really fled to Disney's Magic Kingdom: "Fantasyland."
So many questions. The biggest one, which is why do people do such things, will likely remain an eternal mystery -- even Sweeten herself probably couldn't explain why she upended so many lives.
Will Bunch
Guess who's coming (or going) to lunch.
UPDATE: Sheesh...added the missing link above. It involves the initials "M," "H," and "P," not necessarily in that order, and the burning question of whether people will pay for online news.
Will Bunch
Rep. Joe Sestak (D-PA) is privately telling supporters that he intends to run for Senate, TPMDC has confirmed.
Will Bunch
As soon as they relocate a few of those rocks, they'll be putting in the first couple of rows of slots machines as well as a big tent for their "temporary" casino in Fishtown. OK, OK, just kidding -- slightly -- but does anyone really believe that Philly's two "gambling palaces" are going to look much more appealing than the picture above.
Will Bunch
So the big story around here today was the "great debate" over the Inquirer's hiring of John Yoo, between Brian Tierney, the Inquirer publisher and CEO of the parent company of the Daily News and Inquirer, and Your Blogger. It was held on WHYY's Radio Times and you can listen to the podcast of it here. One thing that was clear from the start is that we won't be taking our schtick to MSNBC or Fox -- as it was far too civil for prime time, with not enough crazed shouting and what not. Brian said some very kind things about me and about Attytood (much appreciated) and I expressed my gratitude for the climate that allows a journalist/employee to speak freely.
None of that, of course, swayed me from my stance from Day One, that the Inquirer's hiring of "torture memo" author Yoo as a monthly columnist was a mistake that should be undone, that the newspaper helps to normalize torture when it hands one of its limited supplies of megaphones to a man whose claim to fame is working to justfy such an abuse of basic human rights.
Will Bunch
(Photo from The 700 Level.)
Phillies' fans were talking about three things this weekend, and not necessarily in this order: 1) What to do -- sigh -- about Brad Lidge 2) How cool was it to take 2 of 3 from the Yankees in their new obscenely overpriced house and 3) How cooler was it that New Yankee Stadium was larded with a red sea of Phillies' fans for all three games. (Including both the real and the fake John Mayberry Sr.) How did this happen? Do you know many Philadelphians who can even afford what they charge for tickets up there in the Bronx? Because most New Yorkers apparently can't.
Will Bunch
Maybe it was because the other side in the case was a bunch of billionaires:
In one, during the baseball strike of 1994-95, she ruled in favor of the players over the owners, effectively ending the owners' ability to impose a tough contract on the players and start the season with scab replacement players in an effort to force them to agree. The ruling pointed out, in painstaking detail, the serial ineptitude of commissioner Bud Selig and his lieutenants as they presided over this mess. It was Selig's worst moment as commissioner and there wasn't a close second.