Archive: March, 2010
Will Bunch
Corporations have unlimited "free speech" in this country, but nurses at Temple University Hospital do not?
Something is terribly wrong.
Will Bunch
This is exactly what I was telling you people (as Ross Perot might say) a while back:
LONDON - Scientists at a leading British climate research centre had a culture of withholding information from global warming sceptics but did not deliberately manipulate data to support their case, lawmakers said on Tuesday.
Will Bunch
This hasn't been a full-service blog for a few weeks and won't be for a tad longer as I'm in the home stretch of this book thingee, but I didn't want the day to end without expressing my disgust at hatemonger and terroristic threatmaker Norman Leboon -- I hope they throw the book on him. Ironically, I didn't blog anything last week about the attacks on members of Congress who supported health care, but when this kind of thing is done by someone who claims to be a liberal, I want to be clear. Threatening other people and their families is not a liberal value, nor is it a human value. Period.
My only other commentary is that this guy doesn't show up in court for a serious assault and he's out there posting videos on YouTube? Pardon my acronym but...WTF? C'mon, Philadelphia criminal justice system...we know you've got problems, but you gotta do better than that.
Will Bunch
Blogger's Note: I told you to follow me on Twitter, but since you didn't, here's a summary of my fabulous adventure with Glenn Beck and his aptly named American Revival at the UCF Arena (top) in Orlando on Saturday. There'll be a more fleshed-out version in tomorrow's Daily News!
UPDATE: Here's the Daily News article, which has a lively discussion section of its own.
Will Bunch
Hard to believe, but I'm on my final road trip of the great book adventure. Right now I'm connecting for a flight to...where? I could tell you, but then I'd have to...do something that would be politically incorrect to say in this moment of national nervous breakdown. Why not follow me on Twitter, where (barring glitches) I hope to do some live coverage tomorrow of what should be a fascinating political event (and also write about it for the dead-tree Daily News on Monday.)
Meanwhile, you're in charge of Attytood this weekend. And to inspire you, I'll send a free signed copy of our socialist re-education program -- also known as my book "Tear Down This Myth" -- to the two best comments this weekend, probably one liberal and conservative (although I don't want to discriminate against any centrists...or anarchists). So put on your thinking cap and fire away..
Will Bunch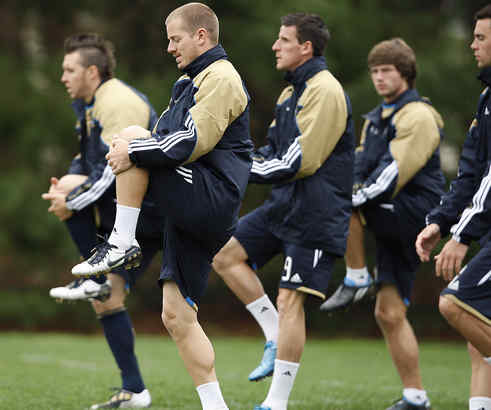 Now that America's social problems have finally been solved and the first buds are showing up on the trees, we can finally turn our attention to the thing that matters most in life, which is sports. Amd what a grand and glorious day it is -- the long-awaited regular-season debut of the Philadelphia Union, on the road to their first couple of games at the Linc and then a season of expected sellouts in their new soccer palace by the Delaware. For soccer fans here in Philadelphia, this day it is a little bit like the signing of health care reform, a moment that was literally years and years in the making. Congrats to the Sons of Ben, the finest sports phanatics in this city of fan-champions.
And a wag of the finger to the Philadelphia Eagles, who having failed to deny the supremacy of the Phillies, are now taking to knocking the Union off the back page by trading McNabb. But then I couldn't loathe that team's management any more than I do already.
Will Bunch
Not feeling any more enslaved than I did yesterday....
Will Bunch
Jim DeMint couldn't escape if he wanted to. Looks like I picked the wrong weekend to quit blogging -- now that the Democrats see how good it feels to actually pass something, who knows what crazy thing they'll do next. Discuss! Me? I'm writing a book -- remember?