Archive: March, 2008
Will Bunch
Did Brett Myers implode in the 5th inning? Check.
Ryan Madson served up a gopher ball over the heart of the plate? Check.
Will Bunch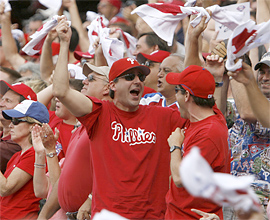 Well, one of the downsides of a competitive Pa. primary is that it's totally demolished the time I've had available for my uninformed Phillies fan rants. Besides, we have professionals blogging about baseball now, although I still have a strong allegiance to this site.
For the first three years of Attytood, I made long predictions that didn't really mean anything, because the Phillies are just the most unpredictable team I've ever followed. I realized last year the only prediction that makes sense is to start the year assuming they'll go 86-76 and miss the wild card by one game, and then once in a blue moon they'll surprise you.
Will Bunch
Ed Rendell, by way of Michael Calderone at the Politico:
"I think during this entire primary coverage, starting in Iowa and up to the present -- FOX has done the fairest job, and remained the most objective of all the cable networks. You hate both of our candidates. No, I'm only kidding. But you actually have done a very balanced job of reporting the news, and some of the other stations are just caught up with Senator Obama, who is a great guy, but Senator Obama can do no wrong, and Senator Clinton can do no right."
So, if I read this correctly, Fox News Democrat Rendell is endorsing objective reporting like the bogus Fox story that Obama was educated in a madrassa in Indonesia, because it wasn't Hillary bashing. Even one of Fox's star reporters blasted Fox's lack of "objectivity" on Obama recently. Since FNC's also been critical of Clinton lately, is Rendell calling them "objective" because they run biased stories bashing BOTH Democratic candidates?
This goes beyond the current Clinton-Obama wars. Rendell -- in winning elections by the dint of his own personal popularity (and good for him) -- has remained willfully ignorant about the broader truths of American politics in Fox News era, even as he ran the DNC while the media obliterated Al Gore in 2000.
Will Bunch
A 37! That's a typo, right? Isn't it like the SATs, where you get a 40 just for signing your name? Maybe a better pair of shoes would help.
Will Bunch
Our own Vance Lehmkuhl went to this weekend's Eschacon '08 blogger conference here in Philadelphia, so you didn't have to. He's got a special PhillyFeed podcast up on the conference, and you can listen to it here. I'm listening to it right now, and just learned that I've been mispronouncing Eric Boehlert's name all these years. Who knows what you might learn about the blogging libs? (Swifty's favorite cartoonist Ted Rall is in da house.)

Meanwhile, in the rapid response department, Jay Rosen is up quickly with a response to my Saturday post on liberal bloggers and their effort to counter the mainstream media's love affair with John McCain. Unlike my breathless from-the-scene report, Jay took an extra day and came up with some good ideas to advance the topic:
Digby is right to emphasize how much it's a guy thing between McCain and the press. "Because of his POW history and his savvy manipulation of their hero worship, they have imputed the character of the young man of integrity who stood steadfastly by his fellow prisoners forty years ago to the older sleazy, self-serving, intellectually lazy politician he became."

Something like that did happen. But I don't think Digby is right to see this relationship—which is deeply neurotic—as a fixed thing. It's more in motion, and about to come under a lot of stress. Some of it from within journalists themselves. This is why, though I await further reports, talk of some blogospheric war makes little sense to me. We're in a dynamic situation here. And one of the biggest unknowns is: will Obama match McCain in radical openness with the press?
Will Bunch
The liberal blogger-fest known as Eschacon '08 is wrapping up now with a panel called DFH Economics. The "D" stands for "dirty," while the "H" stands for "hippie." If that's true, then it sounds like the hippies know more about economics than the suits. Among the speakers are Atrios/Duncan Black, who has a Ph.D. in economics from Brown, and Princeton's Paul Krugman, the New York Times columnist.
The bottom line is this: They said they knew the market was headed for trouble when people began to speculate on houses, which unlike the Internet of the 1990s bubble is something that's been around for about 5,000 years.
Will Bunch
The primary battle between Hillary Clinton and Barack Obama seems far from over (no matter what the numbers say), the war in Iraq just marked its grim 5th anniversary with renewed bloodshed, and a host of issues from domestic spying to the U.S. attorney scandal are still up in the air, too.
No matter. A group of some 150 top liberal political bloggers gathered in Philadelphia this morning, and they declared a new war before there is anything remotely resembling a ceasefire in the old struggles. The focus is GOP presidential candidate John McCain – but that's the strategic goal of the campaign, not the new tactical weapons.