Archive: February, 2011
Will Bunch
I don't normally blog about the Oscars and since I was working last night and only saw the last portion of the show, I'm certainly not going to weigh in on meaty questions like, um, whether James Franco was stoned. But it did strike me that the movie world went ga-ga this year over two real-life, "non-fiction" morality tales.
One of them is "The Social Network," which basically blames or credits the rise of the $50 billion behemoth known as Facebook on Mark Zuckerberg's unrequited desire to reconnect with an ex-flame. Except that in the reality-based world Zuckerberg has been happily dating the same woman for seven or eight years. The other is "The King's Speech," the moving saga of the speech coach who saved Western civilization by curing King George VI of his stuttering problem at the start of World War II in 1939 -- except that acording to this reality-based account the king was largely cured of his stammer by 1927, six years before Hitler even gained power in Germany. (More background here.)
Will Bunch
I'm sorry, I meant to post something earlier about the Koch brothers (why do these guys remind me of the great Philadelphia movie, "Trading Places"?). They're definitely headed our way, although whether they can gain as much traction in Harrisburg as they almost did in Madison remains to be seen:
Last week, the president of a tea-party-linked political group heavily funded by the Koch oil-and-gas fortune - Tim Phillips of Americans for Prosperity - told reporters covering the labor unrest in Wisconsin that Pennsylvania is one of three states, along with Ohio and Indiana, where the group plans a push to curb union benefits and power.
Will Bunch
Oops, wrong picture! More on this issue later.
Will Bunch
OK, so it's not Cate Blanchett's Oscar dress or Chase Utley's knee or anything, but there was a story today of super interest to anyone who lives here in the Keystone State and drinks the water. You probably didn't see it because it ran in an out-of-state publication (the New York Times) with, at least in the online version, a boring headline. I wish it had gotten Daily News style treatment, as in something like: "HEY, PENNSYLVANIA, THAT GLASS OF WATER YOU'RE DRINKING COULD KILL YOU!!!"
Did I mention that this involves fracking?
Will Bunch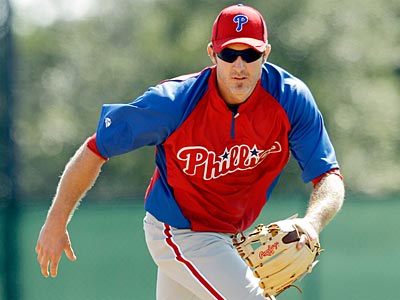 Chase Utley could grow old before your very eyes.
(Seriously, did people not see this coming?)
Will Bunch
Will the state police clear the capitol in Madison, or will they pull a Cairo and side with the people instead? Watch live video here.
Will Bunch
The extraordinary rendition of teachers who speak out in the Philadelphia School District:
AUDENRIED HIGH School teacher Hope Moffett was stuck in "solitary confinement" yesterday in the basement of an administrative office otherwise known as the Philadelphia School District's "teacher jail."