Archive: November, 2008
Will Bunch
Fascinating essay in the L.A. Times on the roots of modern-day Palin-ism in the GOP, beyond Nixon, all the way back to Joe McCarthy:

Republicans continue to push the idea that this is a center-right country and that Americans have swooned for GOP anti-government posturing all these years, but the real electoral bait has been anger, recrimination and scapegoating. That's why John McCain kept describing Barack Obama as some sort of alien and why Palin, taking a page right out of the McCarthy playbook, kept pushing Obama's relationship with onetime radical William Ayers.


Now, here's your gratuitous, unrelated video, with apologies for the poor sound quality. At long last, I have no sense of decency, sir:
Will Bunch
Is this a great country or what?
As for the poor maintenance man who was was trampled by shoppers at a Wal-Mart in Long Island, I hope they comb through the videotape, track down the shoppers and charge every blessed one of them with bloody murder. There've been a lot of stories in the last week or two about what Great Depression II will look like, but I think trampling people to get bargains at a discount stores is pretty much it.
Will Bunch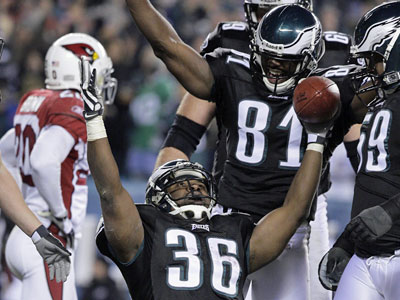 Written off as brain-dead by their fans, the Birds respond tonight with a rout of their feathered friends, the Cardinals. Who are these guys? With the Phillies, we watched a team consistently exceed expectations, while these Eagles simply confound expectations.
Maybe we make it more complicated than it needs to be. Healthy Westbrook, we win; ailing Westbrook, we lose. The rest is all a giant waste of formerly living trees.
Will Bunch
Make a wish!
Will Bunch
FOA (and Philadelphian) Rem Rieder, the editor of American Journalism Review, has written what I think is the definitive Media-in-the-Tank-for-Obama piece:
A study by the Project for Excellence in Journalism found that the media cast McCain in a much more negative light than it did Obama. But that hardly means the press was unfair to the Arizonan. Covering the candidates equally would be a false equivalence if one campaign were performing far better than the other one.
Will Bunch
Sad as it to contemplate on a bitter November night, there will come a sunny day seven or eight months from now when Johan Santana and his New York Mets are going to shut our world champion Philadelphia Phillies down cold. How could it not happen?...Santana, a baffling lefty with possibly the best change-up in baseball, is unhittable on his best days, which is why the Mets are paying him as astonishing $137.5 million over six years. While it's always frustrating when your team has to face an ace like Johan Santana, there's one thing about it that is absolutely infuriating about it out.
You are now paying to help make it happen.
Will Bunch
A good whodunnit -- something to read as you wait for a real post.