Archive: October, 2010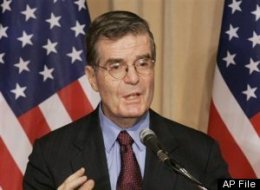 Theodore Sorensen -- best known as a speechwriter for President John F. Kennedy -- died today at age 82. His best known work, of course, is the 1961 inaugural address that he crafted for JFK in 1961. Although so much of the speech is cloaked in the Cold War, its basic humanity is as true today as it was nearly 50 years ago; read Sorensen's words now, and hope our leaders take heed tomorrow:
To those people in the huts and villages of half the globe struggling to break the bonds of mass misery, we pledge our best efforts to help them help themselves, for whatever period is required -- not because the Communists may be doing it, not because we seek their votes, but because it is right. If a free society cannot help the many who are poor, it cannot save the few who are rich.
As promised, my op-ed on the Rally to Restore Sanity and/or Fear runs today in the Los Angeles Times. I see, frankly, more similarities than differences between Glenn Beck's 8/28 rally and what we expect from Jon Stewart and Stephen Colbert -- both events are Woodstock moments for tribes of entertainment-addled Americans based on attitude and not action, and both events may have little lasting effect beyond boosting the lucrative brands of their stars.
Here's an excerpt:
If the Radnor school district had invited the GOP congressional candidate Pat Meehan (and don't forget Dick Cheney, whose Halliburton continues to work wonders for America) to Radnor High, students might have been able to learn why a so-called "tough on crime" ex-prosecutor thinks it's a good idea for Pennsylvania's bad guys to legally get concealed weapons permits in the state of Florida:
One good thing, perhaps, about the 2010 election is that more people than usual are talking about "free speech." The bad news is that the reason we're talking about it is... because it's been a lousy year for people trying to express their point of view. If you don't believe me, just ask Lauren Valle, the liberal protester who found herself the victim of a new dance step called "The Kentucky Stomp," or the journalists who've been handcuffed and threatened with violence or legal action just for asking questions in public settings, including now this bizarre episode involving Christine O'Donnell and our exotic neighbors to the south (a.k.a. "Delawarians")?
Other outbreaks of America's newfound bias against political speech aren't quite dramatic but are troubling nevertheless. I think there was a common sense solution to the issues raised here locally this week in the Radnor school district, over a proposed event at the school that would have featured a candidate for office -- U.S. House seeker and current state rep Bryan Lentz of Delaware County, and Vice President Joe Biden. Radnor school district officials OK'ed the program last week, then abruptly cancelled it and forced Lentz and Biden to take their gig elsewhere, to a community gymnasium. Remarkably, school officials claimed the issues largely involved short notice, etc., when clearly partisan politics was involved.
I wonder what the Communist Party USA, which loves my book, would have to say about this:
Does President Barack Obama deserve credit for the fact that corporate profits have risen faster under him than during any other 18-month period since the 1920s?

"The better question is whether he wants the credit," said Douglas Holtz-Eakin, who was an economic adviser to Republican Sen. John McCain's 2008 presidential campaign. "Obama sounds a lot like he wants corporations to be less profitable."

Profits have surged 62 percent from the start of 2009 to mid-2010, according to the Commerce Department. That is faster than any other year and a half in the Fabulous '50s, the Go-Go '60s or the booms under Presidents Ronald Reagan and Bill Clinton.
Here it is, comrades, a rave review of "The Backlash" from People's World -- the publication of The Communist Party, USA. I thought Attytood fans would especially enjoy this part:
The frustrated attempt by the petty bourgeoisie (not the obfuscated term "middle class" which tries to lump working class wage earners with landlords, middle managers and small capitalist entrepreneurs) to ape the airs of the social class to which they aspire, and the vehemence with which they castigate the working class and the poor, becomes incandescent when a pink slip arrives on the heels of a foreclosure notice. The classic capitalist myth suddenly evaporates in the face of the fact that that the banks have always owned most housing and that a mortgage is little more than rent in perpetuity: the illusion of ownership - the American Dream on layaway.
As you were warned last week, I've written a story for today's Daily News about the Jon Stewart/Stephen Colbert rally in D.C. this Saturday, the people from Philly who are attending, and what it all means. Here's an excerpt:
But - in perhaps a commentary on the absurdness of the American political moment - there remains little agreement over what the rally is actually about, even among those who've plunked down hundreds of dollars for train tickets and motel rooms.
Speaking of violence, as we were here just yesterday, there was a remarkable letter published on the Romenesko journalism website that explains an important reason -- although not the only one -- why the devastating Wikileaks disclosures about the conduct of the Iraq war have not been as big story here at home as it has been overseas. The letter is from John Parker, a former military reporter who now teaches journalism at the University of Maryland:
The career trend of too many Pentagon journalists typically arrives at the same vanishing point: Over time they are co-opted by a combination of awe -- interacting so closely with the most powerfully romanticized force of violence in the history of humanity -- and the admirable and seductive allure of the sharp, amazingly focused demeanor of highly trained military minds. Top military officers have their s*** together and it's personally humbling for reporters who've never served to witness that kind of impeccable competence. These unspoken factors, not to mention the inner pull of reporters' innate patriotism, have lured otherwise smart journalists to abandon – justifiably in their minds – their professional obligation to treat all sources equally and skeptically.