Archive: January, 2009
Will Bunch
Wow -- huge h/t to Romenesko for posting this amazing "Tomorrowland" genre of newspapers on your computer, circa 1981 (the year I entered newspapering full-time).
Still trying to figure out the best part -- the rotary dial phone, the editor who concedes "we don't really expect to make any money" from news on a home computer...or the anchorwoman's hair-do!
Will Bunch
As for football, Springsteen said, "I don't know anything about it." Later, he said: "I did play the game in my backyard around the summer of 1958. I haven't played a lot since. I'll date myself. When I hear Steelers, I think Terry Bradshaw."
Will Bunch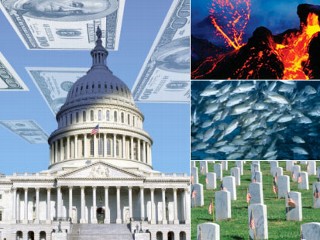 I wanted to make this point last night, but Atrios beat me to it and did a better job:
If I were advising the Republicans I would've told them to vote against the stimulus package. I would tell them to make the point clearly that if they were in charge, the bill would be a different bill. They're a competing political party and they need to, you know, highlight the fact that their vision for America is actually different. I appreciate that members of both parties don't always toe the line completely, but on a bill as big as this it makes perfect sense for it to play out as it did.
Will Bunch
Jan. 20, 2009, was such a transformative day in American politics that it was easy to forget it also marked a 20th anniversary as well. The inauguration of President Barack Obama also meant it was two decades to the exact day since Ronald Reagan last sat in the Oval Office. When he and his wife Nancy boarded the Air Force One jetliner – the one that was later decommissioned, de-assembled and reassembled at the Ronald Reagan Library (and mostly paid for by oil billionaire T. Boone Pickens) – for the long trip back to California, it wasn't clear how the world would remember Reagan's presidency.
Will Bunch
Looks like the '70s are poised to make a comeback in New York, except this time without CBGB, the Ramones or Studio 54.