To paraphrase the cook on the Edmund Fitzgerald, "Fella, it's been good to know ya." (Actually not really.)
Homework assignment: Read this absolutely essential article in the Guardian by Trevor Timm -- I'll have some more to add later tonight. Here's an excerpt:
How many people wake up and ask themselves, "I wonder what Dick Cheney and Henry Kissinger think about Isis?" Outside of a few TV bookers, absolutely no one does – but with war on the horizon, the nation's most awful surviving warmongers get to go back on the television circuit and address members of Congress, explaining that, if we just drop a few more bombs, it'll actually work this time! (Unlike all the other times.)
Thanks to this wall-to-wall fear mongering, a once war-weary public is now terrified. More than 60% of the public in a recent CNN poll now supports airstrikes against Isis. Two more polls came out on Tuesday, one from the Washington Post and the other from NBC New and the Wall Street Journal, essentially concluding the same thing. Most shocking, 71% think that Isis has terrorist sleeper cells in the United States, against all evidence to the contrary.
Let's be clear: There's only one person to blame for Ray Rice's firing from the Baltimore Ravens and his suspension from the NFL -- and that's Rice and his violent, reprehensible violence toward his future wife. But you have to wonder if the abysmal state of Atlantic City -- and New Jersey's bass-ackwards "economic development" policies -- played a tiny role in triggering the chain of events that caused Rice to bump ISIS terrorists off America's tabloid front pages.
How so?
Well, one angle that's failed to get a lot of focus on this whole sordid matter is how did TMZ Sports (Really? That's a thing?) even get the video? And why now, and not during the initial media frenzy earlier this year over how Janay Rice came to be knocked unconscious in an AC elevator? We don't know -- there's always a possibility that someone in local law-enforcement who was disgusted with Rice's legal wrist-slap punishment leaked it, or maybe a whistle-blower within the NFL, although the NFL has denied six ways to Any Given Sunday that it saw the footage before it was on TMZ.
You could say this was the best of times and the worst of times for journalism in Philadelphia -- which would be an embarrassingly trite cliche, so I guess you can file this sentence in the "worst of times" category. Anyway, I don't need to tell about the rest of the worst -- you probably know most it, and I'd get in trouble if I told you the stuff you don't know about. So what's the good news? Well, for one thing, the fast-shifting media environment has meant some good reporting over the last few years from startups like WHHY's Newsworks and the already departed AxisPhilly, with more creative disruption promised by the launching BillyPenn.com. among others.
But more importantly, we forget that -- amid the doom and gloom -- some of the best writing in the long history of Philadelphia has happened here in the last few decades, some of it in the last couple of years. Some of that work has been justly celebrated -- you know all about my friends and colleagues Barbara Laker and Wendy Ruderman here at the Daily News, who won a Pulitzer Prize for exposing the corruption on the Philadelphia police force that the Establishment will still go to any length to keep covered up. But a lot of riveting storytelling -- "longform," or "long reads" as the kids like to call it -- doesn't get the glory it deserves.
A new website is trying to change that. It's called Longform Philly (here's its Twitter feed) and it's a great way to kill. um, several hours . Some of the writers over at Tommy Rowan's new joint are pretty well known -- Mark Bowden, some guy named Bissinger, and you could also check out my favorite "lede" (journalismese for "the beginning") by the late great Richard Ben Cramer of the Inquirer. Even better, some of the cool stuff that my Daily News colleagues have done both recently and in the past -- Jason Nark with a touching tale of fatherhood, David Lee Preston on his mom, a Holocaust survivor, and Stephanie Farr's own, personal Philly Jesus -- gets its due.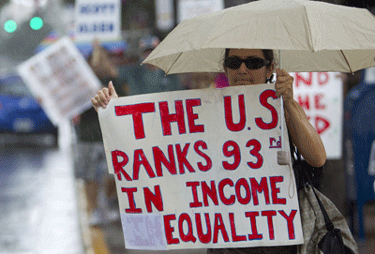 Until the remarkable video obtainers of TMZ did their handiwork on Ray Rice, I couldn't pass a TV screen today that didn't have the same one headline, about how President Obama is set to reveal his plan for dealing with ISIS, or ISIL (I'm hoping that the first part of his plan will be an executive decision on what to call them). No doubt, ISIS -- or ISIL, for that matter -- is a huge problem for the world in 2014. The actions of this terrorist group -- beheading innocent journalists, threatening genocide against minority groups in Iraq, imposing harsh religious law on unwilling communities -- are not only barbaric and despicable, but they threaten even more instability in the most unstable region of the world.
But ISIS also a) poses no special threat to what we now call, for better or worse, "the homeland" -- despite some embarassingly hysterical journalism to the contrary and b) is one of several lethal assaults on world stability, along with Russia's incursions into the Ukraine and Ebola in Africa, among others.
Meanwhile, the media's and the Beltway establishment's OCD-like fixation on ISIS has ground to a halt the brief conversation after Ferguson (remember that?) about something that actually poses a much greater threat to the stability of the United States: Gross inequality.
Most of the folks that I follow in my Twitter timeline are focused on current affairs, culture or especially politics...and then there's sports. Today those two worlds collided in a nuclear chain reaction, with the shock video showing Ray Rice, (then) of the Baltimore Ravens, striking his then-fiancee, now wife, in the elevator of the then-Revel casino in Atlantic City. Suddenly, no one can talk about anything else.
Within a couple of angst-filled hours, the Ravens cut Rice, the NFL suspended him indefinitely, and it seems like a star running back in the prime of his career may never play another down. And that's clearly the right thing to do; pro football needs to send a clear -- albeit ridiculously belated -- message that was Rice did was way out of bounds and that domestic violence will not be tolerated, period.
Here's what I don't get. The NFL and the Ravens knew this summer that Rice had struck Janay Palmer hard enough to knock her unconscious -- video had already been made public that showed him dragging her from the elevator, knocked out cold. Based on that, the league suspended Rice for a whopping two games. The only new information today was that we saw the film of Rice doing what the world already knew that he'd done -- throwing the punch that knocked her out.
Let's face it -- the media was getting pretty bored with the Pennsylvania governor's race, pretty fast. Over the summer, we learned that the more fracking cash and money raised by corrupt GOP governors in other states that embattled GOP Gov. Tom Corbett spends on TV ads, the less voters like Corbett. To win, Democrat Tom Wolf doesn't need to do or say very much...and he's not. The only thing that could interest journalists at the late date would be a whiff of sex.
Even a faint whiff. Needless to say, no one's actually having sex, not in this race -- but somebody, somewhere may have clicked on that favorite bugaboo of the 21st Century media and giant banana peel for politicians everywhere -- "racy emails." The Pennsylvania press is all in a tizzy over whether "racy emails" (I'm not sure what that means exactly, but I assume it's not NASCAR) bounced around the state attorney general's office when Corbett was AG through the end of 2010, and what Corbett knew and when did he know it about said emails, which have only been described as "inappropriate."
Watergate, it ain't. Here's the latest:
The environmentally friendly Eagles lose the green on Opening Day and still go off on the Jags...eventually. More blog content later -- when I forget that I'm happy over my sports teams winning a lot lately and get mad about something.