Archive: August, 2008
A friend emailed me this morning and asked me who I thought would be a good vice presidential choice for Obama.
How about someone from right here, from the political great battleground state of Pennsylvania, a Vietnam veteran with a long and distinguished career as a troop commander in the U.S. military, someone with strong views on foreign policy who has become deeply critical of the way that the Bush administration conducted foreign policy in the Persian Gulf and the Middle East?
Your word for today is "precarity."
Since elitism seems to be the theme of the day (and maybe the American century), those trendy conservative New Yorkers (how's that for an oxymoron?) at the New York Sun say that Obama might lose Pennsylvania because we're so not "hip":
Deep down, though, Pennsylvania, a state heavy with senior citizens, is a place where Mr. Obama's almost four years in the Senate count against him. "One of the things we found in the poll, even under a large number of Democratic voters, is that there's a concern about Obama's experience," the director of Franklin and Marshall's Center for Politics and Public Affairs, G. Terry Madonna, said. The poll found 34% of Democrats were concerned about Mr. Obama's "inexperience."
I see that John McCain has found a venue for announcing his vice presidential pick that is every bit as exciting and dynamic as his campaign itself -- beautiful downtown Dayton (on Aug. 29, if you're keeping score). What, was Tulsa not available that day? Anyway, I'm sure his actual pick will be every bit as electric as the backdrop -- i.e., Wiliard Romney.
As for Obama...ugh. It's looking with every passing minute like it's going to be Joe Biden, who can be a little bit too exciting, especially if you work in Dunkin Donuts or live in a "slave state" or perfer black presidential candidates who are "articulate" and "clean." Or work for a large credit card company. Yet Obama was floated so many horrific names -- like Evan Bayh and Sam Nunn -- that Biden actually looks good in comparison. Would it be audacious to hope for someone even better?
Here's three really good reads -- a book, a magazine, and a blog post. Hey, it's August -- bring 'em to the beach (well, maybe not the blog post)!
1) Read this book -- I haven't yet but I hope to. It's called "The Limits of Power: The End of American Exceptionalism," by Andrew Bacevich. The author is an interesting character: A West Point graduate and Vietnam vet who is currently a professor of international relations at Boston University, the self-described "Catholic conservative" has become a leading critic of Bush foreign policy -- and that was before his own son, an Army lieutenant, was killed by a suicide bomber in Samarra in iraq in May 2007.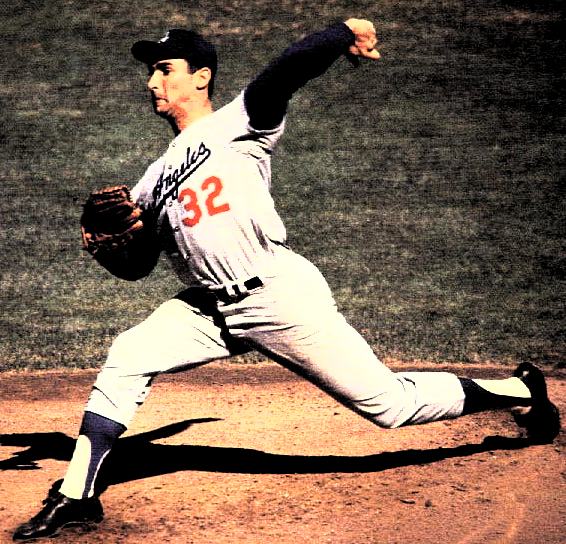 Unfortunately, in a way, this isn't a post about sports, because God knows anyone of our franchises could use some help from a legend, let alone a right-handed third baseman. The subject is blogging, and the long-awaited return of the legendary and successfully anonymous Philadelphia-based online writer known as Billmon. In his prime, mainly at his own defunct site Whiskey Bar, Billmon was an acerbic and always more than readable voice in the wilderness in the dog days of 2003 and 2004, when few else were questioning the mad rush to pre-emptive war.
Then, like Sandy Koufax (at top, duh) -- a different kind of lefty -- in his prime, he picked up his ball and went home, and the blogosphere mourned, hoping for a comeback. Which has happened -- Billmon has begun posting again, occasionally, on Daily Kos, and he's just as insightful as the day he left.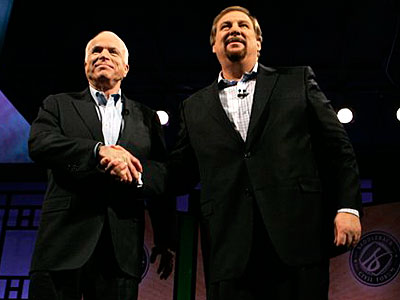 You know that "cone of silence" that John McCain supposedly sat in so he couldn't hear Barack Obama or the questions that he would be asked next in Saturday nights' values forum with "Purpose-Driven Life" pastor Rick Warren?
Well...missed it by THAT much!
While here in Philadelphia we continue to debate which journalism does or doesn't go online right away, a horde of Internet Mongolians may be poised to topple us from outside of our walled city. That would be the Huffington Post, which this week launched a new Web site devoted strictly to local news in the city of Chicago. You can see it here. They plan to bring this to other cities, and although I honestly have no inside information, I would imagine that Philadelphia is high on its to-do list, because of the large population here, the day-to-day struggles of the local newspapers, and the high blogging quotient around these parts.
On the surface, the Huffington Post Chicago isn't radically different in look or impact from local newspaper Web sites like Philly.com. But there are three critical differences: 1) HPC highlights the best local news from a variety of sources, including not just Chicago's two daily papers but also its magazines, weeklies, business journals and TV and radio stations and 2) it does that with just one -- count 'im, one! -- staff employee and 3) the staffer's work is augmented by bloggers willing to come to the site and post for free.