There are some things about the 9/11 terrorist attacks that almost all of us can agree on -- the unvarnished evil of those who killed innocent secretaries and accountants to make some kind of political statement, our sadness for the nearly 3,000 who were lost and our never-ending sympathies for their families and friends. Most of us also agree that it is unseemly at best and immoral at worst when people use the raw emotions of the 2001 attacks to advance their own cause, often one that really has nothing to do with 9/11.
Sometime it's over-the-top and easy to single out -- like that golf course that offered the nine holes for $9.11 on the anniversary last year. Sometimes it's far more insidious -- most famously when the Bush administration played on lingering fears over the attack on America to justify an invasion of Iraq, a nation that had absolutely zero to do with 9/11/2001. Rudy Giuliani's presidential campaign and its overly eager invocation of Guiliani's terrorism response was destroyed in one phrase -- "a noun, a verb, and 9/11."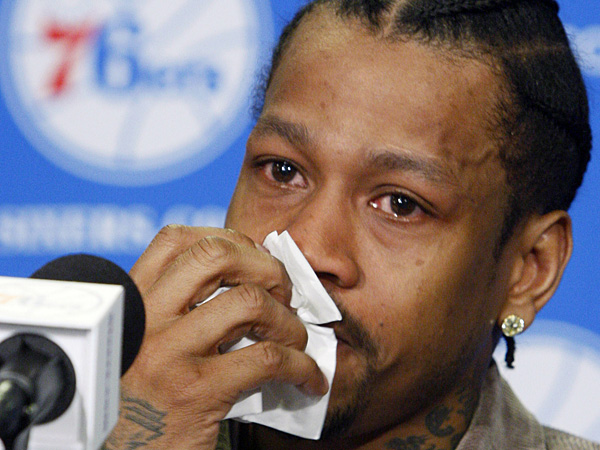 "I wish Phil Jasner could be here today."
Since it's Frank Bruni week here at Attytood, here's an interesting look at what's happening in Colorado where -- unlike a City of Brotherly Love we all know -- the operators of charter schools and the teachers' unions are actually on the same side of fixing schools:
If the overhaul were a socialist sop to teachers' unions, the campaign for it wouldn't have received $1 million from Michael Bloomberg and the support of some prominent Colorado businesses.
Maybe the Bull Moose Party will come back and re-take Congress in 2014. I seriously wonder where voters are going to go if we have another 12 months like this last one.
The Republican brand name is in the toilet and is probably going to be there for some time. The party recently posted the lowest approval rating in history, and it's not hard to understand why. The GOP's obstructionism, its use of budget blackmail, its know-nothingness, its wars on women and immigrants, its anti-science denialism, has made it a country for old men, with no appeal to a new generation of voters.
Since it's the slowest news day in the history of mankind, I thought I'd riff on the two most interesting -- and important -- op-eds that I've read in the last week. They made me think of Pittsburgh; I lived and worked in southwestern Pennylvania right after I graduated from college and spent a great deal of time then in Pittsburgh, but had not been back there much until I traveled the city in 2010 reporting on Glenn-Beck-fan-turned-cop-killer Richard Poplawski for my book The Backlash.
I had carried memories of my first stint there in 1981-92, rounding a steep hillside to see belching flames from a handful of barely surviving steel mills, glowing against the metallic blackness of a December night. Thirty years later, the mills had vanished but the skies were illuminated now by neon -- for the University of Pittsburgh Medical Center, a behemoth that seems to have large (untaxed) facilities on every single block. This, interspersed with glassy sheen of ever-growing University of Pittsburgh and Carnegie-Mellon, had saved the flame of Pittsburgh from extinguishing.
Eds and meds. That's what had preserved the Steel City, proving the Rolling Stones right, that you can't always get what you want -- high-paying union factory jobs -- but you can get what you need. You can outsource every factory in the U.S. of A., but not local schools and hospitals.
This is the front page of the New York Times today -- notice anything unusual? There is no actual news, except for the obituary of a Baby Boomer icon, a story that's arguably not "news" since that's going to happen every day for the next couple of decades. Sooooo....slow news day? A trend in the "newspaper business"? Or is the mainstream media covering up the real story?
What's the news that we're missing here?
This is the kind of thing that happens when for the first time in about a year I tried to stay off the computer for 48 hours, while I was out of town. While I was gone, I managed to miss an email from a reporter named Robby Soave from the Daily Caller who wanted a comment for a piece he was writing on teaching Howard Zinn in the Philadelphia schools and the blog post I wrote supporting that. I have a long history of talking to conservative radio hosts and journalists -- ask Jana Winter of Fox News, just to name one -- but I'm not sure if I'd talk to the Daily Caller under the best of circumstances, because they're not only right (politically), but so, so many times they get facts wrong. Most recently was an attempted hit piece on Sen.-elect Cory Booker, which given my distrust of Booker I might have jumped on, if remotely true.
But what was really priceless was one of the things that Soave wanted to press me on. This from the email (sent at 8:07 p.m. on a Saturday night) that I read after the fact:
Beatles - Revolution
by harrison73
Not sure what I can add to the many, many tributes to rock pioneer Lou Reed, who died today at age 71, so here's a link to a couple of good ones, from the New Yorker and from my cyber-friend Greg Mitchell. I'll always think of Reed as a guy who with the Velvet Underground wrote and sang the tune that -- of all the many, many songs that try to define what rock 'n' roll is really all about -- actually sang the song that defines what rock 'n' roll is all about. It's called, appropriately, "Rock & Roll" and it really captures the shock, awe, and life-saving powers of that fine, fine electrified music: