Not surprisingly, the turnaround specialists (let's see how that goes) who own the Philadelphia 76ers are also hedge funders of the 0.0001 Percent variety, even as their basketball team performs at the lowest percentile of the NBA. But let's concede that billionaire Wall Streeters are very good at what they do, and what they do best is crony capitalism.
So when it came time for the time to build a new Sixers' headquarters and training facility, they decided to cash in a couple shares of Apple stock and build the damn thing themselves! Ha ha, just kidding, of course they didn't do that! Instead, they played off elected officials from both sides of the Delaware River against each other and extracted the sweetest deal from the state of New Jersey -- $82 million in tax breaks. Who (besides Andrew Bynum) says the 76ers are owned by suckers?
States like New Jersey give these lush deals to the "job creators" -- but the handful of new jobs that may be created by the Sixers don't seem like a good fit for citizens in their new practice home of Camden, which has been reeling from ridiculous rates of poverty and woefully underfunded and under-performing schools ever since working-class factory type jobs disappeared decades ago.
Hold off on those Tea Party obituaries for a while...
RICHMOND, Va. — House Majority Leader Eric Cantor was toppled on Tuesday night in the most shocking primary defeat since Republicans took the House in 2010.
Dave Brat, a local economics professor who had tea party support, became the second challenger to defeat a House incumbent this primary season. Texas Republican Ralph Hall lost to a tea party insurgent at the end of May.
We know the Republican Governors Association is familiar with Pennsylvania's Gov. Corbett and presumably with his record here in the Keystone State...after all, they were just in Philadelphia (at the Comcast Center, or maybe somewhere else, because they are MASTERS OF DECEPTION) raising hundreds of thousands of dollars for the guy and his troubled re-election bid.
Maybe that's why I find this interesting -- the RGA (headed by our friendly neighbor to the east, New Jersey Gov. Chris Christie) has launched a new website called American Comeback, which claims, and I quote, that "Republican Governors are showing that when you turn conservative principles into real policies, they work." The site highlights the work of 17 key GOP governors.
Tom Corbett didn't make their first cut. Maybe next year? That's a little surprising, since Corbett's plan to save more than $1 billion on taxes for corporations while schools are laying off teachers, nurses and librarians strikes me as turning conservative principles into real policy... but what do I know?
I promised that I would never forget the Tainted Justice system here in Philadelphia. There have been some new developments, and the Daily News editorial page is ON IT!
According to a recent Daily News report, civil-rights lawsuit settlements reached a new high in 2013 of nearly $20 million to settle 207 claims. The previous year brought more claims, but only $11.6 in payouts. In 2008, the city paid $7.8 million total.
What's most troubling is not just the expense to city taxpayers at a time when we can ill afford extra millions. It is that the trend comes despite a strong leader in Police Commissioner Charles Ramsey, who presides over a force that includes many good cops. But the value of both is seriously diminished by rogue cops who flout the law, abuse their position, don't play by the rules - and end up staying on the force or getting reinstated after being fired.
Note: See two updates at bottom for newer details:
Hey, remember that time when Gov. Corbett was supposed to speak to students at Central High here in Philadelphia and when he heard that some of the students and teachers were going to protest his appearance (if not his very existence) he bravely turned his tail and fled to the safety of his office at the swank Bellevue Hotel, barring non-journalists from the room?
If you think that was cowardly, check out what brave, brave, brave, brave Sir Corbett is up today. Teamed up with New Jersey Gov. Chris Christie for what was supposed to be a Republican Governors Association fundraiser at the Union League, the embattled governor faced a civil war from hundreds of protesters who got wind of the closed-door event and gathered outside.
One cultural event I'm looking forward to this month is the PBS airing of a new documentary called "Freedom Summer," a documentary about the 50th anniversary of a remarkable event, when mostly college students, mostly from up North, descended after a brief training period into the deepest and most dangerous parts of rural Mississippi. Their audacious goal was to register as many black voters as possible, under the threat of violence, even death.
The saga of what happened in 1964 in the nation's then-most segregated state is still terrifying. Dozens were beaten and arrested, and then Freedom Summer's worst fears were realized when three participants -- James Cheney, Michael Schwerner and Andrew Goodman -- disappeared in the first few days of the registration drive. Their bodies were found days later, buried in a local dam.
But "Freedom Summer" is also a feel-good story, right? The courage both of civil rights activists and local blacks -- as well as the murders -- motivated Congress to pass the Voting Rights Act, which gave the right to vote for millions of African-Americans across the Deep South. What's more, that summer spawned a cadre of activists committed to social change, like Mario Savio, who returned to the University of California at Berkeley and launched the Free Speech movement on that campus. It's a story about overcoming, about the moral arc of the universe bending toward justice...
That's what a couple of "bad guys with guns" when they walked into a Las Vegas pizza shop this afternoon and murdered two "good guys with guns" -- police officers taking a lunch break. Then they took the cops' gear, walked across the parking lot to Wal-Mart, killed another innocent person -- and then shot themselves to death, thus ending their sick "revolution."
More details later.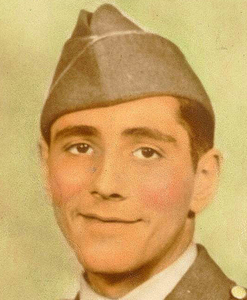 I'm not sure whether to call June 6 the 70th anniversary of D-Day, or the 10th anniversary of discovering the late Paul Zimmaro, a true Philadelphia gem. In 2004 my editors told me to go out there and find a good story for the 60th anniversary of the landing in Normandy; I honestly don't remember how I found Paul but...what a story.
There's a reason that he and his contemporaries are called the Greatest Generation -- it's not because they were born with any different human qualities than you or me, but they faced challenges that you or I couldn't even imagine -- and they responded with a blend of true grit and American ingenuity. Paul Zimmaro died three years later, but I've tried to keep his story alive. Here it is, in its entirety, from June 6, 2004. (And have a great weekend):
He was an Army draftee out of Frankford High, with Tyrone Power good looks and a Philly can-do attitude, who'd just survived 11 stomach-churning days on the stormy North Atlantic.