Archive: May, 2010
There's a phrase that gets bandied about a lot, sometimes in relation to journalism: Speaking truth to power. It describes the remarkable courage that one person -- maybe armed with little more than a notebook and a laptop -- can show in taking on a massive and often corrupt institution. But there's one thing that gets overlooked quite often, which is that despite the nobility of speaking truth to power, at the end of the day, power is still...power. That's especially true in Philadelphia, where a corrupt and contented system of political authority typically sits as judge and jury of its own official misconduct.
You can guess how that usually turns out.
It looks almost certain that President Obama will name his solicitor general, Elena Kagan, to the Supreme Court tomorrow. Bad choice. You'd think that if Obama is the master politician and 8-dimensional chess player that some say he is, he'd have figured out now that every Republican will unite against his pick even if it were Zombie Ronald Reagan. So he should take the opportunity -- especially when there are 59 Democratic senators, surely the high water mark of his presidency -- to pick someone the progressive community can get excited about, a liberal Scalia who would be a powerful voice on the Court for decades to come.
No such luck. You know, when Bush was seeking unprecedented powers for the executive branch, a few of us were warning that conservatives should be careful what they wish for, that a Democratic president might not roll back Bush and Cheney's power grab but expand it. Which is exactly what may happen if Obama gets Elena Kagan onto the Supreme Court.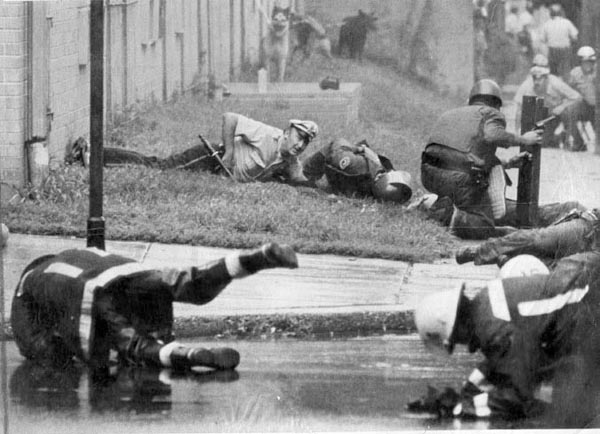 "OH MY GOD! They shot a cop!"
I shouted into the phone to a Daily News editor who was taking notes as police surrounded the MOVE compound in Powelton Village.
It was very sad to learn that Phillies legend Robin Roberts has passed away at age 83. Despite his advancing years, he was always the quintessential "Whiz Kid" who in 1950 pitched the Phils into their only World Series in an otherwise barren 65-year stretch, and who shut down the damn Yankees for nine innings before another Hall of Famer, Joe DiMaggio, got to him in the 10th. I always regretted coming of baseball-watching age just a few years too late to see Roberts pitch, but I always liked the way he came back here to his adopted hometown frequently, and became an ambassador between our ragged present and the Phillies of that bygone era.
He was a real class act, but he was also a link to a long-lost time when Philadelphia was at its Industrial Revolution zenith, when we still had two ballclubs in this town and there was a green cathedral right there amid the rowhouses of North Philadelphia. He will be greatly missed.
Let's face it: Most of us have watched with some amazement over the last decade as the Philadelphia Phillies -- who seemed during the 1990s like they were plagued by permanent ineptitude everywhere from the playing field to the marketing department -- became one of the most efficient and best-run organizations in the entire city. One of the many things they do on a regular basis -- even as they've delighted Philadelphia with back-to-back trips to the World Series -- is manage the inevitable flow of bad news about players who are underperforming or injured or both. They can be masters of the understatement and what is left unsaid -- and one couldn't help put get the same feeling about this annoucement from the team.
"The police department is conducting an investigation into the use of the Taser gun on the field jumper on Monday night," the statement read. "The Phillies have had discussions at the same time with the police department concerning incidents of field intrusion. It has been agreed that in ordinary circumstances involving field intrusion, the Phillies' game-day security personnel will make the apprehension of the field jumper and turn him over to the Philadelphia police on the field for handcuffing and subsequent charging."
The point is, ladies and gentleman, that greed -- for lack of a better word -- is good. Greed is right. Greed works. Greed clarifies, cuts through, and captures the essence of the evolutionary spirit. Greed, in all of its forms -- greed for life, for money, for love, knowledge -- has marked the upward surge of mankind. And greed -- you mark my words -- will not only save Teldar Paper, but that other malfunctioning corporation called the USA.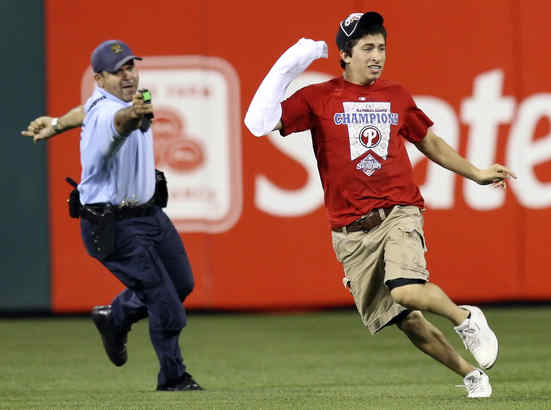 Unless you've been living in a Waziristan cave for the last 24 years, you've heard about the unfortunate misdemeanor-breaking dude who got Tasered at a Phillies game at Citizens Bank Park last night. My computer screen here in Center City went all a-Twitter about it even before all the electrons had even stopped flowing through 17-year-old suburban high school senior Steve Consalvi.
My gut instinct when I first learned of it was the same as I feel about it a day later: That while it wasn't exactly a Rodney King affair, clearly the officer had used excessive force. I've been watching baseball games for more than 40 years, and the drills is always the same. The fan isn't trying to do harm, just get attention; it used to be that the TV cameras never even showed a field-jumper for exactly that reason, back before ESPN needed an endless stream of fodder for its "Top 10 Plays."
If Arizona's outrageous racial-profiling immigration law gets beaten back -- which it eventually will -- you can give a lot of credit to pro athletes who are taking a strong stand on the measure. A lot of the focus has been on baseball -- with the most Latino players, and with the All-Star Game slated for Phoenix in 2011 -- but it's remarkable to see the way that basketball's Phoenix Suns are, um, stepping up to the plate:
The Phoenix Suns on Tuesday announced that they will be wearing an alternative jersey identifying them as "Los Suns" during Wednesday's playoff game to voice the team's disapproval for Arizona's tough new immigration law.
Right here -- from my friend Greg Mitchell's new blog for The Nation, which is going to be an awesome daily read.
This is what it kind of felt like for all Philadelphia sports fans tonight, thanks to the Flyers and the Phillies' bullpen.
Like a lot of Taser episodes, though, one must ask -- was this level of force really necessary?