Archive: March, 2009
Seymour Hersh (top) is one of our greatest living journalists -- the Pulitizer Prize-winner broke the story of the My Lai massacre in Vietnam a generation ago, and he never let up. More recently he helped to break the Abu Ghraib prison scandal. Now it sounds like he's working on the story of a lifetime, although I'm a little surprised by how much he let dribble out in a talk at the University of Minnesota:
At a "Great Conversations" event at the University of Minnesota last night, legendary investigative reporter Seymour Hersh may have made a little more news than he intended by talking about new alleged instances of domestic spying by the CIA, and about an ongoing covert military operation that he called an "executive assassination ring."
We must be a nation of political junkies, because here we are in early 2009 in the not-last throes of the Great Recession, and what people really want to talk about is the 2010 elections, unless they're already thinking ahead to the draft-Sarah-Palin movement for 2012 (which will happen, if there is a God). And so people -- conservative people -- are stepping up to challenge Pennsylvania's Sen. Arlen Specter from winning a 5th term..
Pat Toomey, the former congressman who almost upset Specter in 2004 (at 10 p.m. that primary election night, my frantic editors ordered me to start writing a "political obituary" of Specter that didn't run when he eeked out the victory), is running again, and the smart money is on the challenger. Thousands of moderates have drifted away from the Pennsylvania GOP over the last six years. The only thing that would save Specter is too many challengers (like perennial candidate Peg Luksik) which could happen.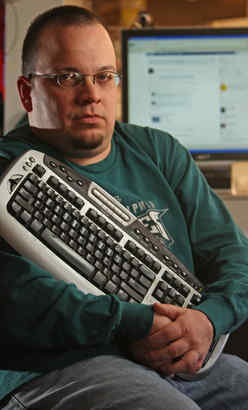 OK, so the headline was a little bit of Rush Limbaugh-ism there. I don't really want Joe Banner and Jeff Lurie to fail, since their mission -- or so we've been led to believe -- is to get the Eagles' back to the Super Bowl, and to win it this time. Any Philadelphia football fan wants that with a passion.
Still, it would be nice to have an election every four years, so we could throw these bums out. When you think about it, being an Eagles fan is a lot like being an American citizen. You support the colors, whether it's the red, white and blue or the latest shade of green, and you celebrate the underlying principles, whether it's the Bill of Rights or a Sunday of hard-hitting football and tailgating in South Philly. But you don't have to blindly support your "government."
There's been a lot of debate here about the way that journalists cover alleged bad apples among the police, inspired largely by the Daily News' controversial (and in my opinion courageous) series called "Tainted Justice." In recent years, the DN's also been criticized for pushing hard on the issue of police brutality, so I wanted to highlight this interesting take on the topic, which concludes:
Forty-three years ago I was an idealistic, vaguely liberal 21-year-old when the San Diego Police Department hired me. The last thing on my mind was taking to the streets to punish people. And lest there be any doubt about the department's policy, the police academy, even then, drove it home: excessive force was grounds for termination.
If you were to close down a major American newspaper, would you kill one that loses tens of millions of dollars every year and is clearly a drag on the corporate books, or one that makes $5 million in profit every year, largely through street sales -- which means winning back devoted customers every day.
That second newspaper is the Philadelphia Daily News, and staffers here were shocked to see our name as No. 1 on a list of ten newspapers likely to fail or go Web-only, promoted heavily by Time magazine. That was the bad news, but the good news is that the Daily News is using its bully pulpit to fight back, so that whatever happens, decisions are made with facts and not with uninformed speculation that seems to be running wild this week.
That was fast. It was just one year ago that right-wing martial arts guru Chuck Norris was a sought-after "get" for the GOP presidential candidates like Mike Huckabee, who paraded the star of "Walker, Texas Ranger" around the nation after the anti-abortion actor endorsed him in the primaries.
But now it's 2009, Barack Obama is in the White House, and the inventor of chun kuk do is preaching the martial art of insurrection against the U.S. government. He also wants to run for -- and no, I'm not making this up -- "the president of Texas.":
UPDATE: Ding! Hooverville 2.0 is correct...
There's a lot of ways to measure a good-to-great president. We tend to focus on both their policies and their skill in communicating with the American people, but another key task is the ability to admit mistakes, especially when it was a doozy. Remember JFK and the Bay of Pigs early in his presidency?
And Timothy Geithner as President Obama's Treasury Secretary is looking like another one of these. I don't quite understand why Obama ever thought Geithner would be a good choice -- but his failure to develop a plan that's bold enough to tackle the problem of zombie banks, his staffing problems and his style that doesn't inspire much confidence are all good reasons to show Geithner the exit door before it's too late for the American economy, and, less importantly, Obama's political future.