Archive: February, 2010
Will Bunch
I've blogged a lot about western Pennsylvania Rep. Jack Murtha over the years, usually critically. As you may have heard, Murtha died today at age 77. There is much good that can be said about his long career in the military and then in Washington. As a Marine, he served his country with great honor, seeing combat in that most unpopular conflict in Vietnam. He then became the first Vietnam vet to serve in the U.S. Congress, and throughout his career he always kept his finger in the pulse of America's military men and women; indeed, it was those contacts that convinced him to take a highly principled stand against the war in Iraq when it was neither popular nor politically expedient. Given the devastation of manufacturing in the Johnstown-Altoona region, it's not surprising that he pushed so hard for federal dollars and jobs for his district -- but the fact that he cut political associates and friends in on those deals was most unfortunate. The passing of Murtha is a sad thing, but the fact that he squandered his political capital in the end, when America needed it the most, is truly tragic.
Will Bunch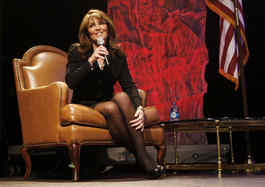 So I wasn't sure what I was getting into when I took off for Nashville (and I wasn't sure if I'd ever return to snowpocalypsed Philadelphia, although I'm optimistically at the Nashville airport now). Long story short, I'm pretty sure I witnessed the start of the 2012 presidential race -- unless someone comes along for Sarah Palin with a better-paying gig. Here's my report:
NASHVILLE, Tenn. - Under an ornate brass chandelier, Sarah Palin looked out into the swank hotel ballroom and a legion of double-breasted and leopard-topped fans - some who'd paid $349 for the 55-minute privilege - surrounded by plates of half-eaten chocolate mousse, and made a declaration:
Will Bunch
To paraphrase geriatric Super Bowl performer Steve Winwood, I can't find my way back home.
Discuss the photo above, and catch you tomorrow with the details. Geaux Saints!
Will Bunch
It's a pretty safe bet that Sen. Arlen Specter (D-This week) isn't going to go all Anita Hill on the pending Comcast merger with NBC-Universal. Check this out:
The Comcast contingent received a warm welcome in the Senate hearing room from Sen. Arlen Specter (D., Pa.), a member of the Senate Antitrust subcommittee. Specter shook hands with Brian and Ralph Roberts. "I know Comcast and I know Brian and I know his father, Ralph Roberts," Specter said in his statements at the hearing. "They are really very good corporate citizens and their management is brilliant."
Will Bunch
I think America is finally ready for a Brown pseudo-president, don't you?
Seriously, did the swearing-in of Al Franken get 1/10th as much attention? And Franken is a lot funnier, although thankfully for all of us he never posed nude for Cosmo, either.
Will Bunch
No, seriously, that's the "shock" headline in the New York Times today: "Republican Group to Promote Conservative Ideas."
WASHINGTON — A group of prominent Republicans is forming an organization to develop and market conservative ideas, copying a successful Democratic model and hoping to capitalize on the fund-raising and electioneering possibilities opened up by a recent Supreme Court ruling.
Will Bunch
OK, burned out on politics and Toyota (which I wrote about for the paper) so I leave you with this (again, via Greg Mitchell!) -- it's hysterical:
Will Bunch
A couple of weeks ago I asked the question of what the Tea Party activists would do in response to the Supreme Court decision giving big corporations (and unions) more power to pump cash into the political system. It wasn't a rhetorical question -- I was truly curious as to which way they'd go. I was somewhat surprised by the response, and you may be, too:
Just hours after the court ruled last month, RNC chair Michael Steele praised the decision, calling it "an important step in the direction of restoring the First Amendment rights" of corporations.