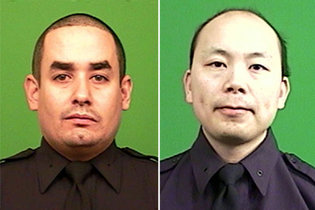 This weekend, I thought a lot about a story I covered 13 years ago out in the central Pennsylvania city of York. In July 1969, in the very week that three humans were soaring beyond earth's orbit to the moon, black and white residents of that red-brick factory town were engaged in a pitched racial war. When the smoke cleared, two people were dead. A white rookie police officer named Henry Schaad had been gunned down as he patrolled a mostly black neighborhood. Later, a black woman from out-of-town named Lillie Belle Allen was gunned down -- shot by multiple bullets from multiple guns, like a scene in a gangster movie -- for the fatal mistake of getting lost in the wrong neighborhood.
For three decades, justice for these two murders was delayed -- which means justice denied. On the 30th anniversary, a local prosecutor wondered why no one had pursued the killers of 1969. Justice in York was also messy. It almost always is. One of the white gang members who was involved in Allen's killing had reformed and become a solid community member with a wife and kids -- but he committed suicide after he was questioned in the probe. Then It came out that the then-current mayor of York -- who'd been a cop in 1969 -- had passed out bullets to young gang members and told them to "kill as many (n-word)s as you can."
But in the end, something remarkable -- and rare -- happened in York at the turn of this century. Justice achieved. The mayor was forced out of politics (although cleared on murder charges). Nine others were convicted for their involvement in the slaying of Allen, including two men sent away on second-degree murder raps. And two men were also convicted for murder for the equally senseless killing of Schaad, the police officer.
And now we're watching as Congress passes yet another provision that was written by lobbyists for the biggest recipient of bailout money in the history of this country. And its attached to a bill that needs to pass or else we entire federal government will grind to a halt. Think about that kind of power. If a financial institution has become so big and so powerful that it can hold the entire country hostage. That alone is reason enough to break them up. Enough is enough.
-- U.S. Sen. Elizabeth Warren (D.-Mass.) speech on U.S. Senate floor, Dec. 12, 2014.
Do you remember voting for Jamie Dimon of J.P. Morgan Chase, and the Citigroup Party, back in the November election? Me neither. Remember, this was the election about nothing --- the GOP platform was "You don't like Obama and neither do we," while the Democrats thoughtfully countered with, "Derp!" This was pretty obvious at the time, but both parties were clearly terrified that a real discussion of the issues might have screwed up their real mission.
America's snooze alarm went off again yesterday. Slowly, fitfully, people are starting to wake up from a long national slumber. Our psychic clock radio switched on this time to a Middle Eastern jazz riff, punctuated by the screams of the tortured. The powerful damnation of the Senate's lengthy, and comprehensive report, on torture by the CIA during its post 9/11 counter-terrorism program proves that there is truth...and then there is truth acknowledged. Yes, the new details are stunning, shocking, alarming -- I'd hoped, unsuccessfully, to make it through my entire life without pondering "rectal rehydration" -- but the broader message of the terror report is exactly what a dedicated minority of folks have been saying for years, to a nation basking in plausible denial.
To sum up:
"Enhanced interrogation" is a bogus term meaning "torture when it's done by Americans." The CIA -- and, more importantly, our highest-ranking government officials -- lied about how extensive it was. There was an extensive effort to manipulate the media and U.S. public opinion. Many innocent people were caught up in this violent web. The American torture tactics produced no useful intelligence. To the contrary, the widespread use of these practices inspired a new generation of anti-Americanism, among groups like ISIS that now dress its victim on the orange jumpsuits of the gulag we constructed. Meanwhile, U.S. officials and operatives violated a plethora of laws, both domestic and international, to make this happen.
We interrupt the outrage over police violence to give you torture.
To me, the most singular thing about the Senate report is how thoroughly it takes the rest of the executive branch off the hook, which is the same dynamic that Weiner noted about the report of the Church committee. Whenever a scandal like this hits, it seems, the people who give the actual orders, the people who create the climate for the crimes, and, in this case, the people who tortured the Constitution to find a legal justification for torturing human beings, are always invisible. As was the case with the Church commission, I believe, this Senate investigation shrank from demonstrating to the American people the kind of monsters they freely elected. I believe this investigation shrank from the obvious conclusion that the legislative branch fell down on its oversight responsibility and, therefore, to its responsibility to the country. I believe that this investigation shrank from the obvious conclusion that, as regards the investigation's findings, the ultimate conclusion is that democracy committed a kind of suicide. So, as always, the onus for the crimes falls almost always upon the unelected and the faceless.
The Eric Garner/Ferguson/police violence protests...the King James version. I guess it's not surprising that a dude they call "LBJ" would act on civil rights. But LeBron James' "I Can't Breathe" protest moves before his Cleveland Cavaliers play the Nets in Brooklyn tonight is even more striking because the Duke and Duchess of Cambridge (a.k.a, Prince William and his wife, the former Kate Middleton) are attending the game.
Here's the irony: There were no police killings in Britain last year...none, zero, zilch, nada. Here in the United States...we don't even know. It's a lot. So maybe instead of protesting before the British royals, we should be asking them how they did it?
This explains why I never became an A-list (or even a D-list) political pundit. Just a few weeks ago, I was telling someone that I expected only minimal uproar when the grand jury decision came down in the Michael Brown killing in Ferguson. Sure, fiery protests had raged in that Missouri town for 10 days back in August after the unarmed 18-year-old had been gunned down by Officer Darren Wilson. But that was August -- when school is out and folks are outdoors in the balmy weather. Protests (or, as some feared, riots) in winter? "Just doesn't happen," I said.
Until it did. What we have witnessed over the last 10 days has truly been an American moment for the history books, a movement of remarkable hope forged by tragedy and bloodshed. The double whammy of the news that a New York City cop had not been indicted after using a banned chokehold in a case that the medical examiner had already ruled a homicide, killing a man committing the less-than-minor crime of selling untaxed cigarettes, was an unexpected tipping point.
To a remarkably diverse, mostly young group of protesters already energized by last month's failure to indict in the Ferguson matter, New York's Eric Garner case sent people pouring out into the streets -- not only in New York and San Francisco but in politically "redder" locales like Nashville and Dallas. And neither rain not sleet nor hail nor snow has stopped the flow of marches or the freeway shutdowns, and the people come back night after night, even now at the crest of the holiday season. Just tonight here in Philly, scores of protesters staged a "die-in" outside the Eagles game.
Wow...tied up on a newspaper story today, but please check this out:
He was a 43-year-old married father of six. His alleged crime: Selling "loose," untaxed cigarettes on a Staten Island street corner. He was tackled by a gaggle of police officers, including one who subdued him for agonizing seconds with a chokehold, a move that the New York police department had outlawed because of its propensity for causing severe injury and death. The entire encounter was captured clearly on video. After Eric Garner did indeed perish in the takedown, a medical examiner classified his death "a homicide."
Garner's last words were, "I can't breathe!"
Yesterday, a grand jury on Staten Island gave us the dull surprise of no indictment for the officer who killed Garner. It raises so many questions. Given the fact that a high-quality video of this killing did not yield an indictment, will the expected rise in the use of police body cameras (including in Philadelphia) make a difference? Can a grand jury process run by prosecutors who work hand-in-glove with the cops on the beat ever produce justice when those officers behave unlawfully? When will Americans accept there are two justice systems in the country -- one for the powerful, one for the powerless -- and when will something be done?