Archive: April, 2010
Will Bunch
Glenn Beck is asking his fans to vote on a cover for his upcoming apocalypto novel of the next American Civil War. Personally I think this one gets the job done, although I'm not exactly sure what Conan the Barbarian has done with our Lady Liberty. I wish you could see the inscription on the bottom, to "bring me your frightened masses, yearning to buy gold." OK, I made that part up, but then remember it's all fiction...right?
Will Bunch
You've heard that Nero fiddled while Rome burned. Now we have Don Blankenship of Massey Energy, who tweeted right-wing drivel and flitted around the Tea Party circuit while his working men and women were exposed to unsafe conditions on the coal mines of West Virginia. Last week, federal regulators met with Massey officials about numerous safety problems at the Upper Big Branch Mine, but before anything could be done there was an explosion that killed 29 workers in the worst mine accident in 40 years.
According to Mine Safety and Health Administration spokesperson, Amy Louviere, the agency's manager for District 3, which covers Southern West Virginia, met with Massey officials Monday morning, hours before the explosion, about the Upper Big Branch Mine's safety violations, including issues with ventilation.
Will Bunch
I was going to write a longer essay on the issues raised here, and probably will at some point, but here's a piece that cuts to the chase on why the "pushing for more civility" thing -- also known as bringing a knife to a gunfight -- doesn't work in American politics. (Plus, I wanted to leave the politics-crazed commentariat a little red meat for the rest of the morning.):
Moderates and liberals are responding to this rising threat with feckless calls for "a return to civility," as if all that's needed to put things right again is a stern talking-to from Miss Manners. Though that couldn't hurt, the sad fact is that we're well past the point where it's just a matter of conservatives behaving like tantrum-throwing spoiled brats (which they are). When a mob is surrounding your house with torches and telling you they intend to burn it down, "civility" really isn't the issue any more.
Will Bunch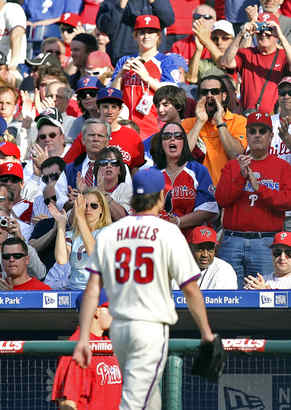 That was one of my favorite Daily News sports headlines of all time, after a night when Cole Hamels got roughed up by Washington early in his career. The Nats have sort of stung Cole twice this year, but in each of Hamels' two outings for the amazing 6-1 Phillies, he's persevered long enough to get a victory. So Hamels is 2-0, but his ERA stands at a non-Cy-Young-worthy 5.06 -- he's getting good speed on his fastball for early in the season, but the command that Hamels needs for the his fastball-changeup regimen that made him the 2008 World Series MVP hasn't been there.
Maybe it never will be. I've been a baseball fan for a long, long time now, and I've seen too many pitchers have their best years within the first couple of years of coming up to the majors, and then slowly fade away. The reasons aren't always the same -- sometimes it's arm trouble and sometimes it's just batters figuring out their shtick and sometimes its off-the-field problems. As a fan, with Hamels, I think it's almost better psychologically at this point to look at him as a middle-of-the-rotation guy -- and to be pleasantly surprised if he returns to his late-season form of 2007 and 2008.
Will Bunch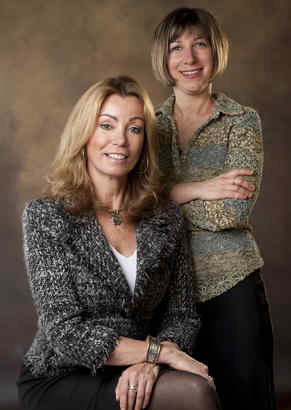 Ronnie Polaneczky has the remarkable backstory of how the dynamic duo of the Daily News, Wendy Ruderman and Barbara Laker, won the Pulitzer Prize for investigative reporting:
Nothing psychs Barb and Wendy more than venturing into some of the city's roughest neighborhoods, with only their wits and a deep compassion for the disenfranchised citizens who call the Daily News when they have nowhere else to turn.
Will Bunch
It was exactly 161 years ago today that the first shots of the Civil War were fired -- April 12 and 13, 1861, with the bombardment of Fort Sumter. With our country more divided than any time since...well, at least the 1960s, if not the 1860s, I keep hearing allusions to another civil war; heck, as I first reported here, right-wing avatar Glenn Beck is even writing a novel predicting one. I've always been a little dubious -- and make no mistake, I still am -- of the mechanics of how an American civil war in the 2010s would work. How does the Texas Megachurch Army go to battle with the San Francisco Starbucks Brigade?
But today, on the civil war anniversary day, I see the first glimmer of how this could happen -- a state forming its own militia to resist Washington's authority.
Will Bunch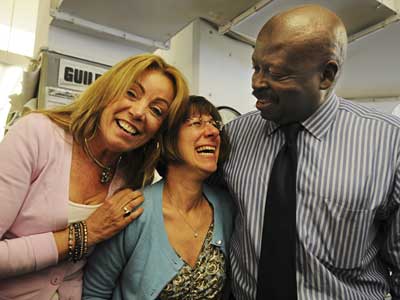 Awesome!
Congratulations to Wendy Ruderman and Barbara Laker of the Daily News, winners of the 2010 Pulitzer Prize in investigative reporting!
Will Bunch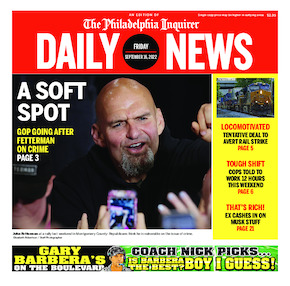 There is so much going on that is of interest to Philadelphians right now -- both serious stuff like the city's large Polish population devastated by that nation's tragegy -- and also a swarm of upbeat local sports news (not to mention the feel-good saga of the Masters)...so I was more than I little disappointed when I learned last night that the lead story in the Daily News would be this happy-talk profile of "supreme" Phillies fan, Justice Samuel Alito.
I can't even bring myself to read the story, which passes off a luxury-box kind of guy as a kind of an Everyfan -- this, a guy who probably couldn't have found the 700 Level with Mapquest. That's bad enough, but the real problem with sucking up to Alito on the front page is ignoring the real pain that he and his corporatist lackeys in the majority on the Supreme Court are bringing to those 700 Level fans.