Archive: April, 2009
Will Bunch
Oops, I'm sorry, that was supposed to be a walk-out, not walk-off. A Holocaust denying world leader giving a lecture on racism? Really? Later today, Rush Limbaugh chronicles the evils of sexism and Adam Eaton of the Orioles will give a pitching clinic.
Will Bunch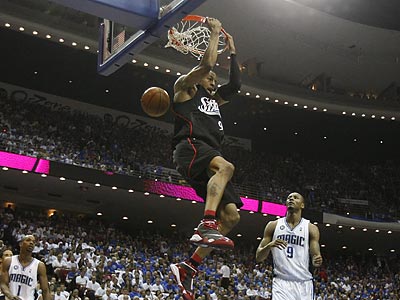 Will Bunch
Have I said this before: That torture isn't just immoral and illegal, but it doesn't work. Here's even more evidence, in case you needed any:
WASHINGTON — The first use of waterboarding and other rough treatment against a prisoner from Al Qaeda was ordered by senior Central Intelligence Agency officials despite the belief of interrogators that the prisoner had already told them all he knew, according to former intelligence officials and a footnote in a newly released legal memorandum.
Will Bunch
A lot of people have Newt Gingrich pegged as a front-runner in the jumbled, muddled race to become king (or queen) of the Republican Party in 2012 -- so I find this little tidbit an odd piece of pre-White House positioning. By way of background, there's been a fascinating phenomenon that's been getting not enough fanfare these days -- totally bizarro right-wing-oriented survivalist, apocalyptic novels are shooting to the top of the book charts.
Here's one that's the No. 23 best-selling book of any kind on Amazon.com right now (and No. 1 in "Mysteries and Thrillers"). It's called "One Second After" (maybe because the title "The Day After" has been taken?) by William R. Rorstchen, but what caught my eye was the short review of the book from Booklist:
Will Bunch
....attention grasp, walling (hitting a detainee against a flexible wall), facial hold, facial slap, cramped confinement, wall standing, stress positions, sleep deprivation, insects placed in a confinement box, and waterboarding.
I don't know guys, it was a lot funnier when Monty Python did its version (below). This list -- coming from the United States of America -- is just kind of grotesque, and an affront to the Founding Fathers.
Will Bunch
I don't want to be accused of being unfair and unbalanced, so here's a speech that was delivered yesterday at the rally in Pensacola:
Will Bunch
A well-deserved slam on the Obama administration for its wishy-washy approach in undoing the Bush torture-detention regime:
Setting up his bit to appear as if the faux-conservative Colbert was going to pull a Jonah Goldbergian bit of praise for greenlighting the Somali pirate sniper solution, Colbert instead veered, giving major props to Obama's decision to appeal the recent court decision that granted habeas corpus rights to Bagram detainees. "He's just following the long-standing principle of American justice: guilty until proven forgotten about."
"It's essentially the same stance taken by George Bush," Colbert added, "With one important difference: Obama makes the kids like it." Sad because it's funny because it's true.
Will Bunch
Football's greatest color commentator, John Madden, says stop the bus, he's getting off:
"It's time. I'm 73 years old. My 50th wedding anniversary is this fall. I have two great sons and their families and my five grandchildren are at an age now when they know when I'm home and, more importantly, when I'm not…