Archive: February, 2012
Will Bunch
One of the world's great journalists, two-time Pulitzer Prize winner Anthony Shadid of the New York Times, died today. He suffered a fatal asthma attack while trying to bring the world news of the atrocities now taking place in Syria. He was only 43 years old and he leaves behind a wife and two children. He will be greatly missed.
Will Bunch
You learn something new every day:
On Fox News this morning, Mitt Romney explained that his positions today are more conservative than those when he was the governor of Massachusetts because "living a life tends to make you more conservative." This echoes a saying often attributed (perhaps apocryphally) to Winston Churchill. It usually goes something like this: If you're not a liberal at 20 you have no heart; if you're not a conservative at 40 you have no brain.
Will Bunch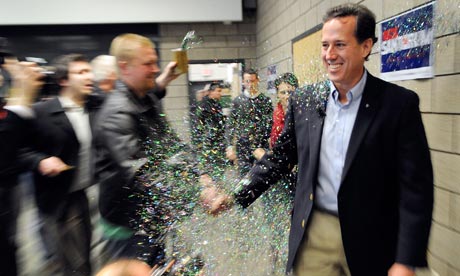 As Rick Santorum surges to the top of the GOP field, there's been a lot of talk about his ability to connect with blue-collar voters.
Well, there is one thing that the ex-Pennsylvania senator has in common with the working class: He knows what it's like to lose a job.
Will Bunch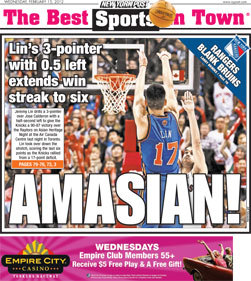 Well, it's time I stopped being the only journalist in America -- sports or otherwise -- not to mention Jeremy Lin in some context (in contrast to ESPN, where Bristol, Conn., is about to spontaneously combust -- the only way the 24-hour sports behemoth could get any more excited would be if praying by Lin and Tim Tebow convinced Brett Favre to come out of retirement. But I digress...)
So this is the headline on the back page of the New York Post today after yet another Lin buzzer-beater: "Amasian!" Hmmm. It brings to mind some classic Post sports headlines from years past, like Sandy Koufax's perfect game in 1965." "Jew Da Man!," and Wilt Chamberlain's 100-point explosion against the Knicks ("Blacktacular!") and this more recent one when Jose Reyes left the Mets for Florida ("Press the Hispanic Button!").
Will Bunch
I'm surprised this story isn't getting bigger play. It's on the Huffington Post so it must be true:
It's a story that has circulated in and out of the UFO community for years: Did former U.S. President Dwight D. Eisenhower have three meetings with extraterrestrials?
Will Bunch
Tom Corbett isn't the flashiest or most charismatic governor in America. But I'm beginning to think he may be the dumbest:
Gov. Corbett toured a Malvern factory powered by state-of-the-art robotics Tuesday, then hit the automatic-reset button on a replay of the state university tuition wars that dominated the battle over his first budget proposal last year.
Will Bunch
Suddenly it seems like there's a new news cycle and a new lead story for Rick Santorum every hour, He says Obama wants to bring back the guillotine! He's shouting at Occupy protesters! He wants a constitutional amendment to require chastity belts! OK, I made up that last one, but in the bizzaro-world known as SantorumLand, suddenly anything seems possible.
Like his electiion as president.