Archive: December, 2009
Will Bunch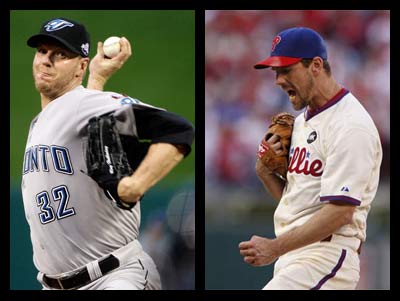 The Phillies jump off a Cliff and discard an ace to draw another ace from the pile -- not sure if this will add up to a full house in the 2010 World Series....
The Philadelphia Phillies agreed to acquire Toronto Blue Jays All-Star pitcher Roy Halladay in a three-team deal that would send Phillies' pitcher Cliff Lee to the Seattle Mariners, SI.com reported.
Will Bunch
In a period that has brought us instant messaging, multitasking, wireless distractions and attention deficit disorder, Woods has become the exemplar of mental discipline.
Will Bunch
Forget all the other stuff -- the Vick distraction and whether McNabb is a Hall of Famer or a bust and Andy Reid's contract extension and "Brain" Westbook.
It's DeSean Jackson's Philadelphia Eagles now.
Will Bunch
Last week I directed folks to an excellent -- and highly controversial -- piece about the Obama administration kowtowing to Wall Street, by the great rabble-rouser Matt Taibbi of Rolling Stone. Now Taibbi's back with a blog post on the some of the reaction, and I think he hits the nail on the head here:
I supported Barack Obama. I still do. If I had to vote tomorrow between Obama and Tim Pawlenty, or Sarah Palin, it wouldn't be a choice that required a whole lot of thought. He's done some good things. He's restored some confidence in the United States among foreign leaders. We had something of a revolutionary regime for eight years under George Bush, and Obama has put the United States back into the club of rule-abiding nations, at least to some degree.
Will Bunch
But's it's only the Associated Press, and they're a bunch of terrorist lovers, right? Whatever....
The 1,073 e-mails examined by the AP show that scientists harbored private doubts, however slight and fleeting, even as they told the world they were certain about climate change. However, the exchanges don't undercut the vast body of evidence showing the world is warming because of man-made greenhouse gas emissions.
Will Bunch
Editor & Publisher, the journalism magazine that was more recently a powerful force on the Web, died today at the ripe old age of 125.
Its passing was not completely unexpected; this was a publication that has largely flourished in the now comatose format of magazines, writing about the terminally ill business of newspapers, dependent on dollars from the morally wounded world of traditional advertising, including the nearly extinct paid classified ads. Like any old coot that lives into its 100s and had a hell of a good time doing it, it's kind of a miracle that the damn thing lasted this long.
Will Bunch
Rolling Stone's Matt Taibbi, who's either the best young journalist in America or the best journalist, period, is back to tell us the sordid tale of how Obama sold out to the Wall Street banksters:
That was the day the jubilant Obama campaign announced its transition team. Though many of the names were familiar — former Bill Clinton chief of staff John Podesta, long-time Obama confidante Valerie Jarrett — the list was most notable for who was not on it, especially on the economic side. Austan Goolsbee, a University of Chicago economist who had served as one of Obama's chief advisers during the campaign, didn't make the cut. Neither did Karen Kornbluh, who had served as Obama's policy director and was instrumental in crafting the Democratic Party's platform. Both had emphasized populist themes during the campaign: Kornbluh was known for pushing Democrats to focus on the plight of the poor and middle class, while Goolsbee was an aggressive critic of Wall Street, declaring that AIG executives should receive "a Nobel Prize — for evil."