Archive: September, 2010
This is cool -- the Daily News now has a blog for my own corrupt and contented Delaware County. In a shocking development, it's called TheDailyDelco.
My first impression? You think Attytood is opinionated (and maybe a tad self-righteous) -- check out when Brother Bill Bender gets wound up -- about the Tea Party and transparency: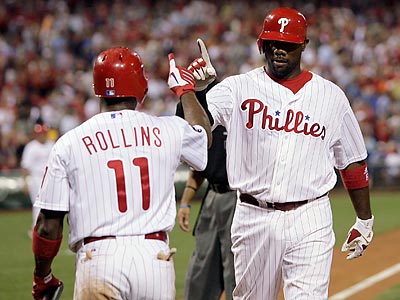 Your Philadelphia Phillies (winning ugly, but we'll take it) move back into first place in the National League East for the first time since May.
There's no turning back, baby!
This one was phoned in by Barack.
He also told me "they don't realize they're the ones who're square" -- not sure what that means.
Everyone's welcome tonight -- even if you want to just stroll in, tell me where to go, and walk right back out -- when I sign copies of The Backlash from 6 to 7 p.m. tonight at the Barnes & Noble on Rittenhouse Square in Center City (Philadelphia, for you out-of-towners), which is at 1805 Walnut Street to be exact.
See you there (here are the details) and if you're nice about it maybe we'll all go out for a beer afterwards and talk about...the Phillies?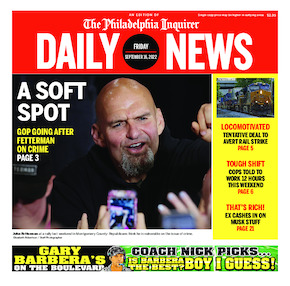 Because you wanted to see it....my cover story for today's Daily News on "Islamophobia" around the country (bad) and in Philadelphia (not as bad).
It's been a rare thing lately but I thought President Barack Obama had a good day today -- although we'll see what the dreaded media spin cycle has to say about that. I thought it was a good day because a) he proposed an infrastructure plan that -- as is the case, occasionally -- would be good government if he somehow could get it past the 37 Percenters (that's how much of the U.S. is represented by the Gang of 41) and is also good politics, whether or not it passes and b) for Labor Day gave his most impassioned speech in months, so much so that when I stumbled across it on CNN on my satellite radio in the car I actually listened all the way to the end for once.
That said, I wonder if all anyone will talk about tomorrow will be this:
So I click on today's Inquirer story about 7 U.S. House races to watch Pennsylvania, and it's hard not to think that I'm watching the GOP grab at least six of them -- even in Bucks County where likable Iraq veteran Dem Patrick Murphy has a stellar track record in Congress. Maybe Democratic Rep. Paul Kanjorski saves his seat in central Pa., but the dude only won by 3,000 votes when he had Obama's 2008 coattails. so.... The bizarre thing is that the only race that the GOP is blowing is the one that's most winnable -- the beltway of extreme northern Pennsylvania now represented by conserva-Dem Chris Carney; the district voted 54 percent for John McCain in 2008, but the GOP candidate looks like a loser on several fronts, most notably in the money department. So there ya go, 1-for 7, which also happens to be...
...a typical two-inning stretch for the much balleyhooed Phillies' offense on days like yesterday (when I was at the Bank...jinx) and at least the first half of today's baseball bonanza. I never thought I'd see the Phils phone it in during the September stretch drive -- their 2010 incarnation is and will be a complete enigma until this long strange trip ends, one way or the other.