Archive: June, 2011
Will Bunch
The right wing won the 2010 election, fair and square, the way elections are supposed to work. So why are they gaming the system, re-writing the time-honored rules of democracy to give their side an unfair advanatage? Their beloved Founding Fathers (top) must be spinning in their graves. The voter ID bill that's wending its way through Harrisburg -- which would disenfranchise thousands of legitimate voters to catch four or five cheaters, if that many -- is a disgrace:
Doug Hill, the association's executive director, said none of the counties has reported even a suspicion of significant voter fraud.
Will Bunch
"Conservative or even liberal agendas that cede responsibility for job creation to the private sector over the next few years are simply dazed or perhaps crazed.... In the near term, then, we should not rely solely on job or corporate-directed payroll tax credits because corporations may not take enough of that bait, and they're sitting pretty as it is. Government must step up to the plate, as it should have in early 2009. An infrastructure bank to fund badly needed reconstruction projects is a commonly accepted idea, despite the limitations of the original "shovel-ready" stimulus program in 2009."
Answer to come. Hint: He did NOT appear with Michael Moore or Markos Moulitsas on the debut of the new "Countdown with Keith Olbermann" last night.
Will Bunch
HARRISBURG - In Pennsylvania, as in most states, your home is your castle and you have a right to defend it.
Will Bunch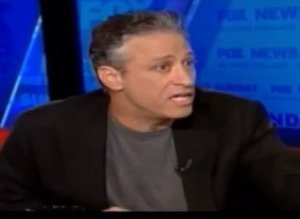 TV funnyman (I love that phrase) Jon Stewart is back in the news again, as he so frequently seems to be. For reasons I don't fully understand, Chris Wallace thought it would be a good idea to invite the host of Comedy Central's "The Daily Show" on his program, "Fox News Sunday," and Stewart agreed to come on. Of course, Stewart showed his gratitude by telling Wallace that he was "insane" and saying that FNC is disproportionately responsible for poisoning the discourse in this country.
Stewart called Fox News a "relentless agenda-driven 24 hour news opinion propaganda delivery system" -- that sounds about right. But then he added this:
Will Bunch
What Mr. O'Shea focused on was how the bankers — who he said should have known the deal would render the company insolvent — seemed to be too busy counting their fees to care. Here's a note he found buried deep in court records from Jieun Choi, an analyst at JPMorgan Chase & Company, that demonstrated a breathtaking level of cynicism and self-dealing:
Will Bunch
My friend Greg Mitchell of the Nation weighs in with the first time he met Clarence Clemons, the E Street band stalwart that we lost over the weekend. Remarkably, it was a 1972 gig at New York's notorious Sing Sing Prison, of all places:
Off we went. Space prevents a full account of that amazing day at Sing Sing (you can watch my video about it here), but suffice to say, Clarence saved the day after the cons did not take a liking to folk-rocking Brucie at first. We thought they might even rush the stage, and not in a good way. But Bruce wisely pushed the Big Man out front and cycled into an epic fifteen-minute version of "Them Changes." The crowd settled in for a set of R&B with Clarence as the focus. An inmate even jumped on stage and instead of whipping out a shiv he took out a tiny sax — and proceeded to jam with Clarence and Bruce.
Will Bunch
UPDATE: Someone went on Twitter to complain how awful the original headline was -- is this more interesting, then?
A great read from the Washington Post (how often do I say that these days?) that takes the guts of a story you may already know -- that greedy CEOs in America make waaaay too much more than their bedraggled workers -- but really dramatizes it in the case of a mid-sized now-Texas-based dairy company. The current CEO makes 10X -- in adjusted dollars -- what his beloved predecessor earned, while the workers on the line are actually making less. The company gave the beloved past CEO a Cadillac; the current guy gets a private jet: