Archive: June, 2011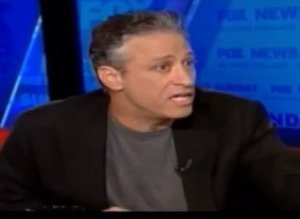 TV funnyman (I love that phrase) Jon Stewart is back in the news again, as he so frequently seems to be. For reasons I don't fully understand, Chris Wallace thought it would be a good idea to invite the host of Comedy Central's "The Daily Show" on his program, "Fox News Sunday," and Stewart agreed to come on. Of course, Stewart showed his gratitude by telling Wallace that he was "insane" and saying that FNC is disproportionately responsible for poisoning the discourse in this country.
Stewart called Fox News a "relentless agenda-driven 24 hour news opinion propaganda delivery system" -- that sounds about right. But then he added this:
What Mr. O'Shea focused on was how the bankers — who he said should have known the deal would render the company insolvent — seemed to be too busy counting their fees to care. Here's a note he found buried deep in court records from Jieun Choi, an analyst at JPMorgan Chase & Company, that demonstrated a breathtaking level of cynicism and self-dealing:
My friend Greg Mitchell of the Nation weighs in with the first time he met Clarence Clemons, the E Street band stalwart that we lost over the weekend. Remarkably, it was a 1972 gig at New York's notorious Sing Sing Prison, of all places:
Off we went. Space prevents a full account of that amazing day at Sing Sing (you can watch my video about it here), but suffice to say, Clarence saved the day after the cons did not take a liking to folk-rocking Brucie at first. We thought they might even rush the stage, and not in a good way. But Bruce wisely pushed the Big Man out front and cycled into an epic fifteen-minute version of "Them Changes." The crowd settled in for a set of R&B with Clarence as the focus. An inmate even jumped on stage and instead of whipping out a shiv he took out a tiny sax — and proceeded to jam with Clarence and Bruce.
UPDATE: Someone went on Twitter to complain how awful the original headline was -- is this more interesting, then?
A great read from the Washington Post (how often do I say that these days?) that takes the guts of a story you may already know -- that greedy CEOs in America make waaaay too much more than their bedraggled workers -- but really dramatizes it in the case of a mid-sized now-Texas-based dairy company. The current CEO makes 10X -- in adjusted dollars -- what his beloved predecessor earned, while the workers on the line are actually making less. The company gave the beloved past CEO a Cadillac; the current guy gets a private jet:
Even though Obama doesn't represent any fundamental change, he creates an opening for a possibility of change. That's why I'm voting for him, that's why I suggest to people they vote for him. But I also suggest that Obama will not fullfill that potential for change unless he is enveloped by a social movement which is angry enough, powerful enough, insistent enough that he fill his abstract phrases about change with some real solid content.
Uttered in 2008, this is the most insightful comment about the looming Obama presidency that I've ever seen. Unfortunately, the person who said it is no longer with us. Who was it? Answer to come on Sunday -- have a nice weekend.
Mitt Romney bragged today that he's "unemployed," too -- wonder if that means he'll be coming to Pennsylvania for his free government goose:
Pennsylvania was chosen because it already has an established protocol for processing and distributing slaughtered geese, Mr. Sklerov said. The costs of transportation and slaughter will be about the same this year as last and are covered under the city's $45,000 contract with the Agriculture Department, Mr. Sklerov said.
This is why Vancouver can never be allowed to win the Stanley Cup, considering how they act when they lose. To my knowledge, Philadelphia fans have never rioted over a loss, although there've been about, oh, 10,000 or so opportunities to do that. The bizarre thing is that if you've ever been fortunate enough to visit Vancouver, it is arguably the most beautiful city in North America.
On the outside, anyway.
Is it just me, or does anyone else think that America's solution to competing in the global economy is to make it harder and harder for people -- especially regular middle-class folk -- to attend college:
What do you get when college costs skyrocket but incomes barely budge? Yet another blow to the middle class.
Here's the thing about the soda tax: In general, I don't think it's a bad idea as a way to pay for certain needed programs, especially health related, while reducing consumption of something that's bad for you with little or no benefits (not unlike cigarettes or liquor, both of which we tax, last time I checked.)
That said, I don't really approve of the specific soda tax that Mayor Nutter is proposing right now. Why not? For one thing, it's way too high -- it really will hurt mom and pop stores in the neighborhoods -- and also any new revenue for the Philadelphia schools should not be a blank check, but tied into major changes in the way they operate, including getting rid of Arlene Ackerman but much more than that.
You know the story, right? A breakthrough politician from Massachusetts -- the state that's produced so many presidents, from John Adams to John Kennedy, and so many strong candidates over the years. Sure, he's boring at best and annoyingly pompous at worst, and there's something a little fake and a little too blow-dried about him. He's not the firebrand that the base of the party would so desperately love to see in the Oval Office. But the party rank-and-file is also convinced that the incumbent president will destroy the country if given a second term. The nominee has to be the person with the best chance of winning, not the best person.
The primary voters are going to go with their head this time around, not their heart.