Archive: June, 2009
Sometimes we turn to humor when it's hard to find another outlet for dealing with one of the ugly truths of life. No one is better at that than The Onion, which at the end of the 1990s published a classic book called "Our Dumb Century," which went for belly laughs of an 100-year epoch of world war, assassinations, and other unfortunate events.
Thus, when I watch in frustration as the authorities gain the upper hand in Iran, I think of the book's coverage of the Indian independence movement: "Gandhi given 'non passive headbashing' by practitioners of British 'violence' movement."
Oy. Just like Lloyd Bridges picked the wrong day to quit sniffing glue in "Airplane!", looks like I picked the wrong day to spend eight hours behind the wheel of a car (don't ask). As a die-hard (and die-often) U.S. soccer fan, of course I missed the team's greatest victory, arguably, since 1950 (or at least since 2002). Hopefully today's 2-0 shocker over the top-ranked team in the world, Spain, is the start of a glorious run into next year's World Cup, which like today's game will be played in South Africa.
At the same time, I missed the tabloido-political story of the year in the unraveling of South Carolina Gov. Mark Sanford. Maybe it's just as well. As tempting as it is to sit here in cyberspace and make "Last Tango" jokes all day, I feel very sorry for the man's wife and children. Henry David Thoreau said that "the mass of men lead lives of quiet desparation," but that was before email, texting, Twitter, and what not. In 2009, desperate lives tend to become very loud, very quickly.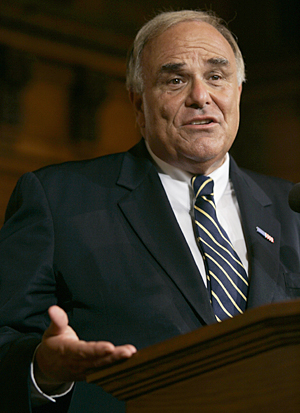 If there was ever a time that the world needed a news story that was somewhat serious yet also highly comical, it was this week. And that being the case, God bless South Carolina Gov. and now 2009 "Father of the Year" nominee" Mark Sanford, who disappeared from his job with the reported claim that he needed space away from his kids to write, on Father's Day, leaving in the dark not just his wife but his staff, who reported that Sanford was "hiking the Appalachian Trail" (giving birth to an awesome new euphemism!) even though evidence later surfaced that the governor-on-the-lam had been spotted at Atlanta's airport.
All I can say is...this would never happen with our governor, Ed Rendell. That guy has never seen the Appalachian Trail -- which snakes through eastern Pennsylvania -- in his life, unless it was whizzing past at 110 mph as state troopers whisked him from a Penn basketball game to the Dunkin Donuts outside of Harrisburg. And if he did go missing for a long weekend, the APB from state troopers would probably call for a search of every Golden Corral buffet table in the state, not some trail in the woods.
I'm embarrassed to say that I didn't read George Orwell's "1984" until a few years ago, after reading so many writers comparing the real-life events of America in the 2000s to Orwell's (pictured at top) iconic dystopia. The book has had quite an influence on me. In fact, the opening quote in my book "Tear Down This Myth" -- "'Who controls the past,' ran the party slogan, 'controls the future: Who controls the present, controls the past'"-- comes directly from the pages of "1984."
But there's one thing about "1984" that gets a lot of hype that I see differently from a lot of people, and that is the concept of 21st Century surveillance cameras and whether that means "Big Brother is watching you." This was addressed over the weekend in an Inquirer op-ed:
Published reports suggest that -- while it's not a done deal -- the Flyers are emerging as the frontrunners to play the Bruins outdoors at Fenway Park on Jan. 1 in the NHL's Winter Classic, which is fast becoming one of my favorite events in all of sports. That's cool, even though most locals have been rooting for a Flyers-Penguins grudge match before 110,000 maniacs in Happy Valley.
But given the Phillies' "success" against the Red Sox in recent years, fans also have a good reason to fear the Green Monster.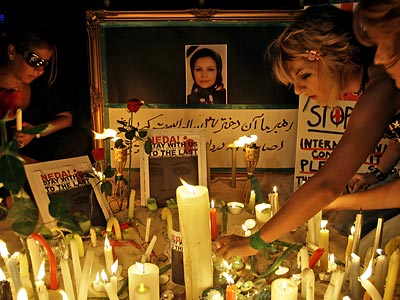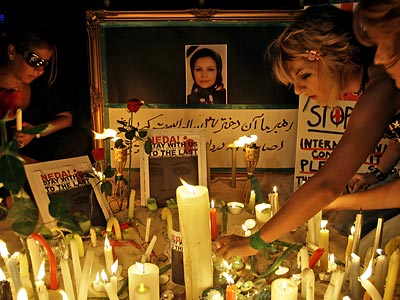 It's hard to say what is more remarkable about Neda Agha-Soltan: The simplicity of the things she wanted from her life in Tehran, or how simple it was for a thuggish, repressive society to deny them.
Neda -- whose name, most ironically, translates into English as "voice" -- wanted to sing, in a society that would not allow her to do so in public: