Archive: May, 2009
Will Bunch
I was planning to write something all along this week about this official release of my friend Eric Boehlert's outstanding new book, "Bloggers on the Bus: How the Internet Changed Politics and the Press." I now realize after the events of the last few daysweek that while a lot of folks, especially the politically obsessed, will find Eric's book to be an enjoyable tome, it ought to be required reading in every newsroom, for the handful of curmudgeonly newspaper folks still collecting a paycheck, anyway.
Why? Because instead of referring to these online pioneers as "those bloggers" (yes, as a matter of fact I am referring to Harold Jackson), which is kind of the online journalism equivalent of referring to an ethnic groups as "you people," maybe mainstream journalists could come away with the realization that, goshdarnit, bloggers are people, too -- i.e., interesting, passionate, flawed, intelligent, and as unique and different from each other as "those journalists" Seymour Hersh and Liz Smith, to pick any two "journalists" at fairly random.
Will Bunch
Wasn't April Fool's last month?
WASHINGTON — Advocates of gun rights are poised to win a Congressional victory that eluded them under a Republican president.
Will Bunch
I think if you went all Olbermann and did a "Stupidest Person in the World" thing, I think "Stupid" would be Nancy Pelosi, "Stupider" would be the people accusing Nancy Pelosi of covering up torture even though they also say torture is legal and necessary, and "Stupidest" would be...Harry Reid. Reid is joined by the Republicans in Congress in arguing that a) closing Gitmo will mean dumping Khalid Sheikh Mohammed out on Main Street in a small town in Kansas and b) America has the world's worst prisons, and so weak are we as a nation are technological incapable of preventing a dangerous convict from escaping.
Here's some of Reid's arguments against providing money from the closing of Guantanamo right now:
Will Bunch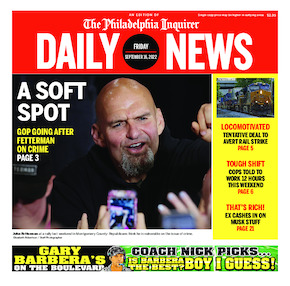 With gay marriage fever sweeping the nation (especially Red Sox Nation), it's still hard to imagine Pennsylvania -- a.k.a. "Philadelphia and Pittsburgh with Alabama in between" -- as getting caught up. The Keystone State is diverse melting pot of people, but that pot has been larded with our own unique blend of social conservatism. When I was researching my cover story on same-sex marriage for today's Daily News, I was surprised to learn that political numbers guru Nate Silver, in contructing a nationwide map of where gay marriage will next win support, had us pegged at enacting such a law just three years from now. From my article:
Some experts believe that Pennsylvania will eventually join the list of states - which now includes Massachusetts, New Hampshire, Vermont, Iowa, Connecticut and Maine, as well as the District of Columbia - that have legalized gay marriage or are about to and, in fact, that the day of reckoning might come sooner than people expect.
Will Bunch
Worked a different shift and wrote a fair and balanced article about gay marriage for tomorrow's DN -- so I'll see you tomorrow!
Will Bunch
The empire struck back today, as Inquirer editorial page editor Harold Jackson (that's our policy here at Attytood, to use people's actual names when we know who they are) gave what amount to a three-quarters-throated defense of giving U.S. torture architect -- and (native) Philadelphian! -- John Yoo a monthly contract. This is my third post in the last seven days regarding Yoo -- I can't promise it will be my last because with blogging you can never say "never" -- but I hope Harold's column is a good point for winding this thing down.
Three things.