Archive: July, 2009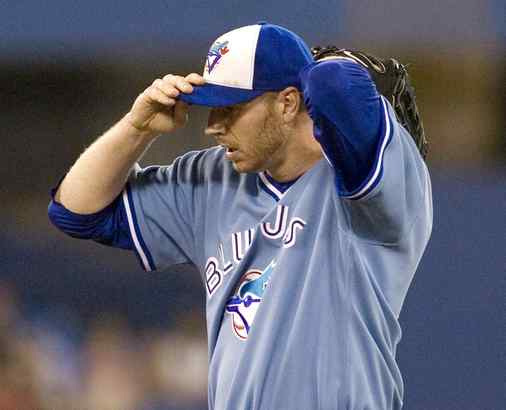 According to my Magic 8-Ball, "Signs point to 'No.'" Poor Ruben Amaro Jr., the Phillies' rookie GM. He doesn't want to look like a -- pardon the expression -- "rube" by giving away the entire farm to get Toronto's Roy Halladay, but the Blue Jays, who don't absolutely have to trade Halliday if they don't want to, know that, so they say it's the farm...or nothing.
I think the trade will happen if the Phillies can make one substitution for the three players that Toronto wants -- J.A. Happ, Kyle Drabek, and Dominic Brown. But the Jays may not let Amaro do that.
Meet Connie Schultz. If you care about politics more than about journalism, which would make you like most people, then you might know that she is Mrs. Sherrod Brown, the wife of a Democratic U.S. senator from Ohio. But those of us in the newspaper world know her as a columnist for the Cleveland Plain-Dealer, and a damn good one, winner of numerous journalism awards including the Pulitzer Prize.
Lately, though, Connie Schultz has become something else...the Queen of the Curmudgeons. It's a little inside baseball, but the curmudgeons are the people in the newspaper world who are still telling the kids, the bloggers and the hyperactive commenters and the citizen journalists, to get off our lawn that we've manicured for all these decades, even while the big house fell into such disrepair.
The ultimate Yogi Berra-ism is when the Yankees' great said about a particular restaurant: "Nobody goes there anymore -- it's too crowded." It actually makes sense in the context of the "somebodies" not going to the restaurant are presumably the people Berra knows and that matter to him. In the same sense, you could say that Joe Sestak's big selling point in a primary challenge to suddenly-Democratic Sen. Arlen Specter is that "nobody" supports him:
Sarah Palin's resignation tonight -- honestly, it seems like Nixon's resignation didn't get this much coverage -- is a train wreck that could not be avoided, which I guess was her whole intention. I would say of the following quote that truer words were never spoken...
Stapleton said Palin is still deciding what her future will be.
Should you be surprised that the "woman in red" who confronted Delaware Rep. Mike Castle about Obama's birth certificate also believes that aliens walk among us? Probably not. Should be alarmed that the reliably blue state of Delaware has a group called the Sussex County Community Organized Regiment? Maybe.
Maybe President Obama can bring "Crazy Eileen" and Mike Castle together at the White House for a beer. If he pulls that off, he'll be a lock for the Nobel Peace Prize.
There are some things in life that can only make you go "wow!" Like only the 18th perfect game in the history of Major League Baseball. Or the fact that a 31-year-old journeyman outfielder made the catch of a lifetime in the 9th inning to save it. So hats off to Mark Buehrle and DeWayne Wise -- today we are all White Sox. I hope your weekend is as perfect as their Thursday was.
(Chicago Tribune photo by Phil Velasquez.)
OK, I know you're waiting for the snark after that headline, but I'm being serious. Malkin, Horowitz, and Medved are among more than a half-dozen conservative pundits and bloggers who won't shy away from telling their audience what it needs to hear, that the Obama birthers are totally bats--- crazy. And so bully for them!
Thanks to a nice roundup from Media Matters (is your head exploding yet?), here are some soundbites:
Whatever news that President Obama did or didn't make on health care, I predict by this time it will be totally forgotten in the furor over his final comment, about the apparent racial profiling of his friend, Harvard professor Henry Louis "Skip" Gates. In case you were watching "America's Got Happy Feet" or whatever it was that Fox was showing, here's the critical part:
Obama called Gates a friend, and said he doesn't know all the facts of the case. Nonetheless, Obama said, anyone would have been angry if treated the way Gates claims police in Cambridge, Mass., treated him. Gates claims he was arrested in his own home after showing ID to police who responded to a report of a possible burglary.
This is pretty amazing, but actually there was one -- in 1967, one year before Kennedy was assassinated. The footage is interesting -- although some of the Vietnam back-and-forth involve matters that are beyond arcane to us living here in 2009, you do get a sense of their overarching philosophies. You'll be pleased to note that liberal questioners were just as annoying in 1967 as today, but with British accents.
One other thing: When I started promoting my book on Reagan back in February, one question I was asked more than any other was whether his Alzheimer's disease had begun to affect him while he was still president. Generally, I think we'll never know and as far as his policies, it made little difference. That said, Reagan was famous for not mastering the small details as president, so it's fascinating to see his detailed knowledge in 1967 of the situation halfway around the world in Vietnam. It makes you think. Although in the same vein, George W. Bush was 10X more on the ball when he debated Ann Richards in 1994 than when he ran for president, and what that's all about, I could not even guess.
Programming note: Like President Obama, I'm frantically trying to learn the details of healthcare tonight, so the trend of light blogging will continue.