Archive: June, 2009
Will Bunch
Gen. Romeo Vasquez, who runs the armed forces in the Central American nation of Honduras and is apparently at the center of yesterday's coup that deposed the nation's democratically elected president Jose Manuel Zelaya, comes from a rich tradition that has long produced a string of military dictatorships in the region, a tradition that is unfortunately born in the USA. Vasquez is reportedly the latest Latin American coup leader trained at the U.S. military's School of the Americas:
Vasquez, however, refused to step down, bolstered by support in Congress and a Supreme Court ruling that reinstated him. Vasquez remains in control of the armed forces.

Vasquez, along with other military leaders, graduated from the United States' infamous School of the Americas (SOA). According to a School of the Americas Watch database compiled from information obtained from the US government, Vasquez studied in the SOA at least twice: once in 1976 and again in 1984.

The head of the Air Force, Gen. Luis Javier Prince Suazo, studied in the School of the Americas in 1996. The Air Force has been a central protagonist in the Honduran crisis.
Will Bunch
50 days and counting.
Will Bunch
They say you learn something new every day -- guess that depends on what your definition of the world "something" is -- but I did learn something right after Michael Jackson died. In my blog eulogy, I wrote about what Jackson meant to those who grew up in the 1970s, calling people like Jackson, Barack Obama and us lesser mortals as "rear-guard Baby Boomers." After all, I'd always been told that the American Baby Boom lasted from 1946 through 1964, but as someone from the second half, I knew it wasn't quite right to lump so many people with different cultural and political touchstones in the same group. Someone born in 1946 (Bill Clinton, prominently) would have graduated high school a year before the escalation of Vietnam. while someone born in 1964 turned 18 during the presidency of Ronald Reagan.
Apparently, sociologists decided the same thing a few years back, that people born from 1955 to 1965, give or take, were not Baby Boomer Classic, so they decided to call this lost sub-generation "Generation Jones." Huh? Named for who, for what? Davey Jones of the Monkees (who was very popular in my first-grade class!)?
Will Bunch
For the next three hours, the only politics I care about is U.S.-Brazilian relations. Go U-S-A!!!!
UPDATE: Heartbreaker -- too depressed to say anything that would be useful. Making the finals was one small step for U.S. soccerkind, but I want to see that one giant leap in my lifetime, which -- seeing as 50 is the new 85 -- may not afford much time.
Will Bunch
The album pictured at top is the Jackson 5's "Third Album" -- but it was the very first album I ever owned. I'm pretty sure it was a Christmas present in 1970, when I was 11 years old and was ready for ownership of some of the static-ridden tunes I'd been listening to with Cousin Brucie on New York's Top 40 WABC. Actually, it wasn't the first rock or soul album in my house; my Dad was just 30 years old when the Beatles released "Sgt. Pepper's Lonely Hearts Club Band" in 1967, and we had a couple of Beatles' LPs. maybe even the Rolling Stones. And I even remember Iron Butterfly's "In-A-Gadda-Da-Vida" and the first Led Zeppelin disc in my friends' basement, when their older siblings with the peace-sign posters in their basements were out of the house.
But that was the whole point of owning a Jackson Five record -- they were the first group that didn't belong to the '60s, to young hippie-wannabe parents or to patchouli-scented or Nehru-jacketed brothers and sisters. Indeed, their first big hit -- "I Want You Back," with the killer piano riff that signaled a fresh new sound -- was released six weeks after the muck of Woodstock, and it was one of the first No. 1 songs of the 1970s, a new decade, our decade. The Jackson 5 and their strings of hits like "The Love You Save" was the first pop music that truly belonged to us -- the rear-guard Baby Boomers -- and their lead singer Michael Jackson, just 12 years old, smiled broadly bounced with a kind of energy that spoke of our new blood that would build something fresh atop the ruins of a tumultuous decade.
Will Bunch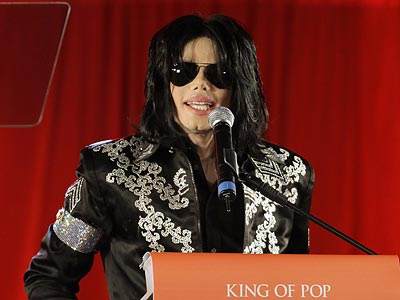 For 50 years, he slid back and forth on a continuum -- from our most thrilling entertainer to one downright creepy dude. But if you're a Rear-Guard Baby Boomer like me, the folks just a tad too young for the fun and mayhem that was the 1960s, then you know that -- for better or worse -- Michael Jackson was ours, the first pop icon that truly belonged to us and not to the Woodstock People..
And now he's gone.
Will Bunch
Just when Philadelphia needed more voices, the city has lost one of its best, the British-American journalist Steven Wells, who found a home in the City of Brotherly Love and wrote frequently for Philadelphia Weekly. This is from his last column:
Life isn't about grit and grime and squalor. Life is getting angry at destroyed cat jigsaws. Life is the amazement at seeing the Vanity Fair title erupt as a scarlet mohawk-cum-quiff across a dainty Johnny Depp's forehead, and the drooling anticipation of watching a Brian McManus-recommended terror-comedy on my computer later tonight. And of course the sight of tireless, tie-less and tire-burning liberal rioters taking to the streets of Tehran.