Archive: March, 2008
Pennsylvania Sen. Bob Casey plans to endorse Sen. Barack Obama for president today in Pittsburgh, sending a message both to the state's primary voters and to undecided superdelegates who might decide the close race for the Democratic presidential nomination.

Dan Pfeiffer, deputy communications director for the Obama campaign, confirmed that Casey would announce his support during a rally at the Soldiers and Sailors Military Museum and Memorial and that he would then set out with the Illinois senator on part of a six-day bus trip across the state.
Apparently Hillary Clinton doesn't need an "Archie Bunker strategy" here in Pennsylvania. She already has the meathead-basher's vote locked up:
However, Pew notes that while the controversy may not have hurt Obama in a Democratic nomination fight, there are signals that it could present problems in a general election campaign. The Illinois senator is notably less popular among older, working class white Democrats who tend to hold more socially conservative views. "In particular, white Democrats who hold unfavorable views of Obama are much more likely than those who have favorable opinions of him to say that equal rights for minorities have been pushed too far; they also are more likely to disapprove of interracial dating, and are more concerned about the threat that immigrants may pose to American values," Pew found.

Also troubling for Obama: roughly a quarter of white Democrats who have an unfavorably view of the senator also believe he is a Muslim, a persistent rumor that has dogged his campaign.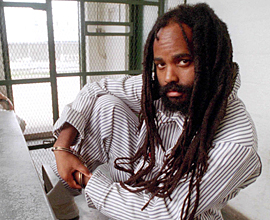 I've consistently maintained that Philadelphia's Mumia Abu-Jamal is probably the worst poster-child for reforming the justice system you could imagine: A man who was caught red-handed, literally, murdering a police officer. With the overwhelming body of evidence against him, the idea that the former death-row author should be freed -- regardless of whatever flaws marred his legal proceedings -- was always ludicrous, which is why his political support grows in direct proportion to the distance one travels away from Philly.
That said, I didn't want to see Abu-Jamal get the death penalty, for one simple reason -- I don't believe that any person should get the death penalty.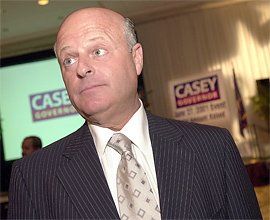 Ron White, aLast year, I raised some questions about a Justice Department probe that was centered in Puerto Rico but touched on Philly politics. At issue was the role of a local wheeler-dealer named Bob Feldman (pictured at left), who in addition to raising campaign funds for Puerto Rico's Democratic Gov. Anibal Acevedo-Vila also had been closely tied to Mayor John Street, Street's disgraced (and now deceased) fundraiser nd an earlier campaign of now-Sen. Bob Casey.
Feldman, who'd been a business partner with White, was never charged in the wide-ranging Philadelphia corruption probe, but in the middle of the contentious 2006 Senate race between Casey and incumbent Sen. Rick Santorum, Feldman's name was leaked to the Inquirer as a subject of a new investigation into campaign cash in Puerto Rico. Weeks later, Santorum ran an ad attacking Casey for alleged ties to corrupt pols including Feldman, based on the articles.
(Photo by Damon Winter/New York Times)
A couple of months ago I wrote an essay for Nieman Reports about the pressure for all-local newspaper reporting that would be have to be carried out in good measure by my generation -- which came of age in the 1970s and, inspired by Watergate and Vietnam, wanted mainly to cover the big national and global stories of the day. I particularly cited a landmark book for me and many of my peers, Timothy Crouse's "The Boys on the Bus," about the reporters covering the 1972 presidential race.
I've been talking to some people today like my new friend A.J. Daulerio, today of Philly mag but soon to be fulltime at Deadspin, about what -- if anything -- Hillary Clinton can do to make up the gap in delegates and in popular votes with Barack Obama. My theory was she's hanging in there to see if something devastating happens to Obama, but I had no idea there was a term to describe this radical strategy.
It's called the Tonya Harding option.
Set your clocks ahead 13 hours right now -- just a friendly reminder that the Major League Baseball season has started, and in fact the game between the World Champion Boston Red Sox (yes, that still sounds weird) and the Oakland A's at the Tokyo Dome is still happening, on ESPN 2. (It's 4-3 Oakland in the 7th as I write this.)
As a morning person (who works nights, go figure) I'd like to see more 6 a.m. games.
Sen. Hillary Clinton addressed a wide range of issues during her session that lasted about an hour with the Daily News editorial board, and some of her most interesting comments dealt with the topic du jour: America's struggling economy. She'd spoken on financial issues earlier in the day on the Penn campus, and she was pressed about one of her more controversial ideas: Naming Alan Greenspan, the former Federal Reserve chairman, to what she called "a high-level emergency group" to deal with the problem of high risk mortgages.
She told the Daily News that she'd suggested Greenspan, former Fed chair Paul Volker and former Treasury Secretary Ronald Rubin because "each one is supporting one of the three of us" -- an apparent allusion to Clinton, Barack Obama, and John McCain, the three remaining presidential contenders.
Earlier this afternoon, Sen. Hillary Clinton came to the Daily News and Inquirer building here in Philadelphia -- where she's seeklng the Daily News editorial board endorsement -- and I had a chance to ask her about a controversy that's increasingly dogged her campaign the last few days: Whether she misrepresented the danger of her March 1996 trip to a U.S. military base in Bosnia in an effort to boost her foreign policy credentials.
Clinton acknowleged today for the first time that it was a "misstatement" when she said in a major prepared foreign policy speech last week that "I remember landing under sniper fire" but also tried to brush off the entire issue as "a minor blip." She also gave a revised account of her airplane landing and her tarmac greeting at the Tuzla Air Force base 12 years ago -- seeking to explain a picture re-published this weekend in the Washington Post showing her and daughter Chelsea calmly greeting an 8-year-old girl.