Archive: March, 2008
Will Bunch
Slate's Fred Kaplan gets the trophy for the best explainer of the recent chaos in Iraq:
The reality, alas, is less stark. The fighting in Basra, which has spread to parts of Baghdad, is not a clash between good and evil or between a legitimate government and an outlaw insurgency. Rather, as Anthony Cordesman, military analyst for the Washington-based Center for Strategic and International Studies, writes, it is "a power struggle" between rival "Shiite party mafias" for control of the oil-rich south and other Shiite sections of the country.

Both sides in this struggle are essentially militias. Both sides have ties to Iran. And as for protecting "the Iraqi people," the side backed by Prime Minister Nouri al-Maliki (and by U.S. air power) has, ironically, less support—at least in many Shiite areas, including Basra—than the side that he (and we) are attacking.

In other words, as with most things about Iraq, it's a more complex case than Bush makes it out to be.
Will Bunch
It's hard to believe, but the Phillies are at Citizens Bank Park tonight, in the ultimate tree-in-the-forest exhibition (not on TV, and opposite Villanova and the red-hot Sixers) against the Toronto Blue Jays. Unless the Phils can book the Yankees or Red Sox next year, it's probably time to bag these pre-season yawners.
With a presidential primary that counts and a month of March baseball that doesn't, Attytood hasn't devoted the attention that it should have to the Phillies. Truth is, there is reason for optimism -- not unbridled optimism, this is Philly, c'mon, but optimism. Howard, Utley and Rollins are healthy and in their prime, they've upgraded at 3rd and at catcher (anyone remember Rod Barajas from this time a year ago?) and seem OK with a retooled outfield, while opening day starting pitcher Brett Myers has been the positive surprise of spring.
Will Bunch
Pennsylvania Sen. Bob Casey plans to endorse Sen. Barack Obama for president today in Pittsburgh, sending a message both to the state's primary voters and to undecided superdelegates who might decide the close race for the Democratic presidential nomination.

Dan Pfeiffer, deputy communications director for the Obama campaign, confirmed that Casey would announce his support during a rally at the Soldiers and Sailors Military Museum and Memorial and that he would then set out with the Illinois senator on part of a six-day bus trip across the state.
Will Bunch
Apparently Hillary Clinton doesn't need an "Archie Bunker strategy" here in Pennsylvania. She already has the meathead-basher's vote locked up:
However, Pew notes that while the controversy may not have hurt Obama in a Democratic nomination fight, there are signals that it could present problems in a general election campaign. The Illinois senator is notably less popular among older, working class white Democrats who tend to hold more socially conservative views. "In particular, white Democrats who hold unfavorable views of Obama are much more likely than those who have favorable opinions of him to say that equal rights for minorities have been pushed too far; they also are more likely to disapprove of interracial dating, and are more concerned about the threat that immigrants may pose to American values," Pew found.

Also troubling for Obama: roughly a quarter of white Democrats who have an unfavorably view of the senator also believe he is a Muslim, a persistent rumor that has dogged his campaign.
Will Bunch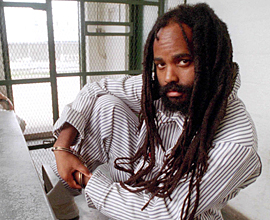 I've consistently maintained that Philadelphia's Mumia Abu-Jamal is probably the worst poster-child for reforming the justice system you could imagine: A man who was caught red-handed, literally, murdering a police officer. With the overwhelming body of evidence against him, the idea that the former death-row author should be freed -- regardless of whatever flaws marred his legal proceedings -- was always ludicrous, which is why his political support grows in direct proportion to the distance one travels away from Philly.
That said, I didn't want to see Abu-Jamal get the death penalty, for one simple reason -- I don't believe that any person should get the death penalty.
Will Bunch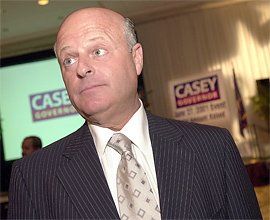 Ron White, aLast year, I raised some questions about a Justice Department probe that was centered in Puerto Rico but touched on Philly politics. At issue was the role of a local wheeler-dealer named Bob Feldman (pictured at left), who in addition to raising campaign funds for Puerto Rico's Democratic Gov. Anibal Acevedo-Vila also had been closely tied to Mayor John Street, Street's disgraced (and now deceased) fundraiser nd an earlier campaign of now-Sen. Bob Casey.
Feldman, who'd been a business partner with White, was never charged in the wide-ranging Philadelphia corruption probe, but in the middle of the contentious 2006 Senate race between Casey and incumbent Sen. Rick Santorum, Feldman's name was leaked to the Inquirer as a subject of a new investigation into campaign cash in Puerto Rico. Weeks later, Santorum ran an ad attacking Casey for alleged ties to corrupt pols including Feldman, based on the articles.
Will Bunch
(Photo by Damon Winter/New York Times)
A couple of months ago I wrote an essay for Nieman Reports about the pressure for all-local newspaper reporting that would be have to be carried out in good measure by my generation -- which came of age in the 1970s and, inspired by Watergate and Vietnam, wanted mainly to cover the big national and global stories of the day. I particularly cited a landmark book for me and many of my peers, Timothy Crouse's "The Boys on the Bus," about the reporters covering the 1972 presidential race.