Archive: December, 2010
Will Bunch
I know, I know...just kidding with that headline. As you probably know, those things didn't happen this week. But why wouldn't Philadelphia be in a giddy state of euphoria and self-congratulation? The things that really did happen were pretty incredible -- an electronics manufacturer setting up shop in the American Street corridor and creating 650 good paying manufacturing jobs in that working class neighborhood, a new bio-tech startup near the Penn campus had a hugely successful IPO, and then the biggest surprise of all -- the firing of school superintendent Arlene Ackerman and her replacement with a "dream team" of administrators poised to finally turn the city's schools around and put students first.
Ha! Got you again! None of those things happened, either. What really happened was the addition of one high-paying job -- a baseball pitcher making $20 million a year (hey, think of the city wage taxes, at least for home games), and our football team beat New York's football team in a miraculous comeback. OK, OK, those sports wins did highlight some of the things that were already awesome about Philadelphia. In particular, Cliff Lee (and more importantly Kristin Lee's) decision to come here reminded us of what a great place Philadelphia is to live -- IF YOU HAVE A WELL-PAYING JOB!
Will Bunch
The Rally to Restore Sanity to How We Treat 9/11 Responders:
Paging Jon Stewart: The White House needs your help.

Robert Gibbs, President Obama's press secretary, told reporters on Tuesday that he hopes the Comedy Central host can persuade enough Republican senators to vote for a 9/11 health bill so it can head to the president's desk.

"If there's the ability for that to sort of break through in our political environment, there's a good chance that he can help do that," Gibbs said in his briefing. "I think he has put the awareness around this legislation. He's put that awareness into what you guys cover each day, and I think that's good. I hope he can convince two Republicans to support taking care of those that took care of so many on that awful day in our history."
Will Bunch
Mississippi GOP Gov. Haley Barbour is one of those politicians beloved enough by the Beltway punditocracy to be a longshot candidate for president -- but that shot seems a lot longer tonight. In fact, I think Barbour shot himself in the foot with this:
As Barbour recalls it in a new profile in The Weekly Standard, things weren't so bad in his hometown of Yazoo City, which took until 1970 to integrate its schools (though the final event itself is said to have gone on peacefully). For example, Barbour says that there was no problem of Ku Klux Klan activity in the town -- thanks to the Citizens Council movement, an organization that was founded on the basis of resistance to integration and the promotion of white supremacy.
Will Bunch
It's not just failing to close down Gitmo and perpetuating what is now the Obama gulag. There's also been no effort from the government -- nor will there be -- to combat the oversized and overreaching police state that was created in the wake of 9/11 and has now gone well beyond anything resembling a "war on terrorism." Some of these travesties are covered in a long and very good investigative piece in the Washington Post. Perhaps most alarming is that typical tourist activities like snapping photos of a scenic harbor can now land you in a government data base of suspicious persons, where you could remain for years:
State intelligence analysts and FBI investigators use the reports to determine whether a person is buying fertilizer to make a bomb or to plant tomatoes; whether she is plotting to poison a city's drinking water or studying for a metallurgy test; whether, as happened on a Sunday morning in late September, the man snapping a picture of a ferry in the Newport Beach harbor in Southern California simply liked the way it looked or was plotting to blow it up.
Will Bunch
This was a pretty good weekend for a lot of people -- Eagles' fans, billionaires, and advocates for gay rights. You know who had a lousy weekend, however? John McCain. His furious back flips on ending "don't ask, don't tell," capped by his embarassing hissy fit of a speech on Saturday, tarnished what was left of McCain's tattered reputation:
Since then the field has grown as more and more try to reconcile the bitter angry old man driven by irrational grudges, deep hatred and endless rage over losing his run for the White House to a black man with the John McCain of the 2000 Presidential Campaign who would suck up to anybody and everybody who took the time to visit him on the mythical Straight Talk Express bus.
Will Bunch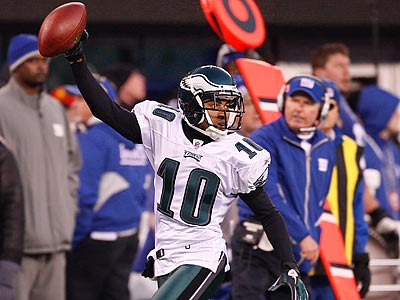 It's a thriller, thriller day for Jackson and the Eagles.
So they spent more than $1 billion to build a new Meadowlands, and it took the Birds 60 minutes to curse it forever, Maybe New York will at least get Cliff Lee...oh yeah, right. Heh, indeedy.
Will Bunch
I spent a big chunk of 2010 talking to people in the Tea Party Movement, and during that time I heard various things that were simply not true, starting at the top with the likes of Sarah Palin and Glenn Beck and working its way through the rank and file. But there was no lie that was more wrong and yet spread more widely among more people -- with more dangerous effect -- than this one:
President Obama is going to confiscate your guns.
Will Bunch
It's hard to imagine that anyone in Philadelphia could be more popular than Cliff Lee right now.
But there is one such person. And if you see her on the street or in a restaurant, be incredibly nice to her. The fate of our city rests in her hands.