At least he's consistent:
New Jersey Gov. Chris Christie defended his heavily criticized decision to forcibly quarantine a nurse returning from West Africa for Ebola on Tuesday morning, saying the state's policy of mandatory quarantining of returning health workers will remain in place.
Maybe I picked the wrong night to return to work. First I had to watch the best/worst Super Bowl finish ever, punctuated by the worst/worst play call in the history of organized sports, by soon-to-be ex-Seahawks coach Pete Carroll. Minutes later, the blogging software ate the last third of my (admittedly lame) post...so, forget it. I'm only here blogging so I don't get fined. Talk about the Big Game™ or Mitt Romney's equally surprising collapse...or something else. Substance tomorrow, i promise.

Over the course of the 1990s and early 2000s came my evolution from a guy who lived and worked in New York, to a guy who made a long commute from Bucks County, to a Daily News reporter who -- in a mental process that even I don't fully understand -- started rooting one afternoon for Jimmy Rollins and Pat Burrell to squash my once-beloved Mets like a squirrel that accidentally wanders onto the Schuylkill at 7 a.m..
During that slow evolution, I thought a lot about the ways that New York and Philadelphia were different, and about Philly's untapped potential. (It wasn't just that I drove by run-down diners like the Continental at 2nd and Market and wondered why they weren't yet trendy restaurants, although that was part of it.) I had lived in the 1980s in the New York borough of Queens, which for the most part had been a solid, relatively safe, honest-to-goodness middle-middle class community. And there was no mystery as to why: As old-timers from the "Archie Bunker"-era of Queens left for Long Island or Florida or death (all pretty much the same thing), their homes and their markets were not left to crumble. Instead, they were taken over by an influx of immigrants, from Korea, Colombia, and other nations gaining a toehold in America's largest city.
I pondered why this wasn't happening in Philadelphia -- at least not with the same intensity. It's not going to happen, people told me. The sad truth, according to these naysayers, was that in recent times the so-called City of Brotherly Love just wasn't that welcoming to foreign arrivals. But not everybody felt that way. A city councilman named Jim Kenney -- almost alone, at least among the politically connected, at first -- made the same argument, that Philadelphia neighborhoods would die without an influx of immigrant blood.
You know the old saying, right? First they say that you're a Communist and a thug. Then they reluctantly OK a national holiday in your name, Then they claim you were really one of them. OK, actually that's not an old saying at all -- but it's been irritating in recent years to see folks who -- a) had they been around in 1965 and b) had there been an infrastructure of Fox News, right-wing radio, and blogs -- would have been denouncing Dr. Martin Luther King as a common criminal 50 years ago now holding him up as a hero -- and insisting he was really just like them!
You can trace this back to (who else?) Ronald Reagan. Although let's give the Gipper a small dollop of credit -- he did sign the national holiday for King into law, after all -- he turned around and insisted that the activist's most-repeated line about judging by the content of character meant that he opposed affirmative action (he didn't). Soon the likes of Rush Limbaugh and Glenn Beck were piling on, claiming that the most important thing about King was that he opposed gay marriage (although arguably his closest adviser was gay) or abortion or that he wanted religion in America's public square. They even put up billboards claiming that King was a Republican (he wasn't). This fact-addled fog could almost make one forget the bus boycott, the fire hoses, or the Edmund Pettus Bridge.
But in the end, the far right's misappropriation of the MLK legacy is just comic relief. More insidious, in my opinion, are the moderate folks, many of them well-meaning, who confuse sainthood with sanitation, who want to make a man of peaceful, radical change into a man of peace -- and keep the change. Some of this is Monday morning quarterbacking from folks who would have been afraid of backing -- or maybe would have even opposed -- King's crusades for integration, voting rights, and later to end war and poverty.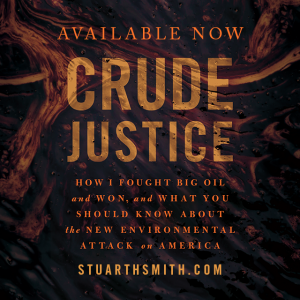 Like Jack White, occasionally I have interesting side projects. Over the last couple of years, I've had the opportunity to help one of the nation's leading environmental attorneys -- Stuart Smith of New Orleans -- bring his story to life, and he has quite a story to tell. His book -- Crude Justice: How I Fought Big Oil and Won, and What You Should Know About the New Environmental Attack on America -- is out this week, and it's a great tome to kick back and kick off your 2015.
It's really two books for the price of one. At heart, it's a legal thriller. The first half of the book is a different type of southern-fried True Detective -- call it True Environmental Detective. Stuart tells the story of how, as a young lawyer, he was hired by two machine-shop operators from the backwoods of Mississippi -- whose land had been poisoned by radioactive pipes shipped there by Chevron, Shell, and other icons of Big Oil -- to take on one of the world's biggest corporation in court. It's a true David v. Goliath saga, and the momentum from that case propels Stuart all the way to the 2010s and the legal fight against BP, which has poisoned his native Louisiana with 5 million barrels of crude oil. Along the journey, he takes on the behemoth that is ExxonMobil, rejecting a paltry offer of less than $10 million in a radioactive dumping case to ask a jury for more than $1 billion(!). As they say at Upworthy, you won't believe what happens next.
But it's also more than a legal thriller. While Stuart went into his odyssey to occasionally get justice for the Little Guy -- and, of course, make a few dollars for himself -- he came to realize over time that the whole fossil-fuels game was rigged. From fracking to drilling on the Arctic to its leaky pipelines, Big Oil does all it can to squeeze every last dollar in profit from the earth, and it has no regard for who gets hurt along the way. In the Big Picture, he pleads for America to ween itself off oil and gas, as quickly as possible. But Crude Justice also leaves behind another pearl: It makes you appreciate one of the most, ahem, underappreciated players in life -- the Great American Trial Lawyer. When you've been wronged by the oil giants, and when all the pols from both parties are in their back pocket, who else you gonna call? The justice that Stuart Smith wins for his clients may indeed be crude, but it is absolutely essential. And so is this book.
Here's some bad (or, "bad") news, which is that there's not going to be much Attytood in January, at least not from me anyway. I'm off a lot of this month, and when I'm here -- like a couple of days this week -- I'm going to be trying to wrap up other non-blog things.
The good news is that, on an issue of great public import, a local writer has channeled my thinking so much that I can proudly highlight his work. There's an old saying that, just because you're paranoid doesn't mean they're not out to get you. Likewise, just because Kathleen Kane is a train-wreck of an attorney general doesn't mean there's not a sleazeball "old boy network" out to get her.
There are few things in this world we can all agree upon, once politics casts its long shadow. But I doubt you'll find many who don't believe that today's rally and solidarity march in Paris -- on behalf of the satirists, the police officers and the Jewish victims of Islamic fundamentalist terrorism in France last week -- was one of the most moving and powerful events we've seen in the public arena for a long, long time.
More than 1 million people packed the expansive Place de la République and surrounding districts, in what experts believe was the largest rally in the history of France, which is pretty amazing when you think about all the political convulsions that have rocked Paris from 1789 to 1968 and beyond. The march was noteworthy for all the world leaders -- not just from Europe but also Israel's Benjamin Netanyahu to many Arab kings, presidents and prime ministers -- who for at least one day were in lockstep (and shame on President Obama for not being there, and on the presidential hopefuls who were tweeting the NFL but forgot Paris). But what stood out was the diversity of the crowd, including a healthy showing of the "moderate Muslims" who get accused of never speaking out against terror. To borrow a phrase, it was liberty, equality and brotherhood at its best, overwhelming a week of senseless violence and sorrow.
Of course, the march was not only a condemnation of terrorism but a celebration of both free assembly and free expression -- the thing that two murderous thugs tried to stop Tuesday in their attack on the satirical magazine Charlie Hebdo that claimed 12 lives, the start of a bloody week in which 17 innocent victims died across the Paris area. It's a pretty safe bet that 99 percent, give or take, of Americans had never heard of Charlie Hebdo before last week; I know I hadn't. But within minutes, many folks -- especially journalists, cartoonists, and others who've devoted their working life to some form of creative expression -- raced to tweet or otherwise voice solidarity with the victims. An attack on a publication on the other side of the world is an attack on all of us. "#JeSuis Charlie," or "I am Charlie." I wrote that last Wednesday, and I proudly stand by that.
What does it mean when police make arrests? When you think about it, it's actually a complicated thing. Does it mean that a community is teeming with violent lawbreakers that the officers in blue are systematically clearing from the street, Or are the cops following a commander's quota system, taking in suspects or issuing summons for lesser, non-violent offenses -- like, say, selling loose untaxed cigarettes -- that don't necessarily require a SWAT team.
Or, put another way, does arresting a lot of folks reduce crime in a meaningful way, or does it RAISE the crime rate through statistics by putting so many violations on the books? There's no arguing that America has the highest incarceration rates of any industrialized nation. But is that from too much lawlessness... or too much policing and prosecution?
Thanks to the NYPD, we may finally find out. In one of the most bizarre twists to a major national story that I've seen in a while, rank-and-file cops are now showing their contempt for New York City Mayor Bill de Blasio through a massive work slowdown. With the flow of arrest papers and summons slowed to a trickle, the city that invented "broken windows" policing -- the theory that more arrests for lesser "quality of life (QOL)" crimes like graffiti or drinking a beer in public will curb more violent crime -- has just pulled a 180: