76er hedge-funders to poverty-wracked Camden: "Let them play shooting guard."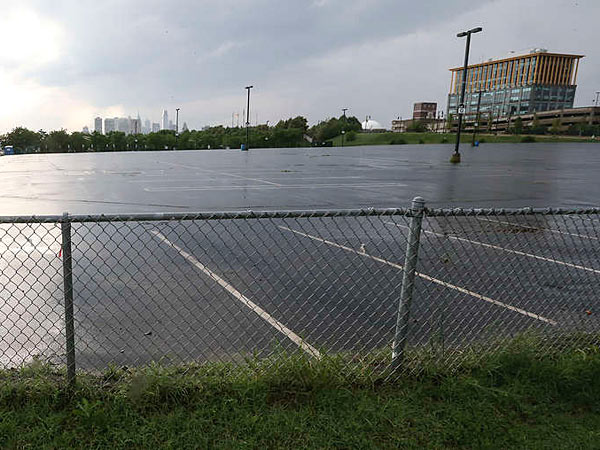 The 76ers sweet deal won't help poverty stricken Camden one bit
76er hedge-funders to poverty-wracked Camden: "Let them play shooting guard."

Not surprisingly, the turnaround specialists (let's see how that goes) who own the Philadelphia 76ers are also hedge funders of the 0.0001 Percent variety, even as their basketball team performs at the lowest percentile of the NBA. But let's concede that billionaire Wall Streeters are very good at what they do, and what they do best is crony capitalism.
So when it came time for the time to build a new Sixers' headquarters and training facility, they decided to cash in a couple shares of Apple stock and build the damn thing themselves! Ha ha, just kidding, of course they didn't do that! Instead, they played off elected officials from both sides of the Delaware River against each other and extracted the sweetest deal from the state of New Jersey -- $82 million in tax breaks. Who (besides Andrew Bynum) says the 76ers are owned by suckers?
States like New Jersey give these lush deals to the "job creators" -- but the handful of new jobs that may be created by the Sixers don't seem like a good fit for citizens in their new practice home of Camden, which has been reeling from ridiculous rates of poverty and woefully underfunded and under-performing schools ever since working-class factory type jobs disappeared decades ago.
But at least one person at the morning meeting questioned whether it would have any real effect on the city's residents.
Kelly Francis, president of the Camden County branch of the NAACP, asked O'Neil whether there would be any entry-level jobs at the complex.
"We need a shooting guard," O'Neil jokingly responded.
Camden, one of the poorest cities in the nation, has an unemployment rate of 12.3 percent, and although the Sixers are required to provide 250 jobs there to maintain the tax breaks, O'Neil said 200 of them are already filled.
The center may host youth camps and youth activities from time to time, O'Neil said, but practices will not be open to the public, unlike the Philadelphia Flyers practices at the Skate Zone in Voorhees Township, Camden County.
The 76ers think that taking your tax dollars are a big joke, and now they're laughing at you all the way to the bank. In fact, this deal is so bad (and I say this as a long-time Sixers fan) that it actually has me agreeing with the Koch Brothers-backed Americans for Prosperity -- which means it must really, really stink to high heaven. And of course there's more to the story, as my friend David Sirota over at Pando Daily is reporting this afternoon:
And, as Pando has now learned, the grant follows the NBA team's investors making major campaign contributions – some to Christie's reelection campaign and some to the Republican Governors Association (RGA), which is run by Christie and has financially supported his gubernatorial campaigns.
For example, IRS documents show that Joshua Harris of the Apollo Management Group has made $50,000 worth of contributions to the RGA. One of those contributions for $25,000 came only months after Christie was named vice chairman of the RGA. The NBA's website and Apollo's website list Harris as one of the owners of the Sixers.
Similarly, IRS documents show Martin Geller of the financial advisory firm Geller & Company has given $20,000 worth of contributions to the RGA since 2009. One of Geller's $10,000 contributions came in early 2009, when the RGA was gearing up to support Christie's first run for governor. The $20,000 from Geller to the RGA is on top of $28,000 Geller has given to New Jersey politicians, according to New Jersey campaign finance disclosures. According to the Philadelphia Inquirer, Geller of Geller & Company is a major investor in the Sixers.
Like I said, crony capitalism conquers all. If Christie and has minions have $82 million to give away, invest in vocational training and buy a few textbooks for the children of Camden, and then focus economic development efforts on those companies that are actually hiring folks who don't have a good mid-range jump shot. Over the last five years, the Christie administration has instead doled out hundreds of millions in tax breaks to the rich and the well-connected -- and the state's economy has lagged the rest of the nation. Stop dunking on New Jersey taxpayers like they're Shawn Bradley or something.