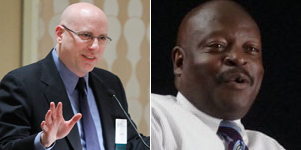 UPDATE: Days in.
Michael Days, the popular editor who ran the Daily News from 2005 until early last year, is back at the helm.
Daily News staffers burst into spontaneous applause when publisher Bob Hall announced that Days -- who in the interim had been managing editor of the Inquirer -- would be returning to the tabloid. Days assured the newsroom that his goal was the re-energize the spunky urban paper that has won three Pulitizer Prizes, including one for investigative reporting when Days ran the paper in 2010.
Everything old is new again at the Daily News and Inquirer Building on North Broad Street. In a matter of a few short weeks, the new local owners of Philadelphia's newspapers have brought back former Inquirer editor Bill Marimow, restored former publisher Bob Hall, and even returned columnists like Harry Gross of the Daily News and Clark DeLeon of the Inquirer before today's announcement about the return of Days.
EARLIER: The Larry Platt era at the Daily News is over just over 16 months after it started.
The editor who redubbed Philadelphia's tabloid as "The People's Paper" and urged a new brand of sharp and sometimes opinionated journalism told staffers this afternoon in an email that he's stepping down, in part to finish work on a book about ageless pitching wonder Jamie Moyer. He says he'll also continue to write a column -- not for the Daily News or Sports Week but for the Inquirer.
The headline of this blog post is a fond tribute to one of Platt's all-time favorite front-page headlines, as noted in his going-away email, which is reprinted below:
I let Bob Hall know this week that I wouldn't be renewing my contract as editor of the Daily News. As you know, I have what has evolved into a big book due in a few months that I'm woefully behind on and I desperately need to focus on that. We started talking about other ways that I can remain part of the PMN family, and Bill Marimow graciously offered to have me pen a regular column in the Inquirer going forward.
As some of you know, I never looked at this gig as a long-term play for me. I have long loved the Daily News, and I was jazzed by the challenge of being a change-agent, of remaking the publication that I grew up poring over. And, boy, did we embark on some change: a redesign, a new focus for both news and features, an entirely new product, SportsWeek, a new content management system. It often feels like the last year and a half has been nothing but change, some of them wrenching.
Even with all that upheaval, you guys produced the sort of journalism that any editor would brag about. From Ackerman and Masch to the elected DROP whores, we held the powerful accountable in a way only the Daily News can. We challenged the tired tenets of he said/she said reporting by telling stories with more of a point of a view than ever before. We introduced a host of new voices to our readers, including Charles Barkley, Marc Lamont Hill, Jason Wilson and Big Rube. From "WTF?" and "Worst. Weekend. Ever" to "We Are Nitt-Wits" and "Sucking On The Public Tweet", we set the agenda for how Philly would talk about what it talks about. And we created SportsWeek, which, in three market research surveys, has tallied the highest reader satisfaction results of any publication I've ever been associated with. You've produced this groundbreaking weekly product with virtually no additional resources and without complaint, which speaks volumes about your collective character.
We have had some good, if mixed, results. Newsstand circulation of the Daily News dropped in the fourth quarter last year, but our overall print readership is at its highest in four years. Factor in our disproportionate performance on philly.com, where DN stories generate some 45% of the traffic despite our comparative dearth of resources, and the conclusion for those of us on the creative side is inescapable: that the Daily News isn't just an increasingly popular voice among readers, it's also a necessary one — for this city and for this company.
There's a lot of angst about the future here, but take some comfort in the fact that storytelling is as old as our history, and it's not going away. Right now, readers and users are sorting out how they're going to access those stories. Your job is to embrace that change, not fear it. Instead of being "platform-agnostic" we should become "platform-specific" -- tailoring our voice and subject matter to the particular ways our readers opt to engage us. The key is that they stay engaged, and a feisty city tabloid does that by being provocative while remaining fair, and sensationalistic while remaining journalistically responsible. That's not always an easy balancing act, but one I know you guys can pull off.
On a final note, I've never worked with a better group of people. In true Philly fashion, this staff know how to take a punch (and, when warranted, throw a few) and keep on going. The way you all have weathered our various storms has been inspirational.
So my last day will be Friday, June 8. Bob Hall will come down to the newsroom at 4:30 pm today to talk about the next steps for this place.
Keep up the good work.
Best,
LP