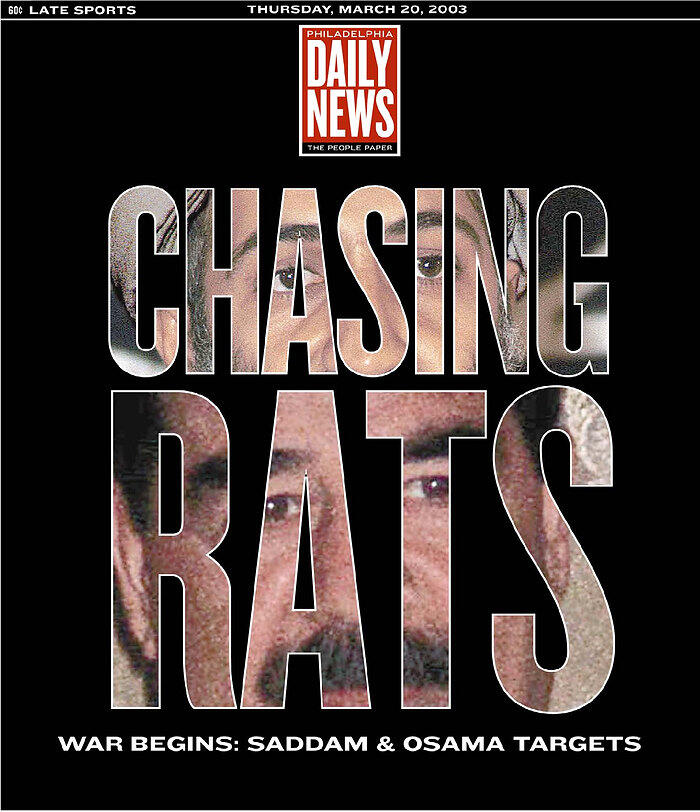 I do indeed remember exactly was I was 10 years ago at this very moment -- sitting at my desk (not this one, a different one, many convoluted financial transactions and one bankruptcy ago), watching a newsroom TV out of one eye and waiting for the Bush White House to go ahead and finally unleash the shock and awe they'd been promising for months. The news of air strikes on Baghdad came in the evening, as I'd expected (dawn over Iraq, after all) and when it did, it came wrapped in something that I -- and virtually no one else -- remembers a decade later. It was a head fake, at best, or maybe even a lie. Probably a lie...because there were so many of them,
That's the Daily News front page from March 20, 2003 up top of this post. Confusing? Why dies it show Saddam Hussein AND Osama bin Laden? Right when the bombers were on their flight path to the Iraq, the Pentagon leaked out a separate report that troops were also involved in an operation in Pakistan aimed at getting bin Laden, who'd been on the lam from the 9/11 attacks at that point for 18 months.
Most newsrooms didn't take the bait out of Pakistan, when the big news was over Baghdad. But the Daily News was run by Zack Stalberg, a great newspaperman who did have his obsessions, as we all do. He didn't seem to have great interest in the nuances of foreign policy, but he knew one thing: He wanted bin Laden dead -- DEAD -- for what he had done on 9/11 ("Revenge -- hold that thought," the DN wrote on 9/12/2001, behind a front page that screamed "Blood for Blood.") So there is bin Laden, joined for eterniity with Saddam on my newspaper's start of the Iraq War front page, muddling the mission of the war between the mastermind of the 9/11 attacks and a different dictator who had nothing to do with it. All because of Pentagon misinformation that was immediately tossed down the memory hole, in a fog of a never-ending war. How fitting! So much of what was reported that night -- and in the months running up to March 19, 2003 -- was a lie. Even the front page of the Philadelphia Daily News.