Wednesday night was made for staying up late on the World Wide Web --the evening had been a little bit like Pearl Harbor for media-news junkies, after all, thanks to the dueling departures of Brian Williams and Jon Stewart. Indeed, on Twitter there was little talk of anything else. Maybe that's why it was shocking to wake up early today and see that many of the tweets were about the brutal slaying of three Muslim-American students in Chapel Hill, North Carolina. That had happened at 5:15 in the afternoon -- hours before CNN treated Stewart's departure like the "fake news"-caster was a missing Malaysian jetliner.
Where had been the mainstream news coverage of a human tragedy that had, circumstantially, all the trappings of an act of religious terrorism? Many folks had that reaction -- and when they tweeted their shock, sadness, dismay and outrage, they added a hashtag with a powerful undertone: #MuslimLivesMatter. "Why deaths of muslims are not noticed in a terrorist incident?," posted Twitter user @shahzad2404. "They are humans too! #MuslimLivesMatter." A cartoonist, citing the example of the terror-attacked French satirical Charlie Hebdo, posted his own rendering of three young corpses on the pavement, observed by a yawning TV cameraman proclaiming "no news here" in the killing of three Muslims in a Southern college town.
But the three murder victims were anything but cartoons, and the details that emerged of who we lost were truly beyond heartbreaking. Deah Shaddy Barakat, 23, and Yusor Mohammad Abu-Salha, 21, had just been married two months ago; the last known photo of Abu-Salha shows a beaming young bride dancing at her wedding. Her husband, Barakat, of Syrian descent, was heavily involved in charity work said to include building homes for Habitat for Humanity, offering free dental care to the homeless and destitute of nearby Raleigh, and raising money for the same type of care in war-torn Syria. Ms. Abu-Salha's sister, Razan Mohammad Abu-Salha, 19, was, like the other two, a top student; she'd just won an award at North Carolina State University for her work in 3-D modeling. What's more, amid a climate of increasing Islamphobia in this country, the man arrested and charged with the murders was an avowed atheist who's written of his hatred of religion on social media.
As I started writing this, the 835th most trusted figure in America got bumped from the air. That would be the just suspended, without pay (ouch!), NBC News anchor Brian Williams, who -- according to a new report -- had recently been the 23rd most trusted, before his reputation for telling the truth dropped faster than a Chinook helicopter taking RPG fire.
But trials and tribulations of Brian Williams is only one of two big media stories tonight. The other arguably more important one involves the man that at least in some surveys has been named the MOST trusted deliverer of the nightly news:
Jon Stewart, the comedian who turned Comedy Central's "The Daily Show With Jon Stewart" into a sharp-edged nightly commentary on news events, the people behind them and the media that reports (and sometimes misreports) them, said on Tuesday that he would step down from the program after more than 15 years as its anchor.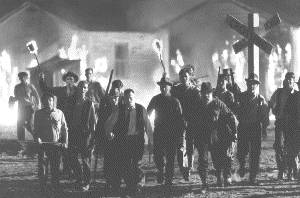 President Obama has been talking a lot these days about "middle class economics," and his poll numbers have been rising, so this time he must be doing something right. You don't really need a Ph.D. in running focus groups to see that the average American worker still isn't happen with the current state of our economy -- with real incomes soaring for the top 1 Percent and stagnant or even falling for the 99 Percent, and with a job market that's still kind of dodgy, especially for under-employed mid-career workers.
But there's only so much that lame duck Obama can accomplish, especially with a Republican Congress, so any hope for real change seems pinned to the 2016 election.
Good luck with that.
Alabama, March 1965:
Alabama, February 2015:
The Philadelphia 2015 mayor's race is starting to remind me of Yogi Berra's famous observation about the left field shadows in the old (i.e., real) Yankee Stadium, that "it gets late early out there." No doubt it's technically early -- the filing deadline for candidates won't come for a month, and maybe somebody else wonderful will jump in (although the fact that no name even occurs to me is telling.) And yet it feels late out there -- that the candidates, the issues, and maybe the fate of the city's zeitgeist for the rest of the 2010s is locked in.
There's a lot this election could be about -- Philadelphia's rate of deep poverty, said to be highest in the land, how to move policing out of the stop-and-frisk era, or how to bring make the city's comeback touch all neighborhoods and not just the ones with hipster coffee hangouts. But, no, they -- not me or you, but they -- decided that the race is going to be about charter schools.
Last week, we were talking here about how "independent expenditures" -- from political action committees (PACs) or even so-called "dark money," groups that can keep the identity of their large donors secret -- might swamp the relatively paltry sums that the actual candidates are raising and spending. In particular, at least two newish PACs were raising noteworthy amounts from known backers of a major expansion of charter schools -- schools that receive public funds but operate independently. Both of the PACs have indicated support in the mayor's race for state Sen. Anthony Williams, a staunch supporter of charters.
It's hard to say right now whether the combination of misleading statements, half-truths and out-and-out lies surrounding NBC news anchor Brian Williams and his now infamous 2003 helicopter journey in Iraq is just a black mark on an otherwise successful career...or the end of that career. The so-called "fog of war" surrounding what exactly happened a dozen years ago seems to be getting thicker. Just this afternoon, Williams' pilot on that chopper flight said it did take take enemy fire, just not from a rocket-propelled grenade (RPG) as the newsman had once claimed. Going the other direction, Stars and Stripes -- the first media outlet to report the discrepancies -- went the other direction and said that even Williams' apology this week still gets it wrong.
Either way, it looks really, really bad right now. Brian Williams had one job -- maintaining his credibility as he reads the news to millions of TV viewers every night. For all intents and purposes, his credibility has been tossed into the rotors of that Chinook.
When the tattered shreds fall to earth, I hope we also have a conversation about why Williams felt the need to exaggerate his proximity to combat and to death. It's worth noting that he's not the first person to do this. Indeed, just last year President Obama signed the latest version of the Stolen Valor Act that makes it a federal crime for individuals to make false claims about their military heroism in some circumstances. Politicians are common offenders. Connecticut Democratic Sen. Richard Blumenthal was accused of confusing voters over whether he'd served in Vietnam (he didn't); more famously, and strikingly similar to the Brian Williams affair, the woman who would be our next president, Hillary Clinton, told a bogus tale of taking sniper fire during a visit to Bosnia in the 1990s.
Money in politics is a lot like water -- it tends to pool up in the lowest places. In an election year, traditionally, politicians like nothing better than a contract fight over garbage hauling, or cable franchises, or casino licenses. That's when the campaign donations really start flying, when business executives think they can get a leg up by writing a few checks.
You may have heard that there's an election for mayor in Philadelphia this year. It's been hard to find A-list candidates, for sure -- but it's even harder to find the money. Through the end of last year, the leading four candidates had raised just 1/8th -- 1/8th!!! -- of what the Top 4 candidates had raised in 2007. But now, new, stealthier sources of money are emerging.
The new funding sources share a common bond...charter schools. That's right, educating Philadelphia's kids is essentially the new slots parlors of the 2015 race for mayor. If that's not a metaphor, I don't know what is.
Over the years, readers in the comments section of Attytood have voiced incredulity that I'm not a registered Democrat. Fair enough -- I openly admit that I've never voted for a Republican for president (though two independents) yet it's also true that for most of my adult life I've been a registered independent. But the reasons for that have changed over time -- changed significantly, in fact.
In the late 1980s, I worked on Long Island and covered a township run by Nixonian Republicans, and I didn't want them looking up my party affiliation. Besides, a) I bought into a lot of the late 20th Century BS about "the balanced, blank-slate journalist" (which would also require a lobotomy, but I digress...b) I was more of a centrist then than I am today, so much so that I might have voted for (the then more liberal) John McCain than (then more conservative) Al Gore had that been the choice in November 2000.
Today, it's different. There's a lot of reasons I'm not a registered Democrat (even though that means I'm disenfranchised on Pennsylvania Primary Day) but the main one is that the party is a constant embarrassment. Its elected officials spend most of their time running away from any progressive principles buried in the party platform. And a party with no principles -- other than the outsized egos of its anointed leaders -- becomes a breeding ground for corruption. Nowhere is that more true than here in Pennsylvania.