Will Bunch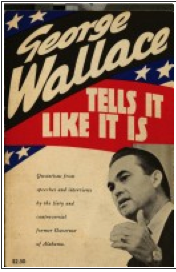 (h/t @KevinMKruse)
In 1968, George Wallace claimed he was "telling it like it is" about race relations in America, or "states' rights," or some such thing -- and he carried five states with 46 electoral votes, as an independent. Not too shabby. How far will Donald Trump go in 2016 by "telling it like it is"? You tell me in the comments below, because I'm tied up on other stuff tonight.
Or explain how President Obama caused the Great Crash of '15. I'm looking forward to reading that!
Will Bunch
Looking back, there were so many things we didn't know -- I didn't know -- on Aug. 29, 2005, the day that Hurricane Katrina slammed into the Gulf Coast near the Louisiana-Mississippi border. At first, we simply didn't understand the true nature of the storm. After Katrina bounced off South Florida and reformed in the Gulf of Mexico, authorities had warned the world that this monster might completely flatten New Orleans with Category 5 winds. That Monday night, at my safe, dry desk at 400 North Broad Street in Philly, where my editors had asked me to assemble a Page 1 story about this killer hellstorm, the first reports said Katrina wasn't as bad as feared. In the next day's paper, I wrote that Katrina had been "a powerful but glancing blow" to the Big Easy.
So much we didn't know.
While most of America was sleeping that first night, the levees broke -- no longer about to hold Katrina's massive storm surge of Gulf water. Throughout Tuesday, Aug. 30, 2005, the water poured from the Industrial Canal, from the 17th Street Levee, and dozens of other break points, ultimately putting an estimated 80 percent of the city under water. Again, it was hard, in real time, to comprehend both what was happening in New Orleans, and why. Only years later, thanks to dogged work by the likes of the performer and New Orleans resident Harry Shearer, and his documentary The Big Uneasy, did we understand that it was really human error -- specifically, shoddy design and care of the levees by the U.S. Army Corps of Engineers -- that had unleashed devastation on a great American city.
Will Bunch
Just last month, I covered a moment that I never, never, ever would have expected when I entered journalism. I was at the Pennsylvania Convention Center taking in a speech on criminal justice reform by the president of the United States...when Barack Obama started talking to attendees at the NAACP national confab about the subject of prison rape.
"We should not tolerate conditions in prison that have no place in any civilized country," the president said. "We should not be tolerating overcrowding in prison. We should not be tolerating gang activity in prison. We should not be tolerating rape in prison, and we shouldn't be making jokes about it in our popular culture. That is no joke. These things are unacceptable."
That impressed me. Speaking out about prison rape jokes isn't a politically popular thing, particularly, and the fact that Obama brought it up seemed to speak to his seriousness in tackling prison reform in his final year-and-a-half in office (although, yes, he should have started this crusade much, much earlier.) After all, a growing number of Americans, myself included, oppose the death penalty as inhuman, even for convicts who've committed gruesome, unforgivable crimes. Prison rape -- victimizing an estimated 60,000 inmates every year -- is much less morally and politically ambiguous than the death penalty. Rape is rape, and it's wrong, period. And it certainly shouldn't be funny, even when the victim did an terrible thing on the outside.
Will Bunch
Here's a quick update on a blog post I wrote last week: The baffling, ongoing war against civil liberties and free speech that is being waged by authorities in and around Ferguson, Missouri. I noted here a few days back that officials in the Show Me State had apparently gained no additional respect for the 1st Amendment in the year since that St. Louis suburb was rocked by unrest over the police killing of an unarmed black 18-year-old. The centerpiece of that argument was a summons issued to two prominent journalists who now stand accused of "trespassing" inside a McDonald's restaurant where they were filing news reports about the protests and the massive, militarized police response.
That was absurd, but this week it was revealed that the charges against the journalists were the proverbial tip of the iceberg. In fact, the once obscure county lawyer for St. Louis County, Peter Krane, has waited a year to lodge criminal charges against scores of protesters -- charges that in many cases are merely a cop's determination that they hadn't obeyed an order to clear the streets within five seconds.
Will Bunch
My Daily News colleague Helen Ubinas has done an outstanding job in her last couple of columns -- contrasting the Great Papal Panic of '15 with Philadelphia's seeming acquiescence to high levels of gun violence and poverty. "Go rogue, pontiff," she wrote today. "Throw caution and schedules to the wind and head to one of the city neighborhoods hardest hit by poverty and crime."
I agree -- yet I'd also note that Pope Francis already has a pretty bold schedule. He is, after all, going to jail -- the city's Curran-Fromhold Correctional Facility, to be exact. Visiting prisoners and offering them hope is part of the pope's shtick, to use a mixed metaphor. Just last month, Francis visited one of the world's most overcrowded correctional facilities, in Bolivia, and told inmates "we should not think that everything is lost."
When he comes to Philly in September, I wonder if the pontiff will acknowledge this: In an American city or county lockup, many prisoners shouldn't even be there -- victims of a flawed system that locks people up for months who've not been convicted of a crime yet simply are too poor to get bailed out. This Sunday, the New York Times Magazine ran a remarkable expose about the myths and contradictions of the bail system in America. Here's an excerpt from "The Bail Trap":
Will Bunch
I caught a few minutes of an incredible spectacle on cable TV news on Friday night. Donald Trump had just held court with reporters in New Hampshire and now he was giving a speech in prime time - and the punditocracy was as giddy as 13-year-old girls reading the latest tweets from the boys in One Direction.
Did you hear what Trump said about Boston Mayor Marty Walsh, calling him "a clown"?! Just listen to The Donald raving about the "magnificent" airport in Qatar (why?..who knows?) and how you can get a massage there but not Trump because "I don't like people touching me," as his audience erupts in laughter. Other candidates draw crowds, if they're lucky, but Trump comes with an audience, a human laugh track. They roared when he bragged about "the summer of Trump," unconsciously echoing 2001's notorious "summer of the shark."
I saw the best political minds of the young generation -- smart analysts like Dave Weigel of the Washington Post and NBC's Kasie Hunt -- dragging themselves into this madness, torn between serious commentary and giggling. This was Chris Hayes on MSNBC -- the Serious One -- but they all struggled to break away from the Manhattan billionaire's rock opera of a presidential campaign, even though most of the other top contenders for the White House were also making news on an hot Friday night in August.
Will Bunch
It was sad to learn this morning that civil rights icon Julian Bond -- who'd been in seeming good health and spoke in Philadelphia just last month at the NAACP convention -- had died at the age of 75. He'd been on my mind a lot in the last couple of years, because thanks to the marvel of YouTube I'd finally gotten to watch the "Eyes on the Prize" documentary series that he narrated in the late 1980s. As it turned out, Bond had a lot of local ties, and I spent most of my night working with my colleague Regina Medina on an obituary that will run in tomorrow's Daily News. Go out and buy it. Seriously.
What's really impressive about Bond is that he never stopped fighting, up to his last breath. He was an early adapter to the notion that blacks should be fighting for the rights of gays and lesbians. In his final months, he spoke forcefully against police brutality. "This wave of shootings of black men is just awful, terrible," he said in an American Forum with journalist Douglas Blackmon earlier this month. "The fact that we've not been able to halt it, or punish the shooters — punish the shooters, the murderers is a condemnation of the whole society." You can watch the entire (short) video below.
(UPDATE: Read tomorrow's news today.)
Will Bunch
With so much else going on the world these days (August=slow vacation time...yeah, right), you may not have noticed this, but Sen. Bernie Sanders is on fire. Out West in Seattle, Portland and Los Angeles, the democratic socialist from Vermont is drawing crowds that are simply unheard of at the stage of the presidential game -- 15,000, 20,000, 27,000, with some of the folks watching on big TVs in the parking lots because they can't get inside to hear his message of a political revolution against wealth inequality in America.
In New Hampshire, the critical first-in-the-nation primary state (Iowa's a less democratic caucus system), a new poll even has Sanders defeating Hillary Clinton. None of this means that Sanders will be the 45th POTUS or even the Democratic nominee; he still has yet to break out of an appeal that's mostly confined to white, upscale liberals who may or may not drive Volvos and eat arugula. But you have to concede that -- in the words of a song I've heard a couple or maybe 537 times -- there's something happening here.
There's also something happening across the pond. In England, there's a growing likelihood that the next leader of the Labour Party will be so liberal as to make Bernie Sanders seem like Scott Walker. His name is Jeremy Corbyn: