One thing that's made the 2010s an interesting time to be alive is that we live in an era when many people are re-thinking...well, just about everything. Certainly here at home, policies that had unquestioned support during the 1980s and '90s -- I'm talking about the "war on drugs," militarized police, and the massive flow of wealth to the top 1 Percent -- are getting a much-deserved second look. In many ways, a common thread is an approach to law-and-order that is draconian and unyieldingly harsh, policies that gained momentum after the unrest that peaked in the '60s and early '70s. Most prosecutors and many judges across the country are elected, and no one dared risk the label of "soft on crime."
But the criminal justice system isn't a one-directional game. There is always tension between the need to punish wrongdoing, both in the name of justice and of deterrence, and the rights of the accused, between what "feels good" in the heat of the moment and what achieves the supposed real goal of keeping people safer. At least there used to be.
On the long list of things that Americans rarely question is bail. Occasionally, a prisoner is held on terms that seem a bit extreme -- in Baltimore, a rioter accused of smashing a police cruiser had higher bail than the cop charged with the death of a human being, Freddie Gray -- but that scrutiny is rare.. Now comes a provocative piece about bail that asks, basically: Why exactly do we have this?
Think of the 2015 Philadelphia mayoral contest as a bicycle race -- a loooong, boring six-person peloton -- endlessly, cautiously looping around Manayunk and the Art Museum circle. Finally, mercifully, someone blows the horn for the last lap. It's now or never. Somebody has to make a move, even though much of the pack lost its mojo many, many miles back.
Tony Williams (or Anthony Hardy Williams, or Anthony Williams, or Ted Williams, or Tone Loc...I forget what we're calling him this week) has heard the horn...and it's panic time. His trading guru backers from the Main Line have invested millions of dollars in the West Philly state senator with possibly nothing to show for it, other than a couple of slick TV ads and a campaign that one of my colleagues generously calls "rudderless." With the growing sense that it's former City Council member Jim Kenney who's busting out of the slow-moving cluster, Williams is desperately pedaling toward the only open lane he sees.
So say goodbye to buttoned-down Harrisburg insider policy wonk. Say hello to Tony Williams, #PhillyIsBaltimore street radical. OK, maybe not quite radical, but what is clear is that in the waning days of the mayor's race, Team Tony has made one of the crassest calculations in recent Philadelphia political memory (which is saying something, isn't it?)
Kudos to Chicago for trying to right a massive wrong here:
Over a period of nearly 20 years, Chicago Police Cmdr. Jon Burge and his "midnight crew" allegedly tortured at least 118 people, forcing them to make confessions.
The police officers beat the victims, burned them with lit cigarettes and handcuffed them to hot radiators. They tied plastic bags over their heads and nearly suffocated them. They put cattle prods on their genitals and in their mouths and electrocuted them.
Who knew? For weeks now, Philadelphia has watched its six or seven mayoral candidates hold three or four debates every day (it least it feels that way, doesn't it?), hemming and hawing their way through their rehearsed, half-baked answers to the only question voters really care about: How are you going to pay for the city's perpetually broke public schools?
The real solution may be is easier than we thought.
If every resident of the city and a few visiting suburbanites would just go out and park in front of a fire hydrant maybe once a week or so, we could probably close the Philadelphia School District's budget gap, maybe even go crazy and hire a school nurse or buy a few American history textbooks written after the Truman administration.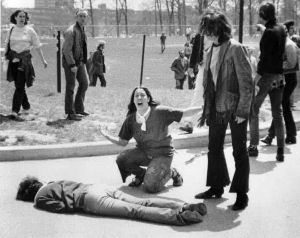 These four Americans were murdered by their government, 45 years ago today. Remember their names and then ask yourself: How can you run, when you know?
Is it really 1968 all over again? That's the question that's posed in a remarkable and fairly provocative cover image on this week's Time magazine (and to answer everyone's question, yes, Time magazine is apparently still in business). Of course, history buffs (and who else would come to Attytood at this point?) know that a) 1968 was peak 1960s, the year that MLK and RFK were killed and that the police rioted in Chicago against anti-war protesters and that blacks and others rioted over other stuff, from Paris to Mexico City and b) it was particularly bad then in Baltimore. That April, six people perished in the Charm City in the city's uprising after the King assassination.
That's something to ponder when you compare the 1960s to today -- that thankfully today is much, much less lethal. Urban rioting across America in that era killed scores of people -- the most deadly, Detroit in 1967, claimed 43 lives, with the majority of the deaths caused in the police/military response. No one died in Ferguson or Baltimore...after Mike Brown and Freddie Gray did, of course.
But I do think in many ways, the issues and the national mood are similar to what was going on 50 years ago. Again, people are talking about life down in the boondocks, and how can a nation like America can claim to be exceptional when such deep poverty exists. Suddenly, topics that seemed off the table -- like mass incarceration and extreme criminal sentencing -- are in play. Suddenly, too, people are doing things that surprise us -- like Baltimore state's attorney Marilyn Mosby's surprisingly swift push for justice and her eloquent words on Friday morning. When I try to think of another public statement by an elected official that was so raw and so powerful, I must go way back to Robert Kennedy's famous speech to a mostly black crowd in Indianapolis on the night Dr. King died...
It's been an honor to spotlight the work of my Daily News colleague Signe Wilkinson here at Attytood from time to time. During her long and distinguished career here, she's served as a kind of a moral barometer for Philadelphia and the world. To paraphrase the current ad campaign about another amazing DN'er, she draws what you'd like to say.
You may also know that Signe's already won a Pulitzer Prize for her work, so what other worlds are there to conquer, right? How about...the world. When the Charlie Hebdo terrorist attack occurred earlier this year, she picked up her pen and she also picked up her keyboard, compiling and sharing some of the remarkable defenses of cartooning and of press freedom that emerged in response to a tragedy.
Today, that work won the 15th World Press Freedom International Editorial Cartoon Competition. It is not only more than well deserved, but a crowning achievement...at least until they honor the best cartoonist in the universe.
Violent racial strife in the streets of a major American city. A nation spending billions on military hardware while poverty ravages its inner cities. U.S. troops on a vague and shifting mission on the other end of the world, in an undeclared war that was launched with dishonesty from the highest levels of government, with no real "light at the end of the tunnel."
OK, that pretty much describes America this week, right? But it certainly was also the case fifty years ago, in the summer of 1965, when the Watts section of Los Angeles erupted in a riot while then-President Lyndon Johnson was dramatically escalating U.S. troop levels in Vietnam. That was the start of a tumultuous ten years that ended on April 30, 1975 -- the fall of Saigon that marks its 40th anniversary.
And thus the Vietnam War is having a moment right now, with new documentaries and anniversary events all week. But just as World War I was supposed to be "the war to end all wars," and wasn't, the Vietnam War has become the "mistake" -- the one that our now-secretary of state John Kerry said no one wanted to be the last man to die for -- which seems to happen again and again.