Philly
Will Bunch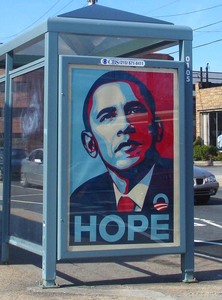 (Photo by our own Vance Lehmkuhl)
Yes, this IS creepy....
The Soviet-style heroic Obama, the use of a single word "Hope," do make the SEPTA bus shelter posters a bit reminiscent of George Orwell's "1984."
Will Bunch
"Soy Barack Obama y apruebo esta mensaje."
Does that have anything to do with this?
In fact, neither Obama nor Sen. Hillary Clinton, his rival for the Democratic presidential nomination, has made the traditional stop at South Philly cheesesteak establishments Pat's or Geno's.