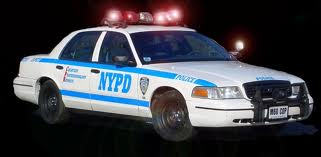 Nothing to see here...just keep moving. Assuming you don't get tased:
The Tallahassee Police Department moved swiftly Wednesday to get out in front of its latest controversy — the tasing of a 61-year-old woman in the back as she walked away from an officer in the middle of a city street in broad daylight.
The incident, which was recorded by an onlooker with his cell phone, prompted TPD Chief Michael DeLeo to hold a middle-of-the-night news conference to announce that the officer involved, Terry Mahan, was being placed on paid administrative leave pending the outcome of an internal-affairs investigation.
Here we go again: Another American college has decided that -- in a world which only has 6 billion people, give or take a few hundred million -- no one would be better to impart wisdom to graduating seniors than a man who was convicted of murdering a Philadelphia police officer after he was found on the sidewalk, wounded from a shootout and holding the smoking gun that shot Officer Daniel Faulkner.
It's sad, and sadly repetitive, to read that students at Goddard College in Vermont chose that cop killer, Mumia Abu-Jamal, to deliver a commencement speech. But it's not really surprising. Throughout this 33-year saga, one thing as remained constant: The further removed that you are from the streets of Center City -- both physically and emotionally -- the more likely that you will see Abu-Jamal as a hero for oppressed people, and the less interest you will have in the facts of the case. Near Paris, they name streets for this guy. But most of us in Philly know what really happened here on Dec. 9, 1981.
I believe I've mentioned this before, but I'd never heard of the Mumia case until the early 1990s, when I still worked in New York City and read in the Village Voice about an NYC protest by people proclaiming his innocence. I was surprised -- at the point I'd been reading the Daily News or Inquirer fairly regularly for several years but had not heard of this matter. When I started working here in 1995 (!), I asked my new co-workers about the case and read some of the clips. I was shocked to learn how little reasonable doubt about Abu-Jamal's guilt existed -- among either the local media, or during the minimal defense he mounted in his 1982 trial.
This is a new one: Activists in New York are pleading with their leaders to cross the border to see what we've accomplished under (mostly) Gov. Corbett.
They also want the visitors to smell it.
ALBANY – Opponents of hydraulic fracturing for natural gas are calling on Gov. Andrew Cuomo to make good on a promise to visit fracking sites in other states, sending him a letter last week urging him to travel to Pennsylvania.
Here's a story that I don't think we've seen the end of -- although this is Philadelphia, so you never know. If you follow the local news, you've probably heard of former Philadelphia police officer Richard DeCoatsworth, who went from "hero cop" in the gallery of the State of the Union address, even, to "disgraced ex-cop" in just a few short years.
There were several criminal allegations against DeCoatsworth, but the most serious came last year when he was accused, after an armed standoff, of raping two prostitutes -- an episode for which he initially pleaded guilty to some lesser charges. Today came a stunning reversal of fortune -- all the charges in this case were dropped and he withdrew his earlier guilty plea, and he was released from jail. The DA's office now says the two female alleged victims were not credible witnesses.
I don't know what happened that night, and I'd be the first to say that DeCoatsworth, like any citizen, is entitled to due process and a presumption of innocence. I'm deeply concerned, though, about the way that criminal justice works -- or doesn't work -- in Philadelphia. To begin with, just the simple facts of the DeCoatsworth matter suggests that someone in law-enforcement got something seriously wrong at some point in this case -- either when he was charged with such a serious felony, or now. I'm not holding my breath, but it would be good for the public if prosecutors were more transparent about what really happened here.
The secret is...there's nothing there. This is a classic example of the kind of government dishonesty that Obama was supposed to get rid of. Instead, he's perfecting it.
While I fume over a 70-percent-done blog post that I accidentally deleted, join the great debate. Is it totally awesome that one of my musical heroines, Aretha Franklin, has covered "Rolling in the Deep"? Or is it totally depressing that autotune seems to have been used?
I don't know if they'll ever finally get around to thawing Walt Disney, wherever he and his probably apocryphal ice box may be, and successfully re-animate the legendary animator. But if they do, and if they ask him to design an American city, I'm pretty sure what he'd come up would be Chicago, circa 2014. The 100-block downtown core of America's third-largest city rivals the Magic Kingdom for cleanliness and gee-whiz factor, with its muscular, sharply angled glass condo and hotel towers -- one after another after another -- so immaculate looking you could probably eat a fried pirogi off them. The Chicago River that once caught fire from pollution is now an unnatural Caribbean green.
The towers are so tall that you can't see the prairie for the steel trees, that you have to pull up the Drudge Report on your device to remember that nearby there's some violent place Drudge calls "Chicagoland" where 20, 30, 40 poor folks get shot every weekend. The bubble was hard to escape...literally, after a troubled man decided Thursday night to burn down a big chunk of Chicago's air-traffic control center. Suddenly the world's top Internet journalists (joined, inexplicably, by me) -- after swapping 12 months worth of acquired knowledge in three crammed days -- were unable to connect, to get to the places where we wanted to go next.
OK, so I'm writing this from the frenzied waiting area at O'Hare, so maybe an 8-hour flight delay has given me waaaay too much time to craft overwrought metaphors about the 15th annual confab of the Online News Association, where 1,899 really, really smart people who've taken Internet journalism from 0 to about 35 mph over the last decade-and-a-half gather once a year to give it a little more gas. But I come away feeling like online journalism -- which, let's be honest, IS journalism for a growing majority of people -- is trapped in something of a bubble right now. The big fixes have all been done. Most news people are thinking digitally now (and I won't name the folks I know who aren't, or won't) but the pedal won't go down any further. So much energy and so many person-hours was spent chasing things that mattered so much in 2009 -- like having a cool homepage, for example -- but are fast becoming meaningless five quick years later.
Move over Tank Man -- there's a new kid in town. If you pay attention to one story this week, pay attention to Hong Kong. Because democracy matters.