"We need to talk about the fact that we are for a free-market society that allows your effort and ingenuity to determine your success, not the cold, hard hand of the government."
You bet your sweet bippy!
)
Have you ever said to yourself, "It's time the amazing journalists who work for the Philadelphia Daily News got some worldwide recognition, dammit!"
If so (and you probably have), today's your day. And it comes with an ironic twist.
Do we really want 5 million barrels of oil a month going over a bridge built during the first presidential term of Grover Cleveland?
But this winter, things are different along 25th Street. A sudden spike in freight traffic because of the surge in North Dakota oil production and the reopening of South Philly's massive refinery, a nearly disastrous derailment on the 128-year-old bridge over the Schuylkill River, and news coverage of a nearly 30-foot concrete slab falling have raised fears. But there's also hope that CSX will finally address Philadelphia's infrastructure crisis.
Vera Scroggins sounds like a total crank -- I'm not 100 percent sure I'd want her on my property, even though I clearly agree with much of her environmental politics. But isn't this a little, um, extreme?
A judge has signed off on an order which bars an anti-fracking activist from setting foot on more than 300 square miles–or nearly 40 percent–of Susquehanna county. It's all the land owned or leased by the area's biggest driller, Cabot Oil and Gas.
Although Cabot asked for the court order, a spokesman for the company says it didn't mean for it to be so broad.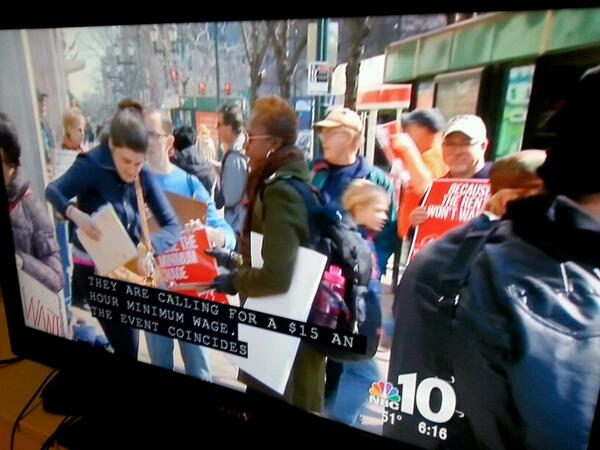 Finally!
The good news in Philadelphia this weekend is that after the city -- in baffling fashion -- ignored a year of protests from coast to coast by fast-food employees and other low-wage workers, we finally saw a lively protest in favor of a $15 minimum wage. About 75 people, according to news accounts, protested on the busy fast-food corner at 10th and Market in favor of a living wage.
I've had a lot on my mind lately. There's the situation in Ukraine, and the aggression of Vladimir Putin's Russia. The fact that the United States hasn't -- I don't know... sent Slim Pickens into Crimea atop a nuclear-tipped missile?...has caused some Republican senators to use this word to describe President Obama and his foreign policy: "Feckless." I'm not sure what "feck" even looks like, but I do think when it comes to Ukraine it might make sense to try diplomatic pressure first, which is what we're doing.
I do think if there is such a thing as "feck," my colleagues at the Daily News. Wendy Ruderman and Barbara Leker, definitely have it. Just today I was reading this interview about their exciting new book, Busted! and I was reminded that one of the things that impressed me most about their reporting that won a Pulitzer Prize in 2011. It was how the bullies from the Fraternal Order of Police tried to scare them away from the story -- fully expecting these two lady journalists would surely back down, just as most every so-called political leader they've dealt with has done. Instead, they dug in and reported even harder -- which is why Laker and Ruderman are a civic treasure.
Gov. Corbett's re-election campaign is going about as well as you'd expect. He's launched his first series of radio ads and already he's been accused of a "remarkable" stretch of the truth, not by me but someone who's actually fair and objective, FactCheck.org.
:A new radio ad from Gov. Tom Corbett boasts that he "created 150,000 new private sector jobs," a feat called "remarkable" in a Web ad on his campaign website. Not really. Pennsylvania ranks 46th out of 50 states in the rate of private sector job growth during the three years Corbett has been in office. In fact, the growth rate is less than half the national average.