What started out as a fairly obscure op-ed in the Wall Street Journal the other day may answer the political question of the year for Pennsylvania in 2014.
Specifically, in a time where unashamed liberalism seems to be on the rise -- spearheaded by the likes of Massachusetts' Elizabeth Warren and New York City's Bill de Blasio -- do progressives have any clout in the purplish state of Pennsylvania? If so, is it enough to determine who replaces Gov. Corbett in January 2015 -- and to torpedo an early frontrunner, U.S. Rep. Allyson Schwartz?
Earlier this year, I wrote about the Schwartz conundrum for Pennsylvania Democrats. In the mind of many voters, including some liberals, Schwartz burnished her progressive credentials when she emerged in the 1990s as a fierce fighter for the right to choose and other gender issues, in an era when abortion was the hot-button issue in the Keystone State.
On single-payer, or socialized, health insurance:
"I don't see why we can't do what Europe is doing, what Canada is doing, what Korea is doing, what all these other places are doing."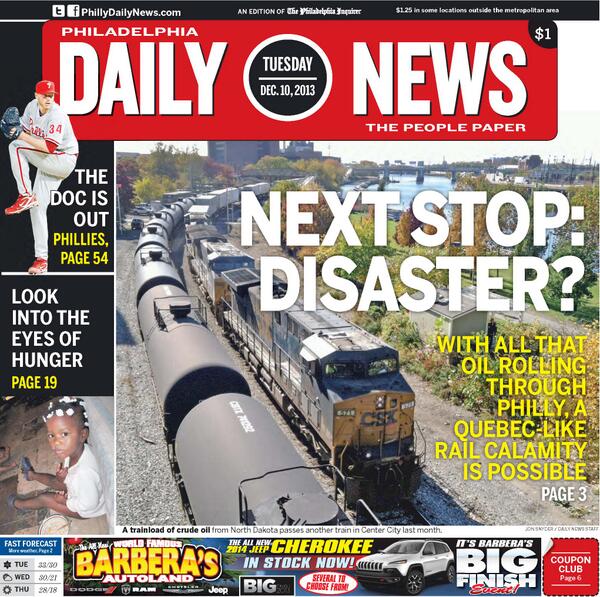 UPDATE: The website Hidden City Philadelphia, coincidentally, today published a remarkable (and long) piece on both the history of oil refining here and, more importantly, some of the risks of the current boom -- check it out here.
There's no doubt that some short-term positives can be traced to the unexpected boom in American oil and gas boom. It's created jobs -- especially North Dakota -- and the declining U.S. need for foreign oil makes the world a safer place (you'd think "morality" would play a role, too, but apparently not). But what about the costs? How much harm are we doing to the planet by obsessing on greenhouse-gas-producing fossil fuels while we ignore the need for renewable energy? (Not a pipe dream...Germany's doing it right this second.) And what are the risks of moving so much oil around? They are many:
There's a lot that you can criticize President Obama for, but one thing I never understood is why conservatives accuse him of "Chicagoland politics." Seriously? It seems to me that Obama could use the metaphorical brass knuckles on his political foes a little more, not less. Lyndon Johnson is laughing from the the grave at his inability to push anything through Congress -- although in fairness when LBJ was around, Republicans actually wanted a new dam in their district.
But at least there's someone out there who understands political bullying. And it's exactly who you'd expect:
It's wasn't especially painful -- or surprising -- to learn while in the car earlier this afternoon that esrtwhile Phillies ace Roy Halladay is retiring from baseball, But I did wince when KYW's top-of-the-hour newscaster said that Halladay was calling it quits "after winning a World Series championship with the Phillies." Ouch! The whole "plotline" of Halladay was that he came here, after 12 years in frozen playoff exile in Toronto, to finally play in a World Series and it didn't happen. That was the fauilt of his non-hitting teammates in 2010 -- when Halladay won the Cy Young Award and pitched a perfect game as well as only the second post-season no-hitter in baseball history -- and then his aging body after that.
Halladay retired with the same class that he played the game with over 16 seasons. Will the fact that he never reached the World Series cloud his many other accomplishments? I don't think so. In a sport like baseball with 25 men on a team, even the great ones can only do so much. Is the ultimate goal to win, or to compete? All I know is that Roy Halladay was one of the greatest, fiercest competitors I've ever seen. This April, he will be sorely missed.
Actually, it's amazing to see how many great journalists are still working in Philadelphia, despite everything. It's an honor just to be on a list with these people.It would be cool to win an award that's essentially named for a bar, though.
I was offline, at least metaphorically, when news broke that Nelson Mandela had passed away. Thus, I had the luxury of reflecting for a couple of days...and watching a flurry of other stories whiz past in a blur. It's remarkable how in our digital 21st Century that any global event -- but especially the passing of such an iconic world leader as the freedom fighter who became South Africa's first black president -- becomes a prism through which we funnel our view of the world, no matter how narrow. Sometimes it can be silly -- Mandela the movie inspiration, or Mandela the rugby enthusiast -- and sometimes it can be frustrating, especially when people with polar opposite beliefs try in some way graft his greatness onto their own cause.
But at heart. the music of Nelson Mandela and his life is what another icon of the so-called Third World, Bob Marley, might have called a redemption song, for his ideals and for the rest of us and came to believe, or at least accept, them. His notion that freedom and justice would happen for the downtrodden black people of apartheid-era South Africa -- and his ability to hold onto that belief during 27 remarkable years in prison -- never once wavered. That's because he never lost faith that the rest of the world -- the people who were calling him a "terrorist" and dismissing his pleas for equality as "communism" -- would come to the rightness of his view.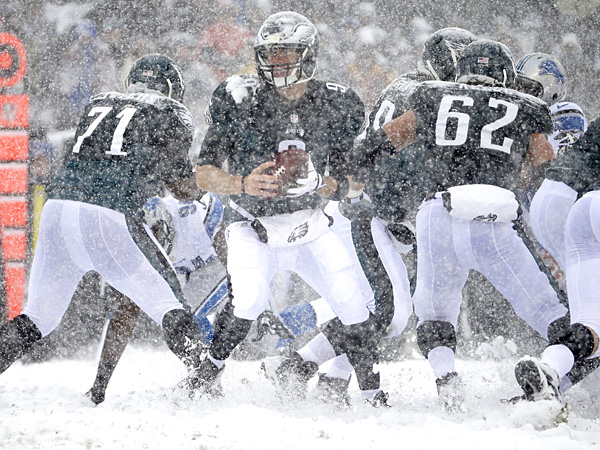 The last time the Eagles were SUPPOSED to play a snowstorm, it was a life-changing experience. On Dec. 26, 2010, the Birds famously wussed out and postponed a would-be snow game against the Vikings, ruining the karma of what had been feeling like a Super Bowl-bound season. I wrote a front-page piece the the Daily News on "the wimps who stole Christmas" and ended up tag-teaming with Ed Rendell, who so loved the phrase that he coined to describe the cancellation -- "a nation of wusses" -- that he used it for the title of his book. I was also inspired to write a book -- an Amazon Kindle single called "Give It to Steve" that showed the mid-20th-Century American grit that allowed the great Steve Van Buren and the 1948 Eagles to win the NFL championship in a raging blizzard at Shibe Park.
Today, they played (perhaps because the forecasters got it wrong, but still...). And it was a thing of great beauty. The Eagles beat the slip-sliding-away Detriot Lions 34-20, with a furious 4th quarter comeback. And how's this for full circle?..Shady McCoy rushed through the white stuff for 217 yards to set the team's all-time single-game rushing record, eclipsing...Steve Van Buren.