Will Bunch
Like most people who write about politics these days, I want to say something about Donald Trump and his enduring lead in the GOP presidential polls -- with the first caucusing in Iowa exactly two months away. And like most of them, I struggle with what that would be. Haven't I already branded Trump a runaway liar? Why yes, I have. And haven't I fully examined the right-wing media machinery that made the short-fingered vulgarian's lies possible? Check, check and check. Fascism? Been there, done that. Is there anything that either I -- or one of the many more important journalists out there -- could write that would make a difference?
Nope.
But I do think David Roberts (not the new Dodgers' manager) over at Vox.com has the best analysis yet of Trump's deceitful road to 1600 Pennsylvania Avenue. There's a lot of good stuff here, but I want to highlight this particular part on what lies make the media apoplectic, and which aren't such a big deal:
Will Bunch
Since the Paris attacks several weeks ago, I've seen a lot of praise for French President Francois Hollande's resolute response to the terror tactics of ISIS. I've also seen a smattering of stories questioning whether some of Hollande's moves have gone too far when it comes to taking away the civil liberties of folks. Here's something to consider in that regard, as President Obama and other world leaders are gathered in the French capital to work on a plan for combating climate change
On Thursday November 26, climate activist Joel Domenjoud's day started with a phone call saying that police had broken down the doors of a friend's squat, arresting at least two people. Fearing that his home would be next, Domenjoud slipped out of the little apartment that he shares with his girlfriend in the Paris suburb of Malakoff.
In the wake of the ISIS attacks on November 13, the French government has declared a three-month state of emergency that allows for house arrests, unwarranted searches, and limitations on the movement of people. The government also banned public demonstrations, including the massive actions that had been planned for the international climate conference, known as COP21. Numerous reports have emerged of police raids on individuals with no plausible connection to terrorism, including climate activists.
Will Bunch
The details of the mass shooting in Colorado Springs, Colo. are simply awful. On a fall afternoon, a white male in the Rocky Mountain city of 445,000 people carrying a semi-automatic rifle as well as a gas can began firing at innocent civilians. He killed three people, including a decorated Army veteran; friends noted the irony that the victim had survived duty in Iraq only to be gunned down on the streets of what Money magazine once called "The Best Place To Live" in America. The gunman then turned his weaponry on law-enforcement, engaging on a gun battle with cops while the three people that he murdered lay dying.
Yes, Friday's deadly rampage at a Planned Parenthood was horrific. But actually I was talking about a completely different mass shooting on Colorado Springs. It's easy to get confused these days, unfortunately. The first mass shooting of three random people also happened less than a month ago, on Halloween. Yes, the 42nd biggest city in America has experienced two mass shootings of random innocent citizens in just 27 days.
The first triple homicide was carried out by 33-year-old Noah Harpham -- two days after a rambling blog post about his Christian religion, his struggles with substance abuse and "mind control." Carrying a military-style rifle and a pistol, he gunned down the first person he saw, the three-tour, 35-year-old Iraq war veteran Andrew Alan Myers, who was out for a Saturday bike ride and had pleaded with the gunman -- "Don't shoot me! Don't shoot me!" Then Harpham killed two women at a home for substance abuse victims -- Jennifer Michelle Vasquez, 42, and Christina Rose Baccus-Gallela, 34 -- before he was ultimately killed in that gun fight with the cops.
Will Bunch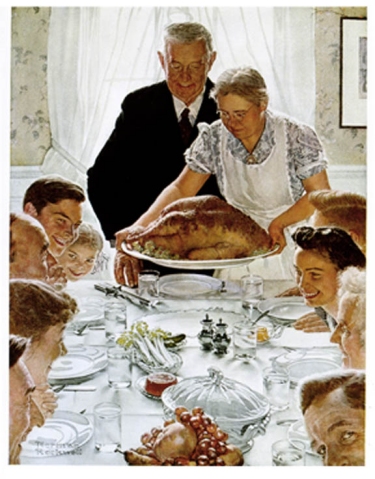 Enjoy this weekend with The Only Band That Matters...your family and your friends.
Then I'll see you back here Monday and we can start ripping each others' eyeballs out all over again.
Will Bunch
We ask an awful lot of our law-enforcement officers. That was the moral of two very different stories today involving big city police officers and their interactions with 17-year-old suspects This morning on the Vine Street Expressway, Philadelphia survivied a violent, chaotic scene with something that's in short supply these days -- some good fortune -- in a case that put in exclamation point on how officers so often risk their life to protect the public from violent, reckless bad actors.
We were lucky that no kids were on the school bus that was rammed by an out-of-control 17-year-old brandishing a gun and then shooting at a state trooper, first in traffic and and then again after he was stopped. And Philadelphia is even more lucky that the shoulder wound suffered by State Trooper Patrick Casey was not life-threatening, and that he should be home to spend Thanksgiving with his family. Trooper Casey had to make split-second life-and-death decisions. And like most skilled officers in most tough situations, he chose well. And the truth is, despite the uptick in protests over policing in the last 15 months, most folks get this. Because they get this benefit of a doubt, it's rare when an officer is charged criminally for the shooting or abuse of a suspect, and rarer still when a cop is convicted of a serious crime.
As I said, however, much is asked of police officers. We also ask law enforcement to be honest and transparent, because at the end of the day the police still work to serve the public. And we can't have them lying to their bosses...us. And yet in Chicago, in another case involving a 17-year-old criminal suspect, the police not only lied but then worked overtime to hide their actions from the people of America's third-largest city. It's possible to acknowledge the grave risks that law-enforcement officers take and to still ask them to be truthful. In fact, it's imperative that citizens demand this.
Will Bunch
This has been a pretty bad week for the world -- and, much less importantly, CNN. From doing everything it can to whip Americans into a frenzy about any terror threat that it can find -- no matter how vague -- to asking the mayor of a U.S. town with a large Muslim population if she's "afraid," to stenographically reporting the outrageously provocative and utter false utterings of one Donald J. Trump, "the most trusted name in news" has done everything possible to abuse any trust it actually had.
Of its many recent crimes and misdemeanors, two things jump out. Today. after Trump launched a blizzard of offensive and blatantly dishonest statements or Twitter posts -- including a bizarre claim that he saw "thousands and thousands" of Muslims in New Jersey celebrating the 9/11 attacks and (I swear I'm not making this up) retweeting bogus crime statistics intended to make blacks look bad that may even trace back to an admirer of Adolf Hitler -- CNN knew it had to do something. But terrified of using the "L" word about the man who has been pure ratings gold for CNN, the piece asked merely, "Does Donald Trump transcend the truth?"
First of all, that's not even the proper use of the word..it's like they're wondering if Trump is so amazing that he goes beyond the truth. Second of all, the short-fingered vulgarian does not "transcend" the truth. He is out and out LYING! It's really not that hard to say.
Will Bunch
This is an excerpt from an article that appeared in The History Place. Please read the entire article here. Most importantly, please click on the hyperlinks for some very important background and context:
Adolf Hitler and the Nazis waged a modern whirlwind campaign in 1930 unlike anything ever seen in Germany. Hitler traveled the country delivering dozens of major speeches, attending meetings, shaking hands, signing autographs, posing for pictures, and even kissing babies.
Joseph Goebbels brilliantly organized thousands of meetings, torchlight parades, plastered posters everywhere and printed millions of special edition Nazi newspapers.
Will Bunch
First, quickly, some exciting news. My major project -- the one that caused me to be absent for much of October -- is quickly coming to fruition. It's an Amazon Kindle Single (i.e., a short, reasonable priced e-book, published by and sold through Amazon.com...like these that I wrote in 2011 and 2013) on the life of -- and life on the 2016 campaign trail chasing after -- Bernie Sanders. This e-book (tentatively titled, as of today, "The Bern Identity") should be out in less than two weeks. It's part interpretive bio, part what passes for gonzo fear-and-loathing style reporting on the '16 race from Manassas to Burlington and all the way to Vegas, baby. But at heart it's simply an effort to answer a question: How did one man -- who was radicalized by all the lies and hypocrisy he encountered growing up in the late '50s and early '60 -- stay true to that vision...while everyone else around him dropped out, sold out, or just plain gave up?
One of the many things I learned was the story of how he came to reject both the Republican and Democratic parties as a young man. It happened during one of the most iconic moments in 20th Century U.S. politics, the Kennedy-Nixon debates of 1960 -- a turning point for both the newish medium of television and the way we elect our presidents. To many, it was the start of a shining moment for liberalism that came to be called "Camelot" -- but 19-year-old Bernard (as most folks called him then) Sanders, watching in the lounge of his University of Chicago dorm, saw it differently. He'd say later he was physically nauseated by both the hawkishness of Kennedy and the dishonesty of Nixon, who took a more moderate line on Fidel Castro's Cuba even as he was involved in planning for the Bay of Pigs.
Soon, Sanders joined the campus chapter of the Young People's Socialist League, the so-called "Yipsels" -- at the same time that he was becoming a leader in protests against racial discrimination in housing and public schools. For someone with the kind of political ambitions that the future U.S. senator clearly harbored, a "socialist" tag might be the kind of past he'd try to whitewash later in life -- especially since more Americans have said in polls that they'd vote for a Muslim or an atheist for president than said they'd vote for a 'socialist." Those who once harbored more radical ideas in the late 1960s or '70 who are still in politics are more likely to have become Wall Street-friendly raging moderates. (Cough, Hillary, cough cough.) But that's not away the head-down, pounding endurance route of Bernie Sanders, one of Brooklyn's top cross-country runners in the late 1950s, He's that rare politician determined to convince you of his vision -- even if it takes his entire lifetime! -- rather than pander to what he thinks you want him to say.