People to world: Do something about climate change, NOW!
Editorial in this Sunday's Guardian:
The killing of [British aid worker Richard] Haines was not an act of revenge. It was an act of provocation. Like the two murders of the American journalists, it was designed to frighten and to inflame. It seems nothing would please Isis more than for these killings to provoke an intemperate and thoughtless violent reaction from those at whom they are aimed. Such a reaction might, in Isis's crude and perverse logic, give them public legitimacy as victims rather than as killers. Such things have happened all too often in history. This in itself is a good enough reason for western leaders to have cool reactions.
On Wednesday, ISIS released a slickly produced "scary" video. This week, Congress voted overwhelmingly to arm supposedly moderate rebels in Syria as a counterweight to ISIS, something it had no interest in doing before ISIS savagely beheaded three Westerners on camera and thenapparently bought some Apple video-editing programs. President Obama said this:
The Philadelphia mayor's race is starting to a) scare me and b) remind me of what Yogi Berra supposedly said once about California, that it gets late early out there. It may be just 2014 on the calendar, yet for voters hoping for a more dynamic choice to lead Philly beyond the Michael Nutter era the clock is already ticking rapidly.
This week actually brought good news and bad news to the incipient stages of the contest to replace Nutter. The good news is that three candidates declared, or semi-declared, in recent days and none of them look like the 98 (!) mayors who've come before them: A white man or a black man. The expected candidacies of Terry Gillen, Ken Trujillo and Lynne Abraham are a sign that Philadelphia is more diverse and open-minded than any time in our long history, and that's saying something.
Of the three, Gillen -- a former ward leader and Nutter aide -- is the most promising from the progressive standpoint. But in terms of name ID and abilities to raise funds, Gillen's bid to become the city's first female mayor (seriously, the first?...get with the program, Philly!) could be eclipsed by Abraham, who made headlines not just here but nationally as our first female district attorney, aggressively promoted as "one tough cookie" on crime.
It's the American way: We had to drop bombs on ISIS to find out what's inside of it. No doubt ISIS, or ISIL, or the Islamic State...whatever we're calling it today...is an especially loathsome group, but where did America's Next Top Enemy even come from? Matt Stoller has some answers that may (or may not) surprise you:
Let's start by understanding what ISIS actually is. First, ISIS is a brutal fascistic movement of radical Sunni militants, well-armed and well-trained, and bent on the establishment of an Islamic Caliphate throughout the Middle East. Second, it may also be and almost certainly was an arm of a wealthy Gulf state allied with the United States. This contradiction probably doesn't surprise you, but if it does, that's only because it cuts against a standard narrative of good guys and bad guys peddled by various foreign policy interests. The reality is that ally and enemy in post-colonial lands is often a meaningless term —it's better to describe interests. A good if overly romanticized Hollywood illustration of this dynamic is the movie Charlie Wilson's War, about the secret collaboration between Saudi Arabia, Egypt, Pakistan Israel and the CIA to undermine the Soviets in Afghanistan.
This foreign policy apparatus is usually hidden in plain sight, known to most financial, political, military, and corporate elites but not told to the American public.ISIS, like Al Qaeda, is an armed and trained military group. Guns and training cost money, and this money came from somewhere. There are two Gulf states that finance Sunni militants — Qatar and Saudi Arabia.
...to the middle-class, especially in Philadelphia and even more so in neighboring Delaware County. The Keystone Research Center is here to confirm what we already know, that a greater percentage of folks here are poor, even as more wealth flows to the upper class than ever before. The report found that since the late 1970s, the middle-class that was more than 70 percent of Delco plunged to just barely 40 percent, while in Philly it dropped from 63 percent to just 43 percent.
Yet conversely, these counties are also home to some of the wealthiest Pennsylvanians. Even in Philadelphia, the top 1 percent of earners are bringing home 18 percent of the income, which has risen substantially since the 1970s.
Notes the study:
One minute they're a bunch of "clean-cut" (or so the cops called them) 20-somethings out for the night in Center City. Seconds later they are, allegedly, savagely beating up a gay couple for no other reason than their sexual orientation. I'm just speechless...what is wrong with people? If this is you in this video that Philadelphia police released today, turn yourself in -- and pray for mercy.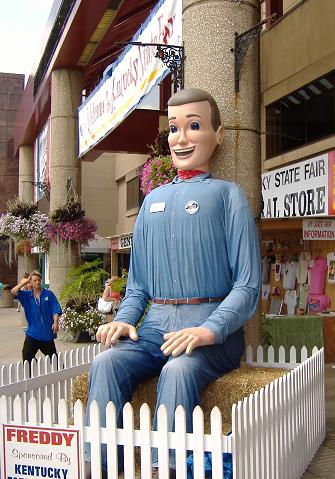 Robin Evans of Kentucky is determined to vote in November for someone who will take away her new health care coverage.
LOUISVILLE, Ky. — The Affordable Care Act allowed Robin Evans, an eBay warehouse packer earning $9 an hour, to sign up for Medicaid this year. She is being treated for high blood pressure and Graves' disease, an autoimmune disorder, after years of going uninsured and rarely seeing doctors.
"I'm tickled to death with it," Ms. Evans, 49, said of her new coverage as she walked around the Kentucky State Fair recently with her daughter, who also qualified for Medicaid under the law. "It's helped me out a bunch."
Kissinger is a friend, and I relied on his counsel when I served as secretary of state. He checked in with me regularly, sharing astute observations about foreign leaders and sending me written reports on his travels. Though we have often seen the world and some of our challenges quite differently, and advocated different responses now and in the past, what comes through clearly in this new book is a conviction that we, and President Obama, share: a belief in the indispensability of continued American leadership in service of a just and liberal order.
Not so shocking answer (sigh) to come while you're watching football.
UPDATE: Ugh, Hillary. No one expected you to go the "war criminal" route, but are you really Hank's BFF? That's gross.