God knows it's taken a while, but the president is finally doing the right thing, for once. Earlier this week, he addressed the nation and announced that he's taking a direct, personal role to address the humanitarian needs of thousands of refugees from Central America that the United States has scooped up near our southern border -- little kids and teenagers, now warehoused in unpleasant conditions.
Here is some of what the president had to say in his address: "Through no fault of their own, they are caught in political crossfire...We're going to fill some tractor-trailers with food, with water. The churches have asked us if we could bring teddy bears and soccer balls, so we've loaded up a whole tractor-trailer of nothing but teddy bears and soccer balls. And then I'm going to go serve breakfast and lunch, and I'm going to help unload these trucks, hot meals for 3,000. That's what we're doing."
Of course, I'm sure you realize that when I talk about "the president," I mean the president of Glenn Beck Enterprises, the syndicated radio and internet TV host Glenn Beck. While Beck was announcing his humanitarian efforts for kids fleeing the gang- and drug-related violence of Honduras, Guatemala, and El Salvador, the president of the United States, Barack Obama was...OK, I'm not exactly, sure what he was doing.
Definitely the theme of the week (and there's more to come) is adults who are failing the world's children, and it's not just on our southern flank. In Harrisburg, our elected officials were given a choice between making sure that schoolkids in Philadelphia have a nurse or a librarian, or making a tobacco lobbyist happy. Can you possibly guess what they chose? This is a new low for Pennsylvania...I didn't think that was possible.
Maybe Glenn Beck can send us some some cotton swabs and soccer balls to the classrooms of West Philly.
For years, Philadelphia and the surrounding region have sold itself to tourists on our colonial charms -- walk the cobblestone streets of Old City, check out the crack in the Liberty Bell, or stroll the hallowed hillsides of Valley Forge where George Washington's troops camped out! Maybe they should add the region's circa-1789 power grid to the list. There are more and more nights when Ben Franklin had more electricity in that glass bottle than do residents of Philly's suburbs.
Last Thursday night, on the eve of the Independence Day weekend, a storm rumbled through my neighborhood of insufficient strength to even wake me up, yet it was powerful enough to knock out the lights for me and about 160,000 of my closest friends. Presumably because PECO had given lots of folks off for the long weekend -- probably because no one expected a 10-minute rainstorm to knock out power to tens of thousands of people!!! -- it took 60 hours...count 'em, 60 -- to get the power back.
OK, stuff happens, but last night there was a storm of similar, middling, intensity -- the pavement wasn't even wet when I got off my train last night -- and the lights were off again! The news said that 240,000 lost power for a time (the vast majority in the counties served by PECO...hmmm), which, again, seemed like a lot for a briefly intense but otherwise forgettable weather event. This time there was no electricity for only 6 hours, not 60. I guess I was supposed to be relieved.
In the last 24 hours, there've been two comments that I can't get out of my head. They were about two very different situations but in my mind they keep running together – because they both had to do with immigrants and with children.
Only one of the comments surprised me.
I was kept here at the newspaper until late last night, helping assemble our story about a tense scene in Southwest Philadelphia involving the police and a crowd of residents – mostly immigrants from West Africa, mainly Liberia -- who are overcome with grief and anger about a fire last weekend that killed four kids, and asking questions about the city's response.
Hey, I'm not saying that about Cleveland -- I actually had a fun, besotted time my one and only night there, and that was in 1987, the heyday of post-Industrial decline, and before the Rock 'n' Roll Hall of Fame. But others will surely say this -- after the 2016 Republican National Convention ends up with the Ted Cruz/Chris McDaniel ticket, or whoever, pulling out of town on their triumphant post-nomination bus tour.
Because if there's anythng the city of Cleveland of known for, it's producing winners...
So says Roberto Cintli Rodriguez, a media scholar in the Mexican American Studies (MAS) department at the University of Arizona:
Given the Justice Department definition of a hate crime, one can argue that, in a strict sense, letters do not rise to the level of hate crimes because they don't specify a time or place. But the letters sections of Arizona's mainstream newspapers often contain threats of violence against Mexicans/immigrants, undeniably contributing to a climate that normalizes hate and fear.
The letters or comments sections appear to have become sanctuaries to virulent hate and, especially since the advent of the internet, a comfortable home to discourses of extremist hate and calls to violence, primarily of the extreme right-wing variety. Here, hate germinates, and has become normalized as a result of a daily drumbeat of dehumanization.
OK, let's be honest -- there's a lot of scandals in Pennsylvania state government a lot of the time, so sometimes it's hard to keep up. We still don't know, for example, if anything will ever happen to those state lawmakers who saw nothing wrong with pocketing cash in an envelope from a lobbyist and not reporting it. And then there's all the ones from Vince Fumo to John Perzel to...well, you get the picture -- the ones who got caught and got sent away. Sometimes it's amazing that they still get a quorum in Harrisburg.
Honestly, is there anything worse than public servants getting rich on other people's money? Actually, there may be. What about public servants who are muzzled and prevented from talking to average citizens about potential serious health problems? There have been startling allegations in recent weeks that over the last three years workers in Pennsylvania's Health Department have been hampered into talking with citizens about any issues that may be related to fracking.
These charges have surfaced thanks to some remarkable reporting by Katie Colaneri of the website StateImpact Pennsylvania, a National Public Radio project that covers the natural gas industry in Pennsylvania and related topics. She learned from two retirees from the Health Department that -- a little more than a year into the Corbett administration -- line workers in the agency were given a list of fracking-related buzzwords that they were not to discuss with citizens who called in: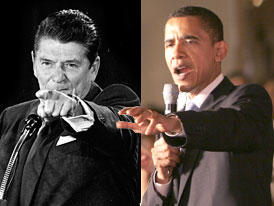 There they go again. The good professors at Quinnipiac University -- a college that no one can find on a map but which apparently is very good at ice hockey and taking polls -- just released another one of its surveys. This one ranked the best and worst presidents since World War II, about as far back as any folks around nowadays can remember (you know what they say: If you remember the Crash of '29, you weren't really there, man). The results have been getting a lot of play on the news.
Most of the attention has focused on the landslide winner -- and the landslide loser.
One of them is a president who raised taxes almost every year of his presidency (some 11 times in all), increased the size of the federal government, presided over an era of mushrooming debt, saw unemployment top 10 percent during his presidency, made secret deals with a terrorist regime, "cut and run" from another foreign engagement after American casualties, offered amnesty to undocumented immigrants, signed the paperwork to outlaw torture, and nearly gave away America's nuclear dominance at a summit meeting.