Archive: July, 2009
Peter Dobrin, Inquirer Classical Music Critic
Last night's Philadelphia Orchestra concert at the Mann - hosting pianists Lang Lang and Herbie Hancock - brought in the largest audience of the orchestra's Mann season: 6,800. Of course, as the two-hour, 45-minute show wore on, that number dwindled considerably. Look for the review in the Inquirer tomorrow.
Peter Dobrin, Inquirer Classical Music Critic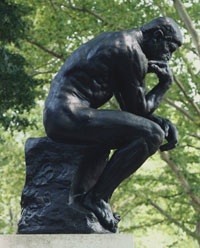 Thomas Hong is the Pittsburgh Symphony Orchestra's new assistant conductor, the Post-Gazette reports. Hong has degrees from the Curtis Institute of Music, Temple University and Philadelphia Biblical University...Another Curtis grad, Adrian Anantawan, is the subject of a CBC documentary.
You may remember that the violinist, born without a right hand, was the subject of an Inquirer article a few years back...And yet another Curtis grad, violinist Hilary Hahn, gets a bright spotlight when she is interviewed by Norman Lebrecht on the BBC...
Maybe you noticed that The Thinker is missing.Auguste Rodin's sculpture has been moved from the Rodin Museum to the Great Stair Hall at the Philadelphia Museum of Art until renovations to its home are completed this fall...
Peter Dobrin, Inquirer Classical Music Critic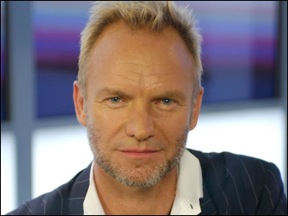 Sting will be the guest perfomer at this winter's Academy of Music Anniversary fete, Jan. 30. A few details here. It may seem like a change that the Academy has been aiming younger for the event in the past few years, bringing in rockers of a certain age, but it's more of a return to the past. The event has a history of playing host to popular singers and personalities, including Danny Kaye and Dinah Shore.
Peter Dobrin, Inquirer Classical Music Critic
To show you what Academy of Music leaders are aiming for in the restoration of the ballroom, here's a photo from 1860 showing the room (three years after opening day). The $10 million project is just about done, with an opening planned for September.
Peter Dobrin, Inquirer Classical Music Critic
In just a few days, it'll seem like everyone you know is in Maine, Vermont, the Berkshires or Ocean City. The city will be just a little more quiet. And the Philadelphia Orchestra will have gone off to Saratoga Springs for its August residency. So better catch the ensemble now in its last local week for a while. It's Verdi and Rachmaninoff. Then Tchaikovsky and fireworks. Lang Lang, a frequenct Mann visitor, brings Herbie Hancock with him. And then Friday night the orchestra does a free neighborhood concert at Deliverance Evangelistic Church.
* * *
In the meantime, this summer's substantial renovations to the orchestra's former home, the Academy of Music, are nearing completion. This photo shows the Academy's new windows on left, on the Broad Street side, with old windows on Locust Street to the right. More details on that tomorrow. Suffice it to say that despite tens of million of dollars being spent on restoration of the building since 1994, major projects are still being planned.
Peter Dobrin, Inquirer Classical Music Critic
Merce Cunningham has died. AP obit here, the New York Times obit here.
Peter Dobrin, Inquirer Classical Music Critic
Early reviews of the Philadelphia Museum of Art's Bruce Nauman show in Venice were strongly positive. And then there's this from the Globe and Mail in Canada:
"The most talked-about event has been the retrospective trio of exhibitions by American artist Bruce Nauman (one show at the American Pavilion in the Giardini and two in secondary spaces off-site). Nauman's Giardini show, Topological Gardens, was awarded the Golden Lion for best national pavilion and included a number of the menacing works of black humour that have made his reputation: wax heads sprouting water jets as if riddled by bullets, sculptural animal fragments revolving on metal frames, some early video works suggesting states of emotional and physical extremity, and several of his shrilly comic neon sculptures – a distinctive blend of violence and strained hilarity.
"It's hard to get more American than this.
Peter Dobrin, Inquirer Classical Music Critic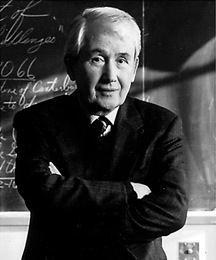 Frank McCourt, 78, has died, AP reports. The author of Angela's Ashes died Sunday in Manhattan, his brother said. The New York Times' obit here.