Archive: September, 2009
Peter Dobrin, Inquirer Classical Music Critic
It's a year today since Philadelphia Orchestra president James Undercofler announced his decision to not seek the renewal of his contract, and it's been an queasy year, both for the economy generally and for the world of orchestras. Undercofler intended to finish out his contract, which would have had him leaving July 31 - a mere six weeks ago - but months ago the orchestra put an interim leader in place instead.

Frank P. Slattery Jr. may love the orchestra and may love his job, but the organization hasn't benefited by bringing in a member of the business community. One of the things boards of cultural organizations have steadfastly refused to believe is that arts administration is a legitimate and distinct profession. No one steps in and does a good job of running an orchestra or a museum without special training and hard-won experience - especially if your organization is treading water in perilous times, which, the Philadelphia Orchestra admits it is.

You can't run a music director search without a real professional who can speak the confusing code of conductors and agents. You wouldn't know how to deal with an attendance rate that's dropped to 80 of capacity unless you're immersed in the kind of audience research lifelong orchestra CEOs are. You certainly can't turn ticket sales around without a marketing director - the orchestra currently has none - and you can't hire a marketing director until you have a president.

In short, a tremendous amount of institutional ambition has been held in abeyance since Undercofler's announcement a year ago. This at a time when the economy has been in free-fall and audiences are clutching their purse-strings tighter than any other time since the Great Depression.

A search for a new president is underway, and it now focuses on a single candidate - an experienced orchestra professional who has dealt, almost scarily, with all of the same difficulties that have deluged the Philadelphia Orchestra since about 1996 - a strike, shifting plans for a new concert hall, deficits, the messy departure of a music director and unclear goals for what the orchestra wants out of summer.

Is he or she the right choice? I wouldn't presume to say.

What I do know is that it's a pathetic sight to see this great orchestra struggling the way it is. This is a moment that deserves our pity and outrage, but our action, too. Hear the orchestra this season. Hear it a lot. A new music director will likely be chosen this season, so think about what's best for the orchestra's musical future and express your opinion to the board. This is perhaps the most important time for orchestra lovers to be fully engaged.

As for a new president, if this round of the search does not bear fruit and the process has to start from scratch, it's hard to see how the orchestra will prosper again anytime soon. It will continue to lose its considerably talented administrative staff. Funders will grow even more uneasy than they are now. Mere survival will consume the attention of every employee of the orchestra every day instead of the kind of institution-changing thinking that should be going on now.

Even the brightest new president, should that leader start tomorrow, will need a long list of friends and resources to help get the orchestra through this season. He or she deserves a little faith at a time when it might be hard to grant. More than a few orchestra fans and important funders were dismayed by the way layoffs were handled earlier this year. It may be standard corporate behavior to gather staff in a conference room and then, with security personnel standing near, escort them out of the building. But the rewards for both employees and employers at cultural organizations often stem from the personal love for the thing itself - the music, the well-being of the institution. To dismiss them in this way sends the sickening signal that working for the Philadelphia Orchestra is just another job.

The orchestra needs leadership now - not in the form of a mindless cheerleader, but with the quick arrival of a clear-thinking, lifelong practitioner of classical music, a professional who can mend fences and articulate to the entire city why the orchestra is something worth saving.

At this point, a full year after the announcement of a strong president's departure, finding someone who can hit the ground running is more critical than ever.


Peter Dobrin, Inquirer Classical Music Critic

Finnish composer Magnus Lindberg (pictured) will become the New York Philharmonic's new composer-in-residence, thanks to a gift to the orchestra's endowment.
Henry R. Kravis and his wife, Marie-Josee Kravis, will give the Philharmonic $10 million, the proceeds from which (interest, market appreciation) will underwrite the newly reinistated position. The two-year post starts with opening night this Wednesday, when the orchestra will give the premiere of Lindberg's EXPO to open Alan Gilbert's first season as music director.
The Kravis gift will also endow a new music prize awarding $250,000 and a New York Philharmonic commission to a "composer for extraordinary artistic endeavor in the field of new music." The award will be given every two years starting in the 2011-12 season.
Peter Dobrin, Inquirer Classical Music Critic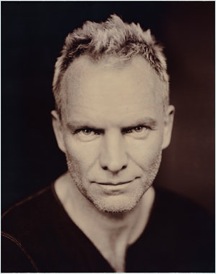 The Philadelphia Museum of Art's new sculpture-garden-atop-a-parking-garage opens to the public tomorrow. Five works of Noguchi have been installed in the space, which will host a rotating list of sculptures...Tony Danza will take a break from grading papers to host the Philadelphia Orchestra's "Fallen Heroes" concert Sept. 20 at the Mann Center...Concert-only tickets are available at $200 a pop to hear Sting (pictured), who headlines the Academy of Music's Anniversary Concert Jan. 30. The seats are in the nose-bleed amphitheater section, so bring your opera glasses...The Black Pearl Chamber Orchestra makes it debut Saturday night at the Kimmel Center. The local ensemble, led by Jeri Lynne Johnson, bills itself as the "first multi-ethnic professional orchestra in Philadelphia." Beethoven 5 is on the program...Astral Artists has engaged Philadelphia bass Julian Rodescu as its first artistic director. He will continue to program the group's Philadelphia concert series, and will work with Astral's roster of young musicians on developing career goals.
Peter Dobrin, Inquirer Classical Music Critic
City Funding to the Philadelphia Museum of Art, Atwater Kent and African American Museum will be cut off if the City of Philadelphia adopts its so-called Plan C in response to the budget-process delay in Harrisburg. Funding would end Oct. 2, arts czar Gary Steuer wrote in a letter released by his office yesterday.
His own agency, the Office of Art, Culture and the Creative economy, would close altogether at the end of the day Oct. 2, presumably until funding is restored.
The Philadelphia Culture Fund, Mural Arts Program and Public Art Office would also be shuttered.
Peter Dobrin, Inquirer Classical Music Critic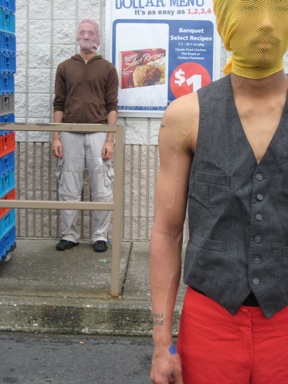 Winners have been announced in the annual "Rocky" awards, given by Live Arts Festival/Philly Fringe with support from Dance/USA Philadelphia.
The Rocky awards are a little unusual in that there are no categories, committees or ballots. Each recipient simply selects a winner the following year. A little clubby, if you ask me. The awards "celebrate outstanding achievement in a production, a performance, a set design, or other accomplishment in Greater Philadelphia's dance and physical theater community."
Here they are:
Peter Dobrin, Inquirer Classical Music Critic
Maybe you noticed a couple of visitors looking over your shoulder in City Hall courtyard. Way over your shoulder. Two large heads - one checkerboard, the other half pink and half blue - appeared there this week, and, despite any signage to help you make connections, we happen to know where they came from and why they're there.
The 11-foot-high heads are the work of Jun Kaneko. Eleven of his large-scale sculptures will be on view as part of a city-wide exposition of his work. The Opera Company of Philadelphia's Madama Butterfly in October features his costumes and sets. The Locks Gallery on Washington Square opens a Kaneko show in late September. The Philadelphia Museum of Art's Perelman annex takes on four one-ton dumplings by the artist.
More work by the artist is sitting in the lobby of the Kimmel Center, and under very specific circumstances you might even be able to catch a glimpse. First you have to be lucky enough to find a time when the plaza is open. Then you have to hope a security guard doesn't chase you away, which is what happened to me several times during the summer when I made the mistake of trying to hang out there.
Peter Dobrin, Inquirer Classical Music Critic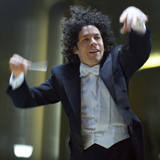 People hear what they see. It's always been true to some extent, but it's the case to a greater degree today than any other time I can remember, and I suspect this is largely what the Gustavo Dudamel phenomenon is about.
A lot of listeners I talk to reveal that they're not listeners at all. They talk about how much fun he is to watch, his energy, his smile.
It's important to know why you're responding to a conductor, especially at a time when so much is riding on it.